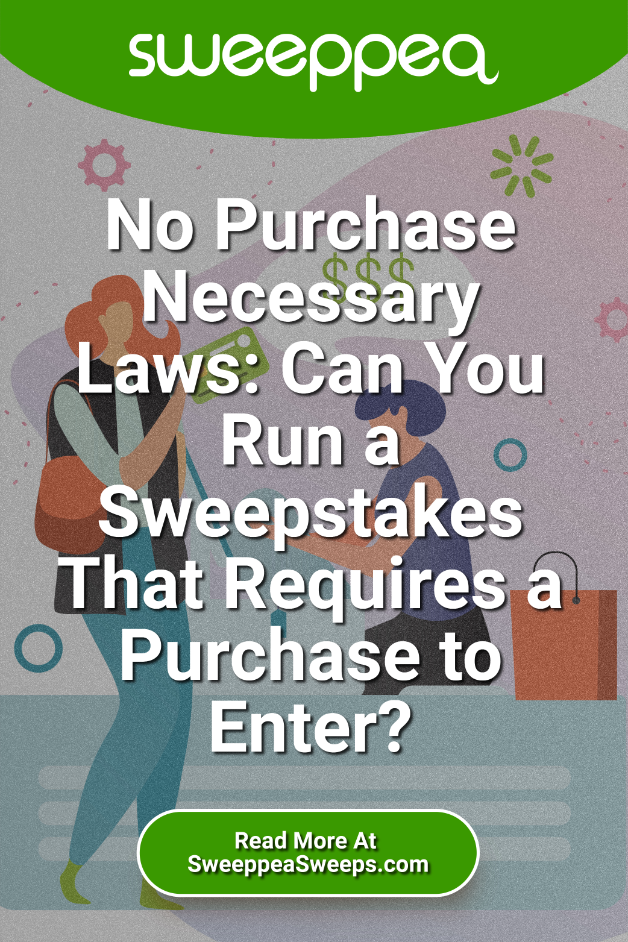 Do no purchase necessary laws apply to every sweepstakes?
If you're running a sweepstakes or giveaway to boost sales or increase brand awareness, you may have wanted to encourage participants to buy at the same time or run a customer-only sweepstakes.
Most brands agree that it totally defeats their marketing objectives to let customers enter their sweepstakes for free.
So how can you make sure that your sweepstakes is legal and while also achieving your marketing goals?
"No Purchase Necessary" Is the Law
While you can't require a purchase as the sole method of entry for your sweepstakes or giveaway, you are permitted to include it as one of your methods of entry.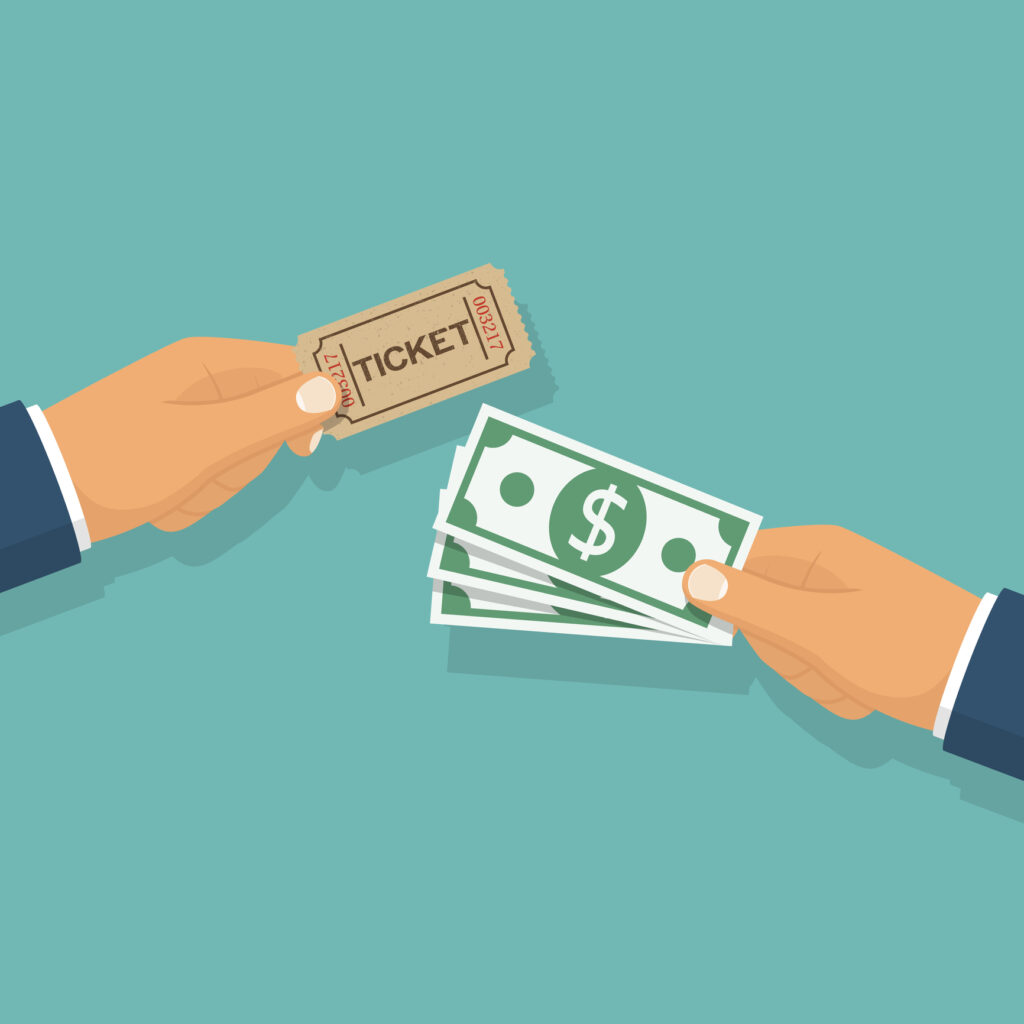 Now this may sound confusing, but we're going to explain everything you need to know about the No Purchase Necessary Law.
You'll learn what "no purchase necessary" means, the reason behind it, and how to run a sweepstakes that is fully-compliant with no purchase necessary laws.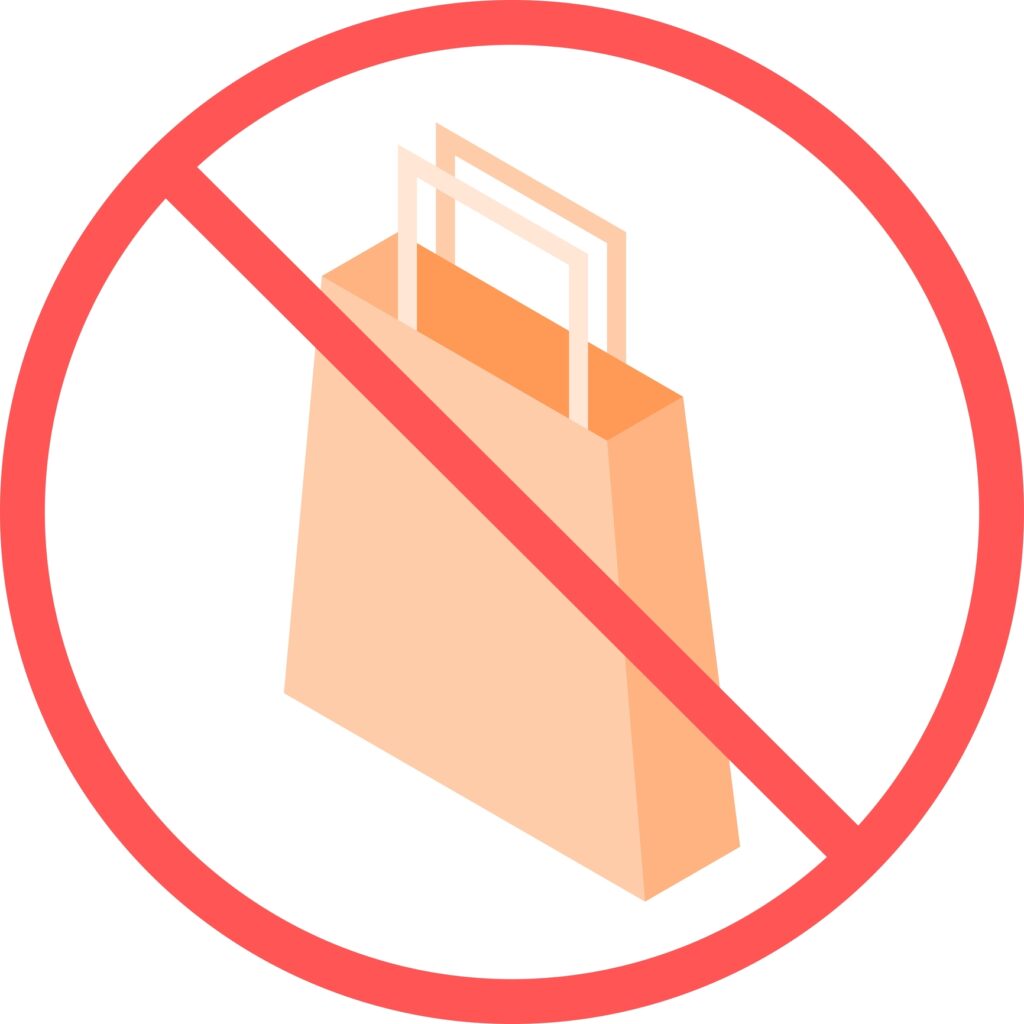 You'll also see how the no purchase necessary law works in real life with examples of sweepstakes that ask participants to buy in order to enter and receive additional entries.
These sweepstakes give entries to both free participants and paid customers.
Let's get started!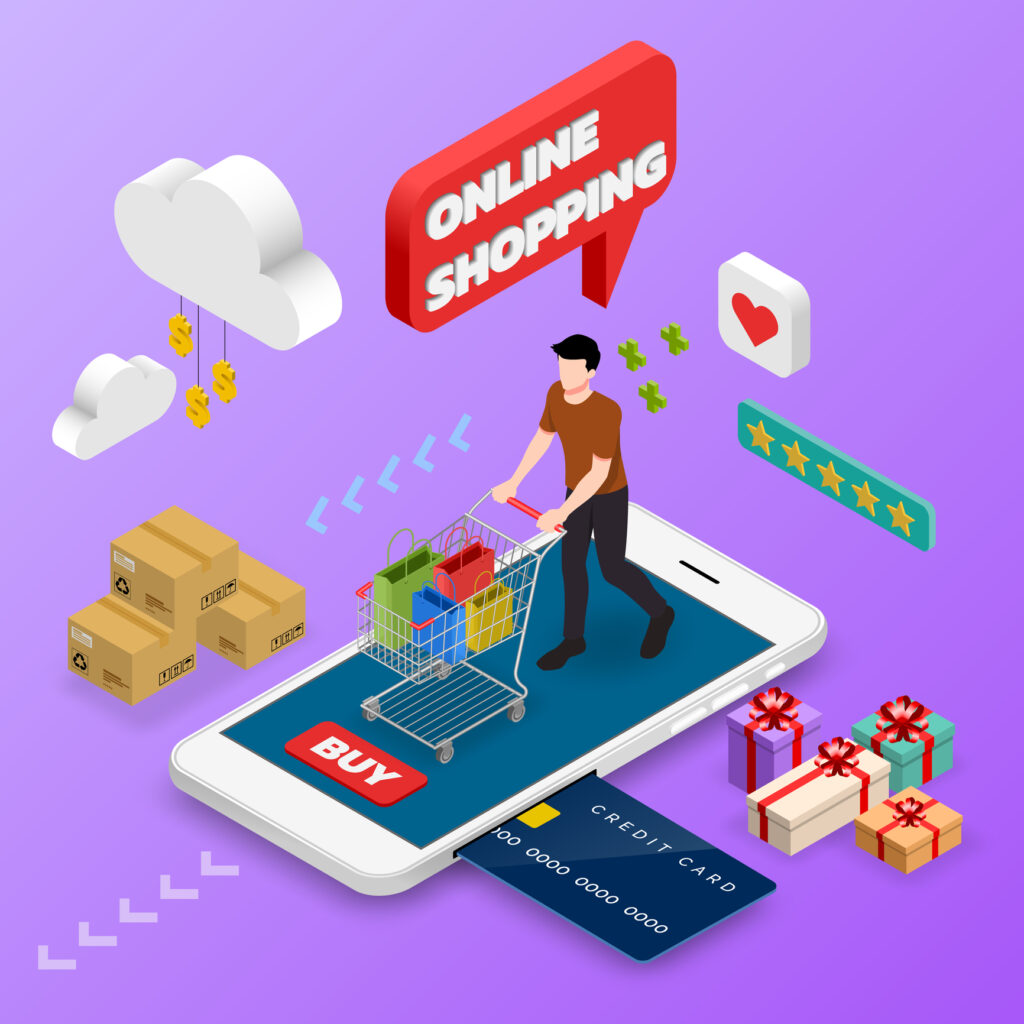 Is It Illegal to Require a Purchase to Enter a Giveaway or Sweepstakes?
Two questions that we get asked frequently here at Sweeppea are, "Can a sweepstakes require a purchase to enter?" and "Is it illegal to require a purchase to enter a giveaway?"
No purchase, payment, or other consideration is allowed in a legal sweepstakes.
The definition of a legal sweepstakes is "a promotion in which participants can win a prize based on chance."
By requiring participants to make a purchase to enter or win, you would add an element of consideration.
What Does No Purchase Necessary Mean?
In legal terms, a purchase is often viewed as "consideration," which is another word for effort, money or time.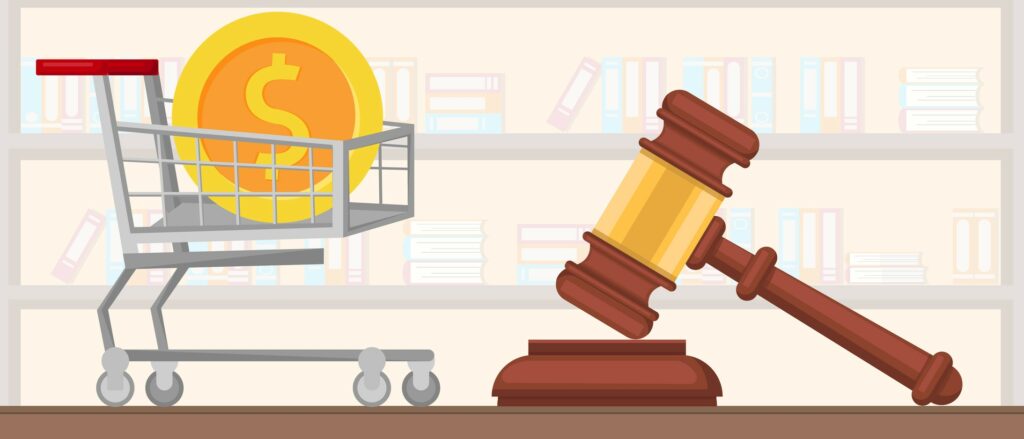 Any element of consideration may result in your promotion being deemed as a illegal lottery by regulators.
The Federal Trade Commission (FTC) The Federal Communications Commission (FCC), the United States Postal Service (USPS) work together to enforce the "No Purchase Necessary law" in order to protect consumers and promote fair competition.
One of their duties is to ensure that sweepstakes participants are not tricked into thinking that they are required to purchase something to win.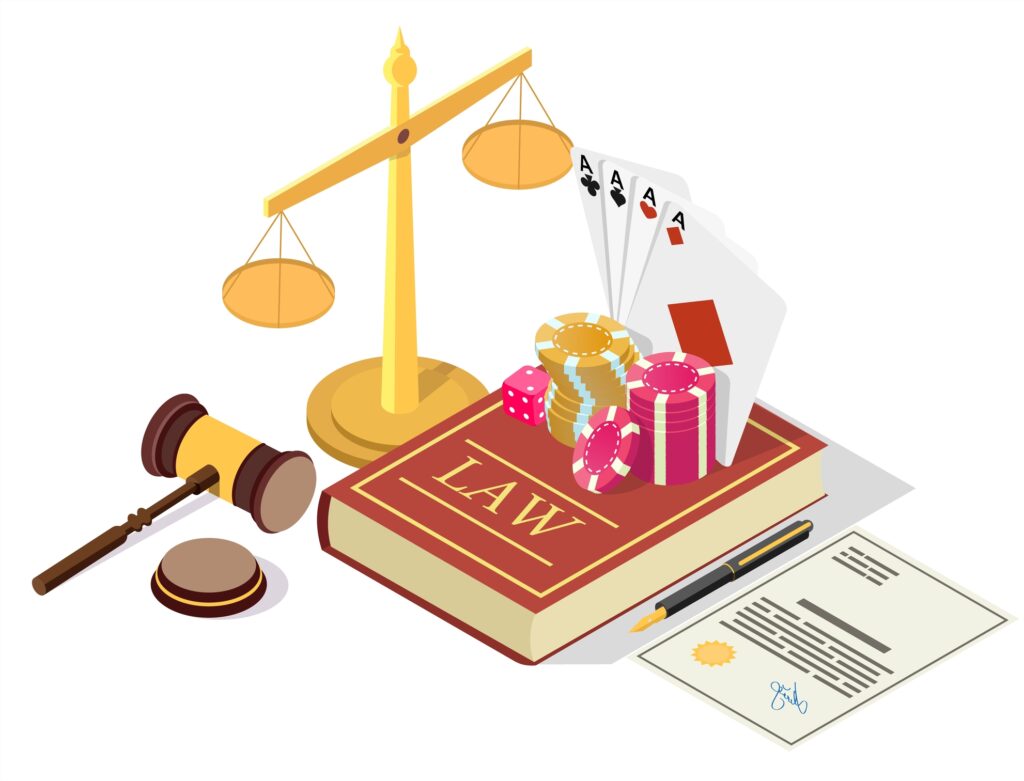 "No purchase necessary" means exactly that. As the sweepstakes sponsor, you can not require participants to pay to enter or win your sweepstakes or giveaway.
The No Purchase Necessary law applies to any sweepstakes run in the United States.
Aside from federal regulations, states also have requirements for sweepstakes.
The State Attorney General is responsible for enforcing state sweepstakes laws and ensuring that sweepstakes do not violate lottery laws.
Do Sweepstakes Have to Be Free to Enter?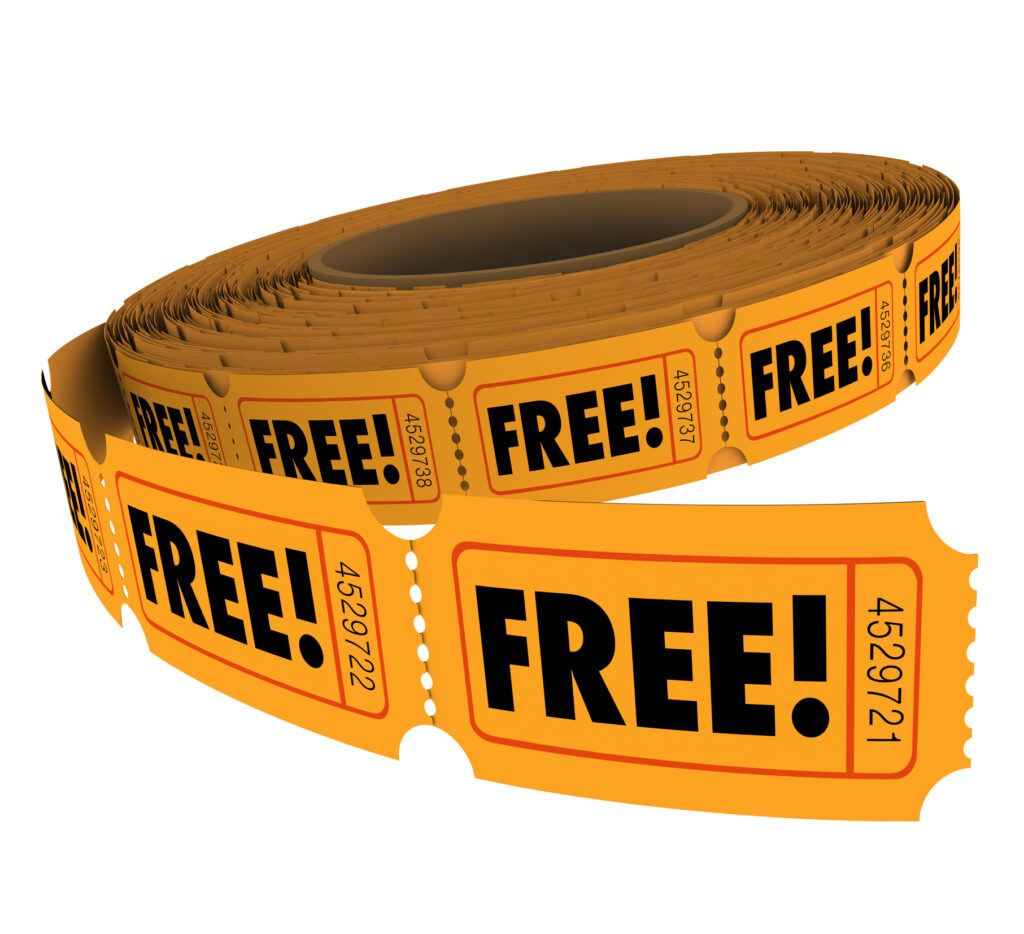 Yes, sweepstakes must be free to enter. What makes a sweepstakes different from a lottery is that sweepstakes must be free to enter.
For-profit companies are only permitted to run sweepstakes, giveaways, and contests if the promotion doesn't require entrants to purchase something in exchange for sweepstakes entries.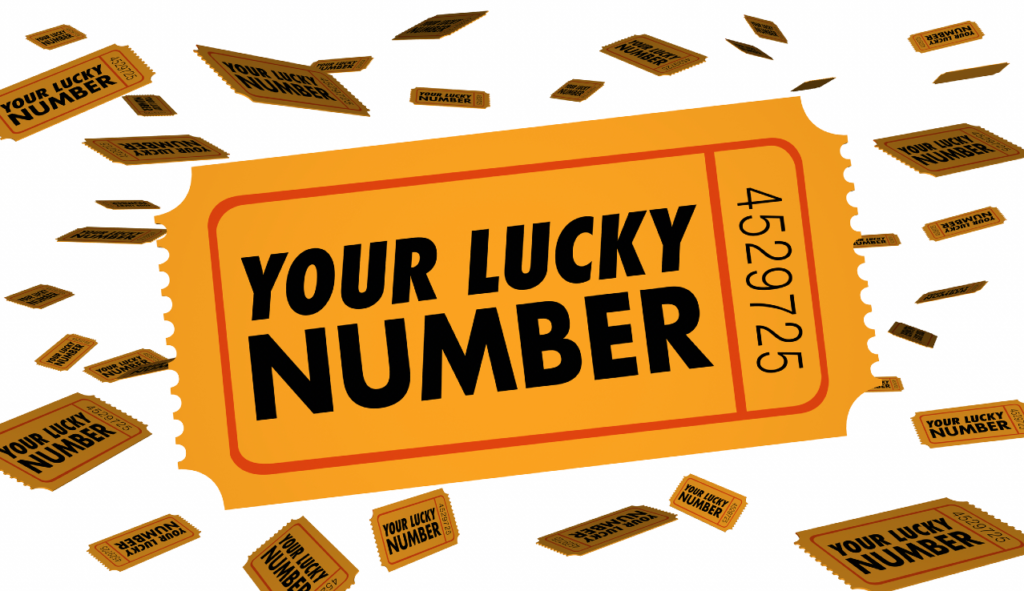 To make it clear for participants, your sweepstakes official rules and abbreviated rules must mention that there is "no purchase necessary" and that there is a free method of entry available.
Sweepstakes Compliance: No Purchase Necessary Laws & Official Rules
Here's what to include in your sweepstakes rules for "no purchase necessary" sweepstakes compliance:
1. Alternate Method of Entry (AMOE)
Despite no purchase necessary laws, you can still ask people to enter your sweepstakes by making a purchase. Yet, you should always also offer a free, Alternate Method of Entry (AMOE).
Typically, brands use mail-in entry or a web entry form as the free AMOE.
2. No Purchase Necessary Clause
The following is the "no purchase necessary" verbiage that your sweepstakes rules should include:
"No Purchase Necessary"
"A purchase will not increase your chances of winning"
"Void where prohibited"
It's recommended that you make these disclaimers clear and easy to see. They should be included in both your official rules and the abbreviated rules that appear on all of your sweepstakes advertisements.
Asking customers to buy with your sweepstakes? Request a sweepstakes rules review to ensure that that your sweepstakes or giveaway is legal.
3. Equal Chance at Winning
Every participant must have an equal chance at winning by receiving an equal number of entries.
All sweepstakes participants must receive the same number of entries whether they purchased your product or entered without purchase.
Make sure to include at least a general statement about the odds of winning in your sweepstakes official rules.
Customer-only Sweepstakes Are Illegal for Alcohol and Cannabis Companies
This is an important note for alcohol and cannabis marketers who run sweepstakes and giveaways:
It's illegal for companies to give away alcohol or cannabis as a sweepstakes prize.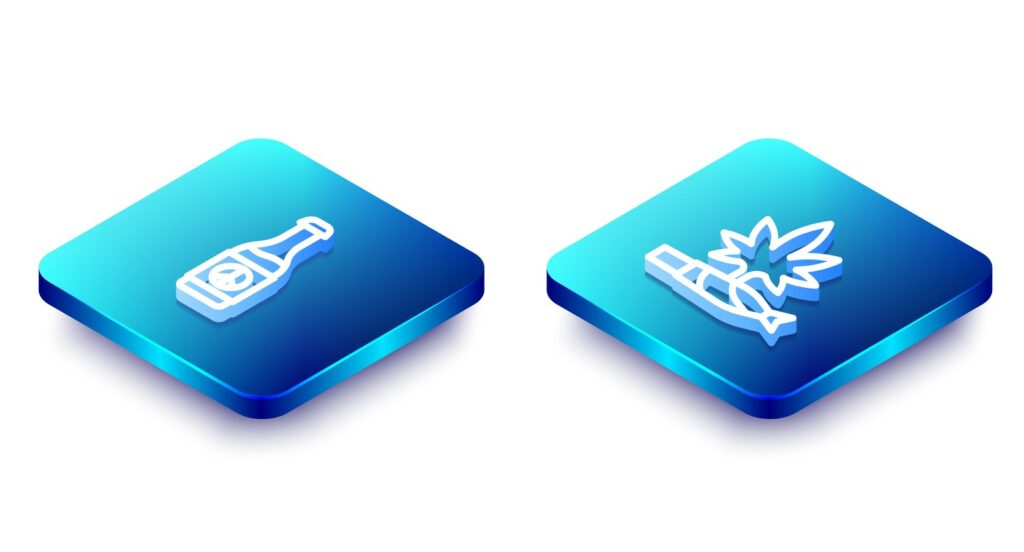 It's illegal for alcohol, cannabis, and other companies in certain regulated industries to run sweepstakes that incentivize consumption of the product.
Also Read: Running a Sweepstakes for Marijuana or Cannabis Marketing? Our Suggestions…
Why Do Companies Ask Participants to Buy to Enter a Sweepstakes?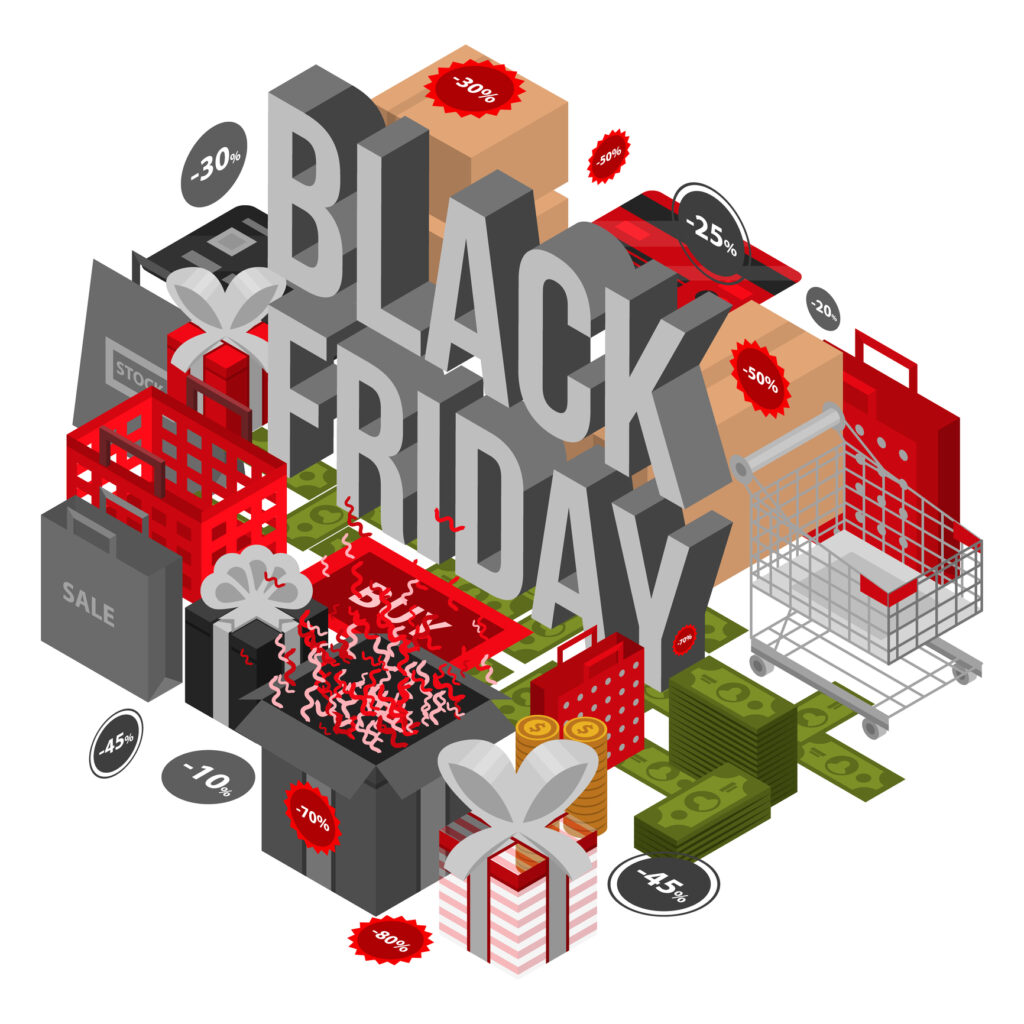 There are several reasons why brands ask for a purchase with a sweepstakes entry. Namely, to:
Boost Sales
Sweepstakes give people reason to talk about a brand and its products and services. They also encourage people to visit a brand's website to learn more about the company's offerings, and possibly buy.
While not required to win, existing customers and potential buyers may make a purchase before entering a sweepstakes, if they like the brand's products or services enough.
Gather Customer Insights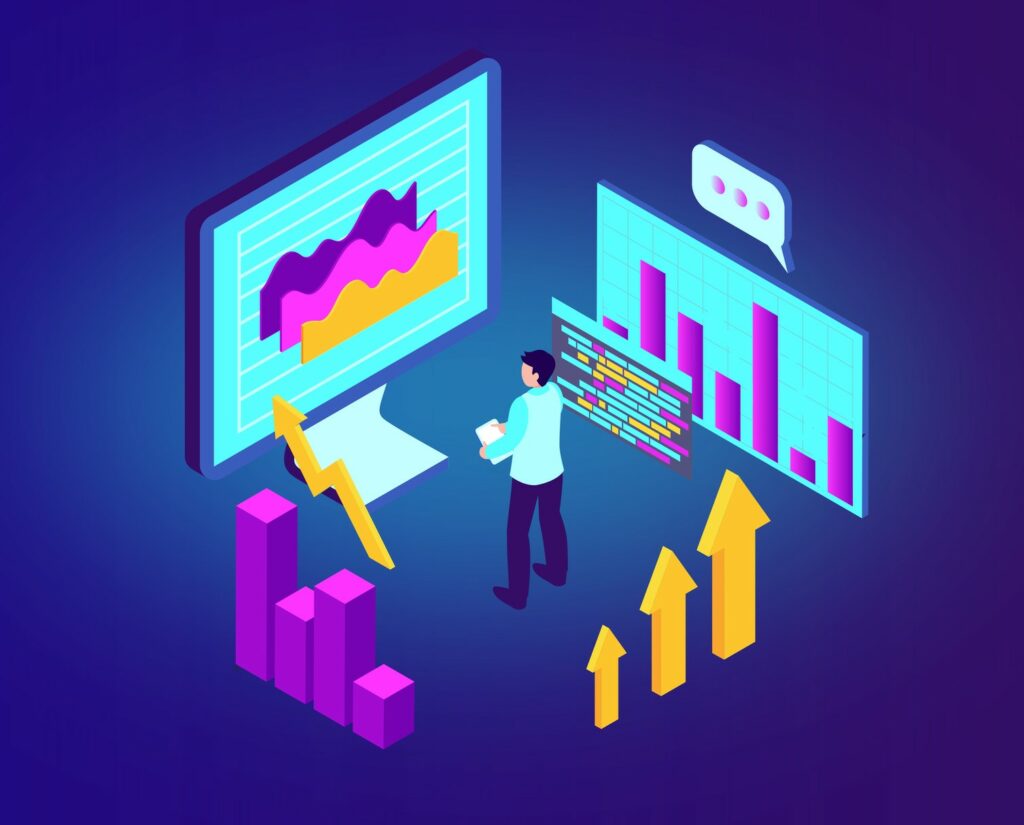 Companies that run sweepstakes that ask participants to make a purchase do so to increase sales and brand awareness. They also want insights into how their potential customers think, use their products or services, and spend their time.
These are the brands that most often run sweepstakes that ask customers to buy to enter:
Subscription-based companies (online subscription to both content and products, subscription boxes)
Merch companies and platforms (retail and wholesale)
Consumer Packaged Goods (CPG) brands
Direct to Consumer (D2C) companies
These companies rely on customers making frequent, repeat purchases. They use the results of sweepstakes to make their future advertisements more effective.
Build Customer Loyalty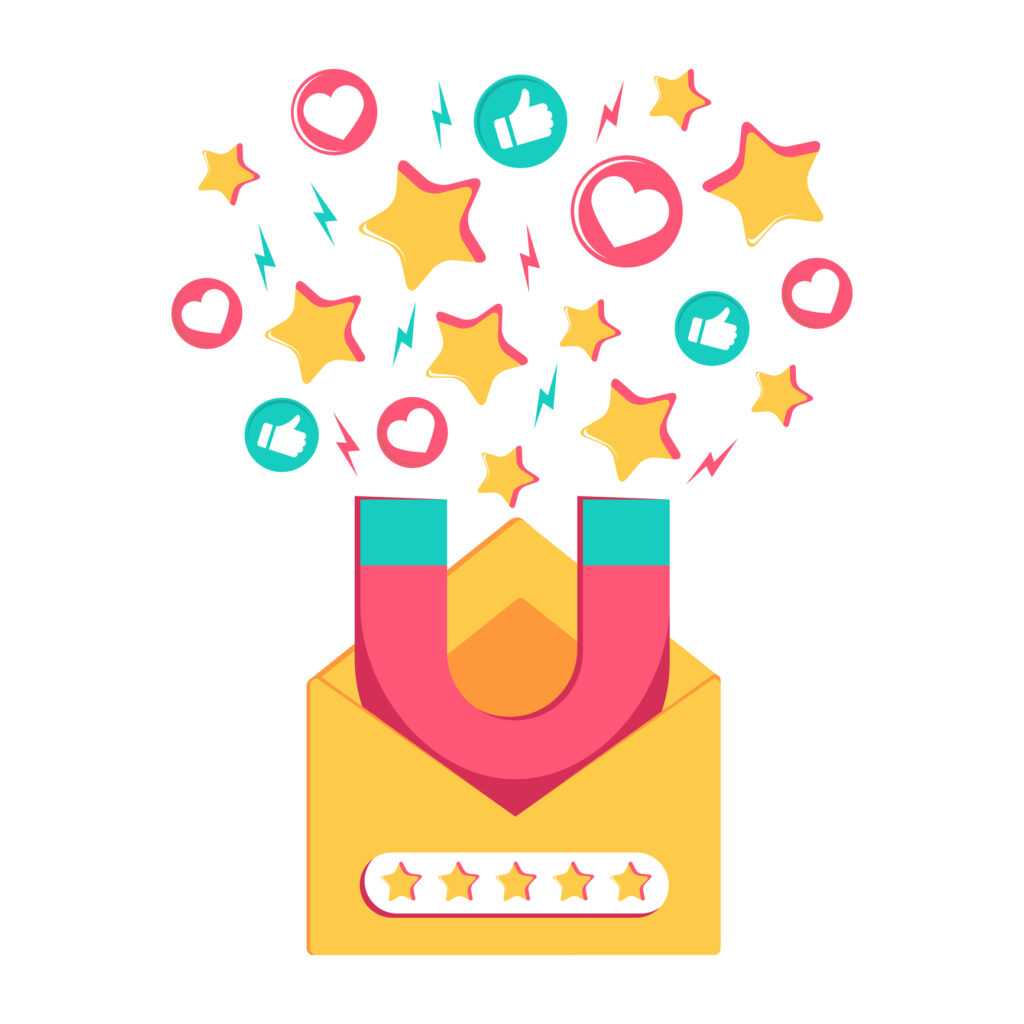 Sweepstakes also strengthen the relationship between brands and consumers simply by being fun.
They provide entertainment while giving customers a benefit for engaging with the company.
Customers receive sweepstakes entries. In turn, brands receive the sweepstakes participants' personal information when they enter the promotion and the valuable data in the form of participant sweepstakes survey answers.
Also Read: What to Include on a Sweepstakes Survey
Sweepstakes Purchase Examples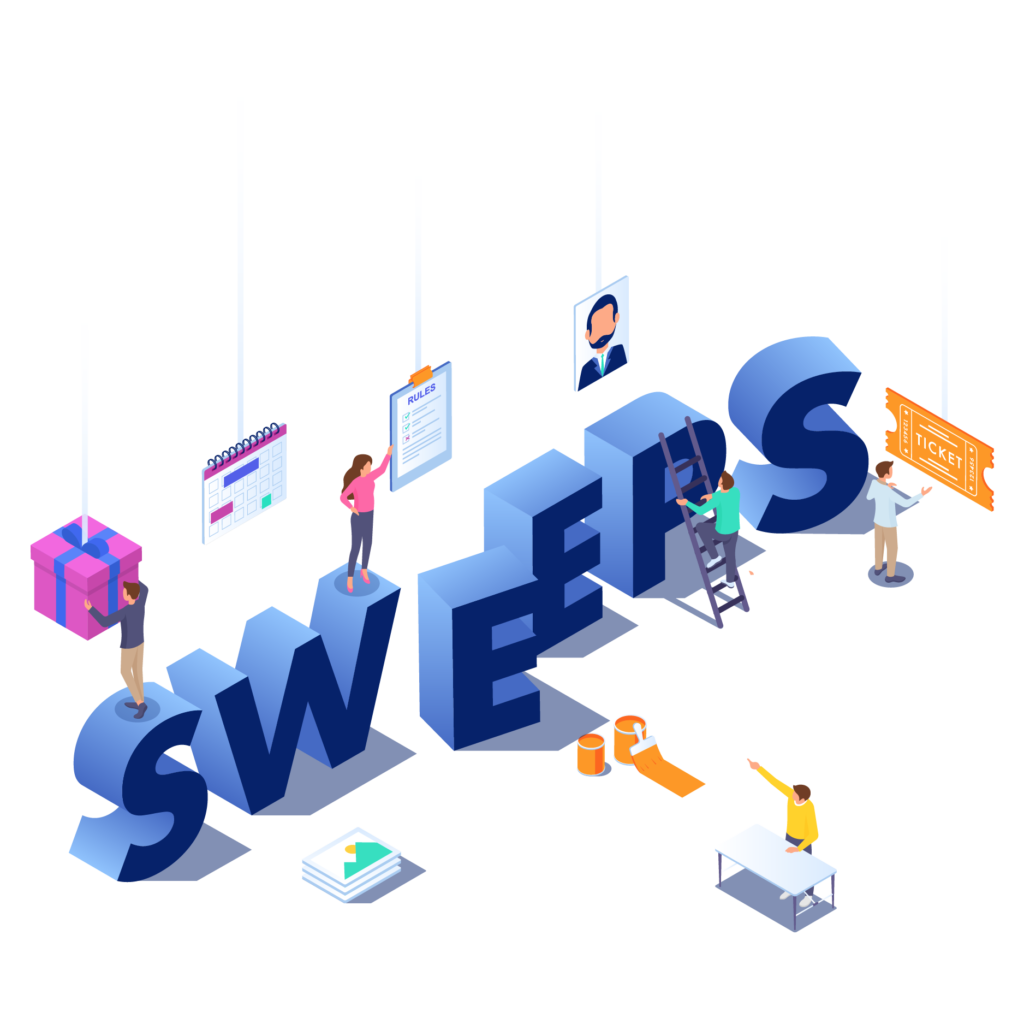 Are you wondering how to do a giveaway with a purchase or what a customer-only sweepstakes looks like in real life? These sweepstakes purchase examples show how brands give away sweepstakes entries to free and paid participants.
Here are 4 examples of how customers can enter your sweepstakes by making a purchase…
while still ensuring sweepstakes is legally compliant:
1. Free Sweepstakes Entries for Active Subscribers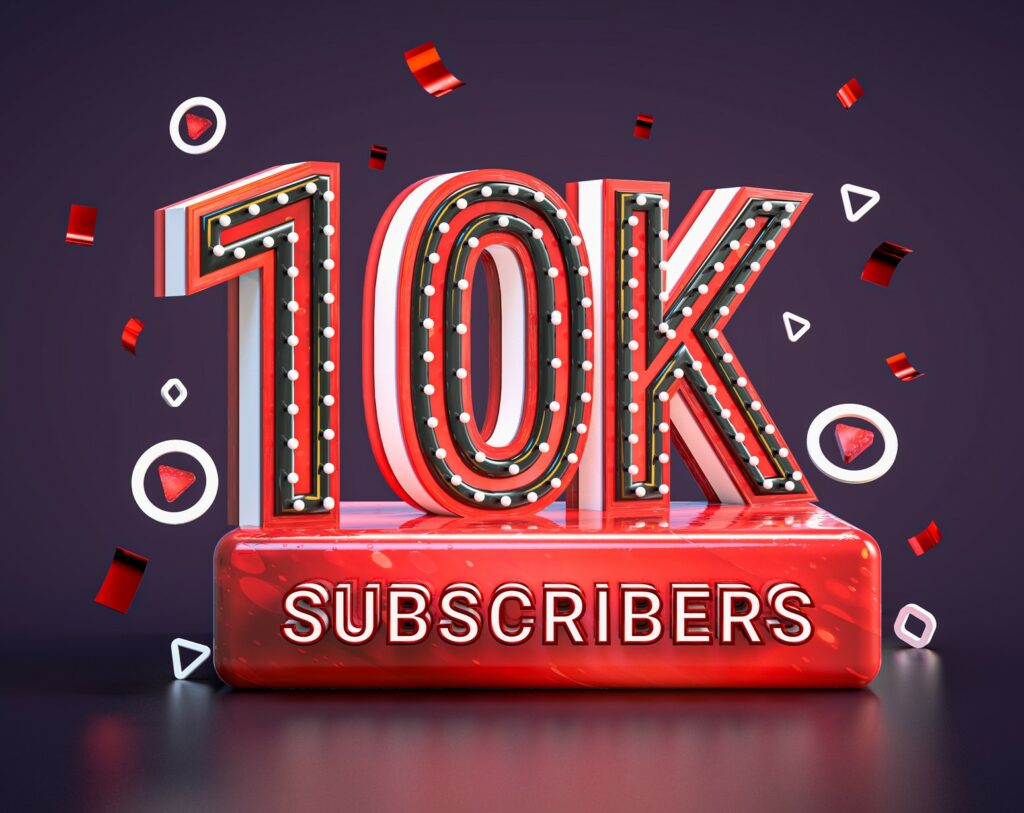 This method of entry is popular among brands who offer online subscriptions to content or products.
Active monthly subscribers receive free sweepstakes entries for each new monthly giveaway in exchange for staying subscribed.
Entrants who want to enter the sweepstakes but who are not subscribed can use the free AMOE and receive the same number of entries as subscribed participants.
2. Insert a Sweepstakes Entry Code Inside Your Product
In order to obtain the entry code for the sweepstakes, customers will have to purchase the product and open the package. This method of entry with a purchase is popular with CPG brands.
Place the sweepstakes entry code on the inside of the product's label or under the lid (e.g. peel to win sweepstakes, under-the-cap giveaway).
3. Take a Picture of a Purchase Receipt With Sweepstakes Receipt Validation for Winners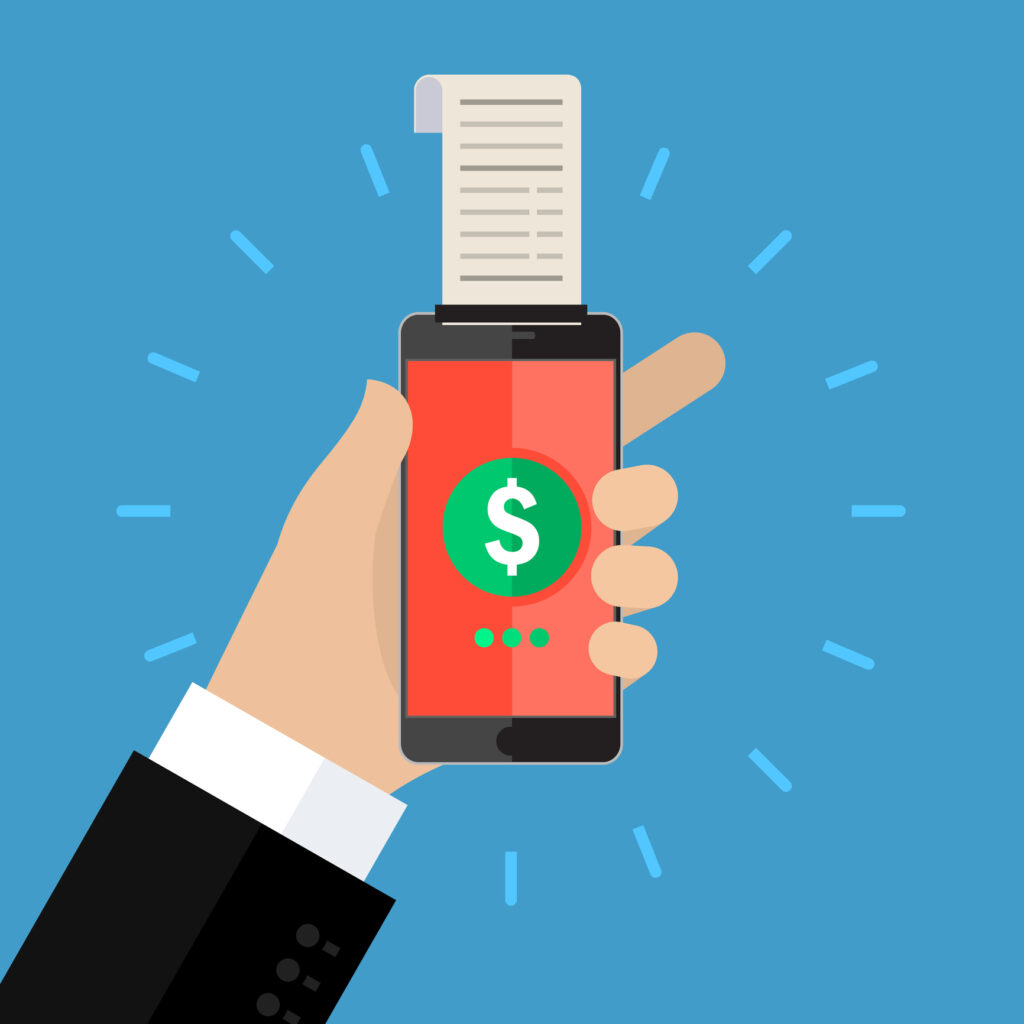 Have buyers take a picture of their purchase receipt and upload it with their sweepstakes entry form. Proof of purchase is not required in order to win, but you can ask for it.
Sweepstakes receipt validation only needs to be performed to verify the winner of the sweepstakes.
4. Mail-in Entry or Web Form Without Purchase Receipt for Free Participants
Participants who do not want to buy your product can enter via mail-in entry or web form without purchase receipt.
Do Sweepstakes Have to Be Open to Everyone?
Sometimes companies hold sweepstakes where you have to be a paid member to enter, such as via an online subscription or membership.
Why don't paid member giveaways violate the no purchase necessary law? Can sweepstakes discriminate?
These sweepstakes take advantage of a loophole: the rules say you need to have been a member before the sweepstakes started. Most jurisdictions will accept that a subscription or membership payment was not a requirement for sweepstakes participants to enter or win.
All eligible participants in the sweepstakes must be treated equally. While federal law prohibits illegal discrimination, in this context, the law means that an entry from any method should be valued equally.
In this case, the payment would have had to been made before the chance to win a prize in the sweepstakes ever existed.
Therefore, this type of promotion doesn't discriminate against non-members since the promotion would never be made available to them.
With so many loopholes and grey areas, this is why we recommend full-service sweepstakes administration for brands that want to run a sweepstakes with a purchase requirement.
Sweeppea helps you create a fully-compliant, legal sweepstakes. We'll check your sweepstakes for the elements of an illegal lottery and ensure that it follows no purchase necessary laws.
4 Examples of Sweepstakes With a Purchase for Additional Entries
Looking for sweepstakes examples that ask participants to buy to enter? Need examples of sweepstakes that allow multiple entries?
Here are 4 top-performing sweepstakes ideas to help you get started:
Mod2fame

Mod2fame recently ran a car sweepstakes in which the brand gave away sweepstakes entries for every $5 spent on a product in the Mod2fame store.
Sweepstakes entants secured automatic entries to win a pre-owned 2017 Dodge Charger RT. Free participants were able to participate in the giveaway by submitting a mail-in entry.
80Eighty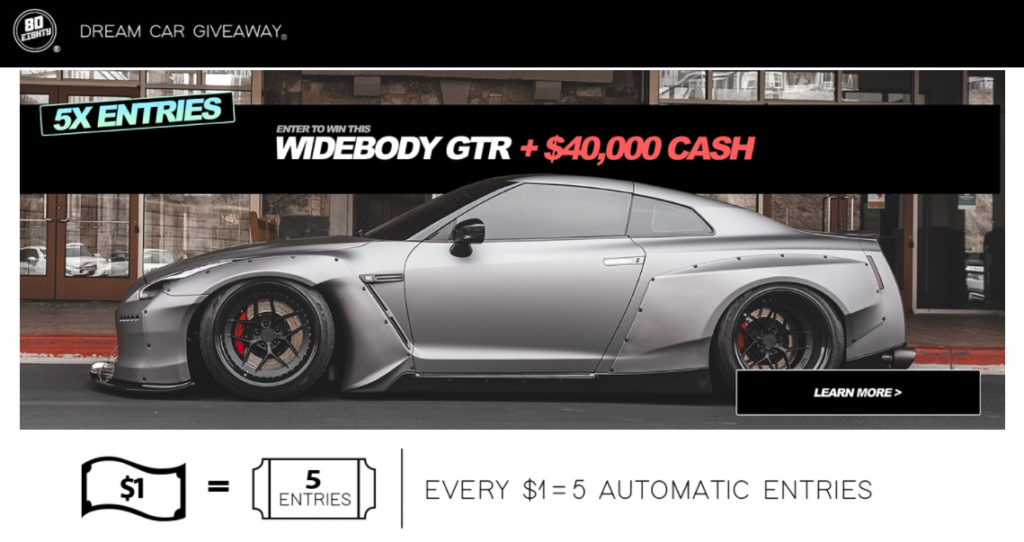 80Eighty recently ran a sweepstakes where every $1 spent in their merch store equaled 5 automatic entries for sweepstakes participants.
The sweepstakes prize was a Ferrari 488 GTB + $60,000 cash. Free participants could enter via a mail-in, handwritten entry.
Armour & Company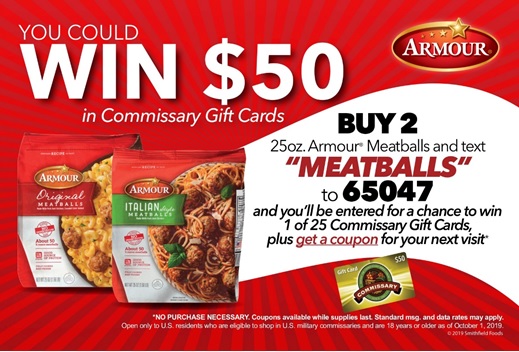 Armour & Company was looking to promote their frozen meatballs at commissary stores on US military bases. The sweepstakes offered $50.00 commissary gift cards to 25 winners.
Participants were asked to upload a photo of their receipt for their purchase of 25oz. Armour Meatballs in order to enter the sweepstakes. Free participants could still enter the sweepstakes by skipping the purchase receipt upload step of the entry form.
TunerCult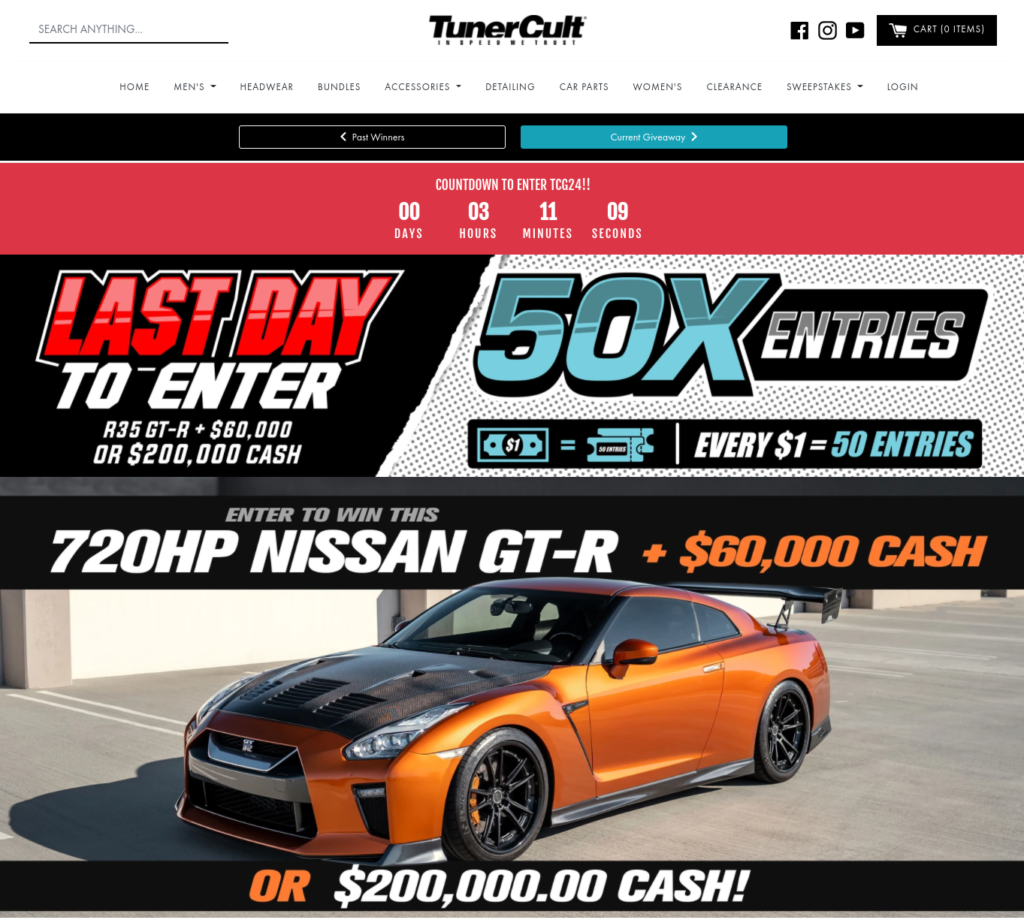 Turner Cult recently launched a sweepstakes to boost sales. For every $1 spent at tunercult.com, participants received 50 automatic entries.
The sweepstakes offered a number of main prizes and grand prizes, including a chance to win a 720HP Nissan GT-R and $60,000 cash or $200,000 cash. Free participants could enter by mail-in entry.
📖 Additional Resources
Congrats, you've made it this far… So let's keep going!
Now that you know that all sweepstakes must always include a free method of entry, keep reading to learn more about how to make your sweepstakes fully-compliant with no purchase necessary laws.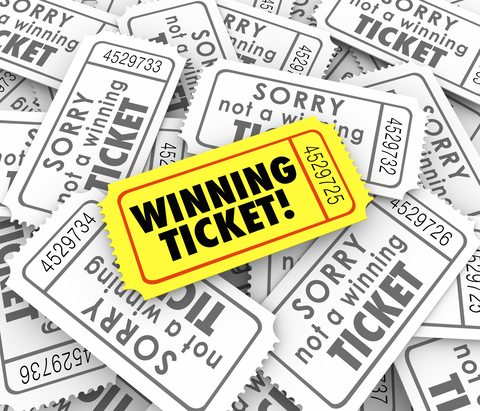 For more tips, check out these articles:
🏁 Next Steps
We'll have your promotion up and running within 1 week.
In addition to sweepstakes compliance, Sweeppea can help with creating your AMOE, prize fulfillment, winner drawing, and much more.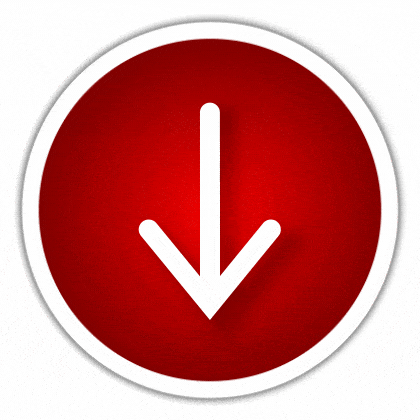 Our full-service sweepstakes administration will provide everything you need for a sweepstakes that boosts sales and brand awareness.
Need help with sweepstakes or contest management? Call 305-505-5393 or email us with your questions.