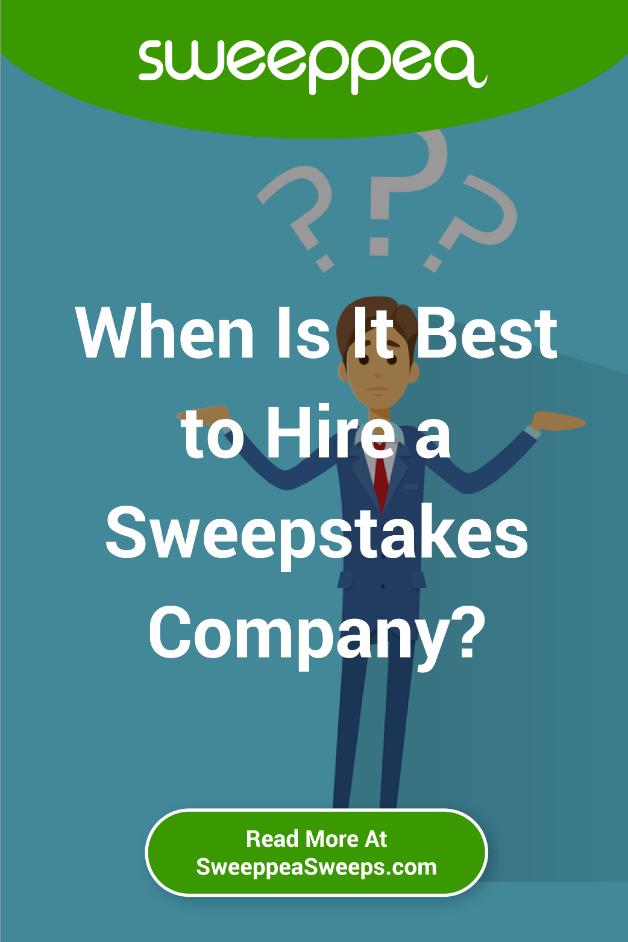 As you launch your sweepstakes, you'll soon find that you'll have to wear a lot of hats. From the marketing to the legal aspects of running your promotion, a sweepstakes company can provide the resources you need to manage your campaign in a cost-effective manner.
Even if you find you can do it all, is managing a sweepstake really the best use of your resources? There are some important questions to ask before you run a text to win sweepstakes.
If you're trying to decide when it's best to hire a sweepstakes company, here are some key factors to consider.
What Does a Sweepstakes Company Do?
A sweepstakes company is fully dedicated to designing and managing sweepstakes campaigns for brands. Here at Sweeppea, as a sweepstakes marketing agency, our services include contest management, instant-win sweepstakes, Official Rules & legal compliance, state registration and surety bonding, winner verification and prize fulfillment.
A sweepstakes company can help ensure you don't overlook critical aspects of your campaign.
It's best to hire a sweepstakes company when you…
Want to ensure compliance? Hiring a sweepstakes company may be the right choice for your business!
Are you launching a sweepstakes for a company that operates in multiple jurisdictions? A sweepstakes company can ensure that your sweepstakes is in compliance with all federal, state and local laws that are applicable.
Work in an industry that has stricter regulations for promotions
If your business is in a regulated industry such as alcohol, tobacco and cannabis or vaping products, you need a national sweepstakes company or international sweepstakes company that has experience in running promotions for companies in these industries. A generic sweepstakes setup won't offer the protection that your business needs to ensure compliance in these industries.
Need professionals who can recommend strategies for the best results
Ensuring that your sweepstakes campaign attracts entrants that have the potential to become customers is extremely important. It's not enough to simply make your campaign go viral if you want to maximize your ROI. A sweepstakes company will help you optimize your campaign so that it delivers tangible results for your business.
Plan to offer prizes of more than $600
In certain states, Tax forms are required in certain states when you offer prizes that have a value that are greater than $600. In states like FL and NY registration and bonding is required if you give away prizes of $5,000 or more. These are rules that must be followed to ensure that your tax obligations are met and that your sweepstakes is legal in the state in which it is being offered.
Need help with a sweepstakes requiring purchase to enter or one that is more complex with multiple winners or prizes?
Sometimes a sweepstake isn't as simple as giving away a prize to a single winner. If you want to customize the design of your sweepstakes, you should hire a sweepstakes agency to manage it for you. They'll be able to advise you as to whether or not your idea for custom sweepstakes is feasible.
Get help today from a sweepstakes company for contest management. Call 305-505-5393 or email us with your questions.