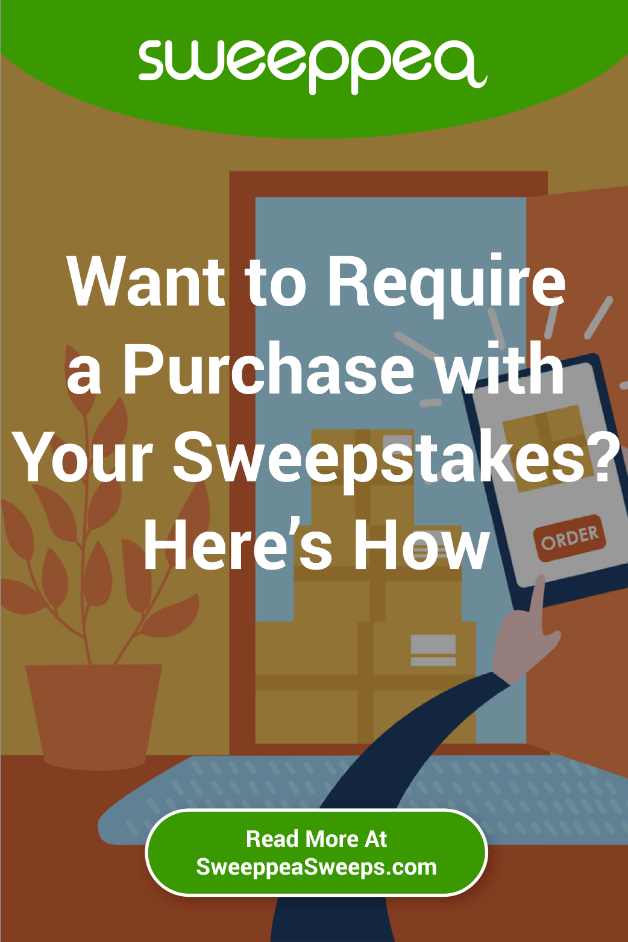 In almost all sweepstakes rules, you'll find a statement that says "NO PURCHASE REQUIRED." in big bold letters. The no purchase laws are there to let entrants know that buying something from the company (Sweepstakes Sponsor) will not increase their chances of winning the sweepstakes and it's not required to participate.
If you're running a sweepstakes in order to attract new customers, you may be wondering how to get around this rule. Here is how no purchase rules actually work and what you can do if you want to require a purchase as part of entering your sweepstakes.
Why The "No Purchase Necessary" Rule?
No purchase rules are required to be in your sweepstakes if you want to ensure that your sweepstakes is legal. A sweepstakes is a promotion where the winner is selected by chance, at random. If you were to require a purchase in order to enter a sweepstakes, then the winner would be selected based on consideration (having completed the required purchase) rather than pure chance (selection of a winner from buyers and non-buyers). In essence, the participant must be allowed to enter for free.
Prize + consideration + chance = illegal lottery or gambling
Prize + consideration = legal contest (in most jurisdictions)
Prize + chance = legal sweepstakes
Why Is Requiring a Purchase With Your Sweepstakes Illegal?
According to the FTC, a sweepstakes promotion that requires a purchase is illegal in the United States and is considered as an illegal lottery. The law that requires companies to include the "no purchase necessary" rule in their sweepstakes rules is called Lottery Law and it is a federal law that is enforced by the FTC, FCC, and USPS. This rule came about as a means of protecting consumers from fraud and scams.
The No Purchase Necessary law stems from a time when lotteries used to be a popular way to raise money back in the mid-1800s. As consumers increasingly began to hold anti-lottery sentiments due to scams, lawmakers decided to act. According to the law, non-government entities are not permitted to offer sweepstakes that require a purchase in exchange for a chance to win.
All Sweepstakes Must Have a Free Method of Entry
That said, you do not have to discourage your customers from making a purchase before entering your sweepstakes as long as you offer a free method of entry (Alternate Method of Entry) such as an SMS entry method, online web form or mail-in entry.
You can then advertise your sweepstakes on your product, with a package insert, or with in-store displays to encourage a purchase of your product while also letting your customers know about the promotion. If you're not sure whether your advertising idea will create a grey area, make sure to run it by your sweepstakes administrator first.
How to Include a Purchase for Entry
If a purchased based entry method will be offered like this one:
Online Entry:  During the Promotion Period, go to the following websites:  [URL]  ("Website") and purchase one or more products during the Promotion Period ("Purchase Entry") and RECEIVE ONE ENTRY FOR EVERY $1 SPENT (not including shipping).
Then, a free method of entry must be included on the Official Rules and all promotional materials.
2. Mail-in Entry (Free method):  To obtain an entry without making a purchase, legibly handprint your name, street address, city, state or province, zip or postal code, country, telephone number, complete e-mail address on a standard 4" x 6" postcard (with no outer envelope) and mail to: [address].
The Bottom Line
The law is clear when it comes to requiring a purchase with your sweepstakes, its not possible unless there is a free method of entry.
As a Sweepstakes Company, we encourage our customers to leverage the sweepstakes promotion to create brand awareness and to offer your products or services to your participants after they have entered the sweepstakes.
See how companies do this at:

How to Use a Text-to-Win or Mobile Sweepstakes to Generate Sales
Boost Mobile's Stretch Your Tax Dollars Giveaway – Case Study
Need help with sweepstakes or contest management? Call 305-505-5393 or email us with your questions.