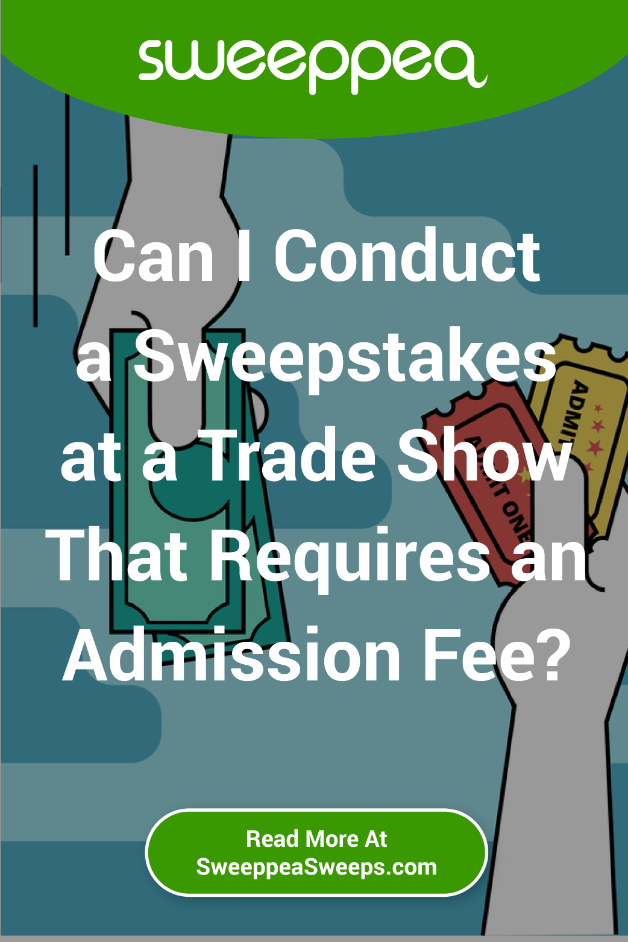 Hosting a trade show sweepstakes offers an opportunity for you to not only get to know your existing B2B customers better, but reach a targeted audience of potential customers.
But what about the "no purchase required" sweepstakes rule? Not to worry. We've got a solution! Here is how to conduct a trade show sweepstakes at a trade show that requires an admission fee.
Why Offer a Sweepstakes At a Trade Show?
Before you launch a sweepstakes at a trade show, you should know you'll automatically have a shot at a great ROI on your campaign due to the nature of this type of event. A trade show sweepstakes can help you to:
1. Reach a Motivated Audience
Most people who attend industry trade shows do so because they are on the lookout for something that they need in their business. Most want to find out about what is new and innovative or speak with experts one-on-one about problems that they are facing in their companies.
For you, this means that you will have direct access to an audience that wants to hear from you and can potentially benefit from your product or service.
2. Make Sales
Trade shows can be very lucrative when it comes to sales. By offering a sweepstakes, you give potential customers a reason to visit your booth, allowing you to advertise deals and discounts and lock in new business.
Trade shows are one of the rare opportunities to reach both existing and potential clients in person. A sweepstakes can help you to effortlessly tap into both audiences.
3. Find Valuable Partners
Offering a sweepstakes at a trade show not only gives you a way to connect customers, it also creates opportunities for you to connect with a variety of companies within complementary industries. A sweepstakes gives you a chance to find partners for further promotions and establish relationships that could improve your business and lead to further success.
How to Get Around the "No Purchase Necessary" Rule
If you know anything about sweepstakes law, you know that companies are required to have a "no purchase necessary" rule as a part of their sweepstakes official rules. So if trade show attendees have to pay to get into the trade show before they enter your sweepstakes, how can you make sure that your sweepstakes is legal?
The secret? Offer an alternate method of entry (AMOE).
The AMOE is a web form that anyone can go to in order to enter into your sweepstakes. While you provide a separate sweepstakes entry method to ticket holders for the event, the web form will serve as the means of entry to allow non-ticket holders to enter.
Limit Promotion of Your Trade Show Sweepstakes to These Marketing Channels
Now that you know how to launch a trade show sweepstakes, make sure that you limit your advertising of the trade-directed sweepstakes to channels that will likely be seen by the trade show attendees only, including the trade show's website and social media pages.
In this way, you can make sure that your pool of sweepstakes entrants is limited to the professionals that will actually attend the trade show.
Need help with sweepstakes or contest management? Call 305-505-5393 or email us with your questions.