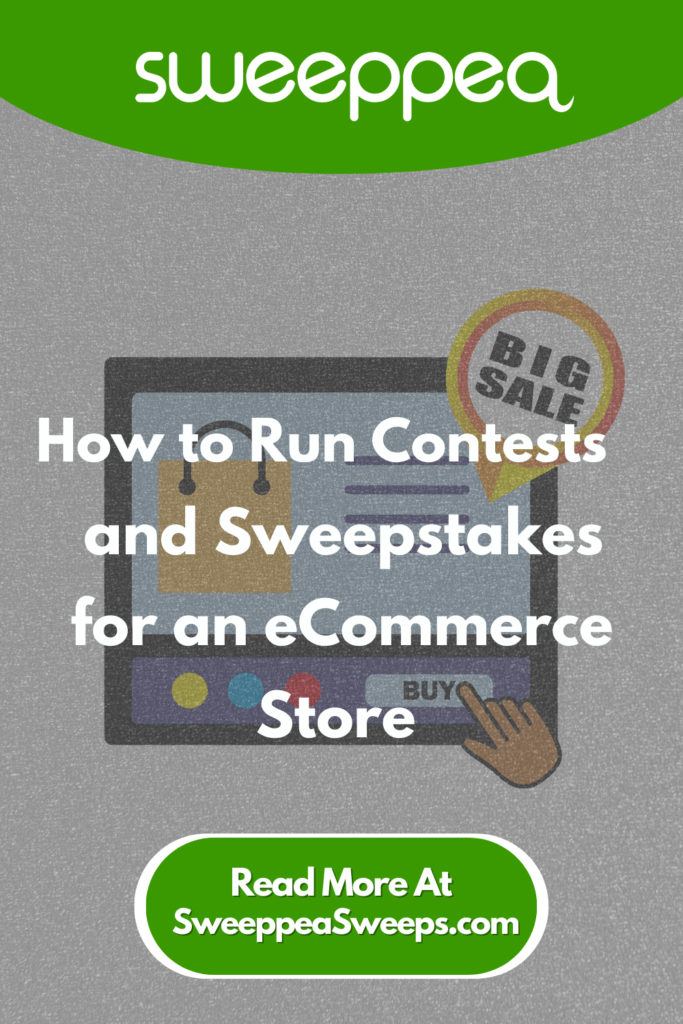 If you are looking for a way to increase sales, build an email list and SMS list for remarketing; then contests and sweepstakes are one of the best tactics. We'll walk you through the steps you need to take to run a contest or sweepstakes for your eCommerce store. We'll also give you some tips on how to make sure your contests are successful.
How do Sweepstakes increase eCommerce Sales?
Sweepstakes and contests can serve as eCommerce marketing tools to engage with potential and existing customers. Social media works in tandem with the sweepstakes promotion to help you get more entrants and sales.
To increase exposure for your eCommerce sweepstakes, encourage your participants to share your sweepstakes through social media. Remember that all sweepstakes need a free form of entry and all participants must have an equal chance to enter and win regardless of whether they purchased or not.
That's why we recommend hiring a sweepstakes company to help you ensure you're legally compliant with your promotion.
What are the Benefits of Running Sweepstakes to Drive eCommerce Sales and Growth?
Properly planned sweepstakes will catch the attention of their target customers and increase sales without the need for a big marketing budget. Get creative with your prizes! Check out the most popular sweepstakes prizes for ideas.
Benefits of running eCommerce sweepstakes:
Drives traffic
Sweepstakes or contests with a great prize will generate traffic for your website and brand. Customers and potential customers will visit your website just for a chance to win a prize. Remember to use the power of social media and your other marketing channels to drive entries.
Boosts sales
Sweepstakes and contests can help you boost sales by growing your email list, increasing social media followers, improving your product exposure, and more. Social media plays a big role in boosting sales, 83% of Instagram users use that platform to discover new products. That is more than half of their users!
If your eCommerce brand has an omnichannel presence, remember to update your marketing to reflect your campaign across all channels. More visibility equals more entries.
Boosts awareness
Increase brand awareness with your sweepstakes promotion. When creating marketing content for your eCommerce sweepstakes or contest, make sure to add branding elements like your company logo and website. This will help increase your brand awareness and content reach.
Gather Customer Insights
Research has shown that 32% of customers stop interacting with a brand after just one bad experience. Customer feedback is key to improving your products and boosting sales.
Sweepstakes and contests are key to gathering feedback on your products. You can gather feedback from your customers by offering extra entries if they complete a review or a survey.
Increase brand loyalty
Customers are more likely to remain loyal to a brand when they are incentivized. Sweepstakes and giveaways are a great way to incentivize your customers. If your go-to choice for your promotion is purchase-to-enter, read our Want to Require a Purchase with Your Sweepstakes? Here's How to learn more about this type of promotion.
What is the general process of running sweepstakes for eCommerce?
Running eCommerce sweepstakes or contests requires legal, administrative, and marketing knowledge. A lot of tasks and knowledge are needed to run legally compliant and successful sweepstakes whether the sweepstakes is for eCommerce or a retail store. The general process of running sweepstakes for online stores must include the following details.
Establish Official Rules
The official sweepstakes rules are a crucial element of eCommerce sweepstakes. The rules will determine the interaction between the customer and your sweepstakes. They will also provide the foundation for a legally compliant promotion.
Important legal aspects to include in your eCommerce sweepstakes official rules are:
Sweepstakes must have a Free Method of Entry
Legally compliant sweepstakes must be free or provide a free method of entry. Failing to comply with this may turn your promotion into an illegal lottery.
Entry Method Information and Deadlines
The official sweepstake rules must disclose the method of entry and actions to take to gain a chance at winning the prize. The rules must explicitly establish the duration of the entry window. Be as specific as possible. Include start and end date, time, and time zone.
Drawing the Winner
The rules must state how the winner will be drawn and what information the winner is required to provide. In eCommerce sweepstakes, the method should be a random drawing.
Privacy Policy
A privacy policy link should be added to the official sweepstakes rules. The participants need to know how their personally identifiable information (PII)will be used or shared.
Running sweepstakes may seem like a black and white process, unfortunately, it is not. Different types of sweepstakes require different types of legal details to be reviewed. Due to this, we recommend hiring a sweepstakes administrator like Sweeppea.
Why is using a Sweepstakes company beneficial to run eCommerce sweepstakes?
Running sweepstakes or contests for eCommerce stores requires legal knowledge of the promotional laws in each state. Additionally, project management and eCommerce marketing experience help ensure success. Hiring experts in all of these fields will require time and money. We know you want to host your sweepstakes as soon as possible so you can reap the benefits. This is where hiring sweepstakes and contest administration company like Sweeppea makes sense.
A Sweepstakes company will have the legal knowledge and expertise to help you stay compliant with sweepstakes law at the federal and state level. We even have a self-service platform that can help you if you plan to consistently run these promotions throughout the year.
A third party will have the knowledge and time to focus on delivering the best practices and compliance with laws related to contests and sweepstakes. Having an outside resource also helps relieve the administrative burdens of running a sweepstakes promotion. This leaves you more time to focus on more important aspects of your business.
For more information check out: Sweepstakes Administration Roles: Who is Missing From Your Promotional Marketing Team?
How can Sweeppea help you with your eCommerce sweepstakes?
Sweeppea is a full-service sweepstakes and contest administration company. We have over 10 years of combined experience and have helped run successful sweepstakes for some of the largest brands.
In the U.S., we offer a wide range of services that can help you not only with your eCommerce sweepstakes but also with contests, giveaways in any type of platform, and industry.
Within the services we offer are:
Development from concept to reality
We help you turn your eCommerce sweepstakes into reality. This included legal compliance and everything needed to host and manage the sweepstakes successfully.
Official Sweepstakes Rule and Abbreviated Rules
Official rules are an essential element when running successful sweepstakes. In Sweeppea, we offer official rules drafting services including legal advice on sweepstakes legal compliance as well as abbreviated rules to include in all of your eCommerce sweepstakes advertising.
Creation of Official Sweepstakes Rules Page
We will create an accessible custom web page for your participants and potential participants to have access to the rules.
Customized Entry Form Creation
We will create a customized online form to collect your participant's first-party data.
Entry Confirmation Page
We will create a customized confirmation page for your sweepstakes promotion. After submitting the entry form, your participants will be directed to a customized Thank You page.
Prize Fulfillment
We will handle all aspects of prize fulfillment for your eCommerce sweepstakes. This includes working with the packing and logistics.
When prizes involve trips and reservations, we will coordinate all travel details including itinerary management and travel coordination.
Drawing Winners and Managing Winner's Affairs
Drawing winners is one of the goals of running sweepstakes. Once your sweepstakes end we will randomly draw your winner(s) from all the eligible entries. Once winners are drawn, you will need to announce the winners publicly, which offers a great opportunity to further market your brand and get customers excited about your next promotion.
Sweeppea's Text to Win and Online Sweepstakes Self-Service Platform
Sweeppea offers options for all types of clients and industries. For online and eCommerce sweepstakes we offer a Self-Service plan. This service is simple to use, and affordable for any industry. If any questions should arise, the plan includes 24/7 email & phone support.
This unique and intuitive service offers the following features:
One-on-One Onboarding
Don't worry, you will not be alone in this process. The plan includes one-on-one onboarding and training to walk you through the process and get your eCommerce sweepstakes started worry-free. After setting your sweepstakes up Sweeppea's team follows up with you to make sure everything is good to go.
Even though this platform is self-service, the plan includes 24/7 email and phone support as well. This means you have help every step of the way.
Entry Form Builder
The platform includes its Entry Form builder tool. The tool will help you easily create a custom sweepstakes entry form your potential entrants will submit to participate in your online sweepstakes. The form will let you gather information from your participants such as name, phone number, address, and email.
Official Rules Wizard
Sweepstakes Official Rules are a key part of any type of sweepstakes including eCommerce Sweepstakes and contests. Official Rules will determine how your promotion is offered, and it's key to making your sweepstakes legally compliant. Sweeppea's Official Rules Wizard will help you set drawing date, prize description, eligibility for your online or text message sweepstakes by asking you a couple of questions. If you have already prepared official sweepstakes rules, the platform offers the option to upload them as well.
Survey on Your Entry Form
Enrichment of First-Party Data is essential for remarketing purposes. A way to enrich the First-Party Data gathered using sweepstakes entry forms is by adding surveys or polls within the entry forms. Sweeppea's Self-Service platform allows you to prequalify leads and get to know your audience better by adding a few questions to the entry form.
For more information Check out: How to Build Your First-Party Data with Sweepstakes
Custom Thank You Page
The platform offers you access to use a customizable Thank You page. This page will let your entrants know that their eCommerce sweepstakes entry was successful. You can use this to your advantage by asking them to follow your social media, share the sweepstakes, or offer a coupon to motivate a purchase on your eCommerce store.
Unlimited Participants and Unlimited Texts
The self-service platform allows unlimited participants to enter your eCommerce Text to Win sweepstakes and receive entry confirmation. Once you have participants you can send unlimited text messages to them. This can include promotions, coupons, and offers.
Custom Keyword
Sweeppea's Self-Service Text to Win platform allows you to create a branded keyword or as we like to call it Sweepskey. A Sweepskey is a word your entrants will text to a designated number to enter your sweepstakes.
Example: "Text SWEEP to 855-444-4545 to enter." In this case, the Sweepskey is SWEEP.
Sweepstakes Data Reports
Sweeppea's Self-Service platform gives you access to metrics gathered from your eCommerce sweepstakes like demographic information, click-through on links, total texts sent vs received, and more. This is key for growing your eCommerce store. With access to this data, you will be able to create personalized experiences for your customers that will motivate customer loyalty and bring more sales.
Sweepstakes in Spanish
According to Forbes.com, the U.S. has the 2nd largest population of Spanish speakers in the world. It is expected that by 2050, one in three people in the U.S will speak Spanish. With this said, it makes sense for brands and organizations to move towards a more inclusive way of marketing.
Sweeppea's Self-Service Text to Win and Online platform allows you to run your eCommerce sweepstakes in English and Spanish. This includes texts, text confirmation, entry forms, and official rules.
Text Marketing Compliance
Sweeppea follows the best practices guidelines of the Mobile Marketing Association and CTIA on their Text to Win campaigns. They are also compliant with the Telephone Consumer Protection Act.
Guaranteed Security
Sweeppea's self-service platform is protected with Industry Standard SSL Encryption daily backups and security audits. All the privileged information regarding your eCommerce sweepstakes campaign is safe within their platform.
Instant Drawing of a Winner
Once your eCommerce Sweepstakes entry period has ended you can automatically draw a winner.
What are the Benefits of Sweeppea's Self-Service?
Sweeppea's Self-Service is a great plan for busy eCommerce business owners. The Self-Service platform is perfect for eCommerce businesses who want to decrease the sweepstakes planning time.
A lot of precious time is lost during email communications, especially waiting on replies and finding attachments in extensive back and forth threads. If the other part has a busy inbox you might be left confused and asking yourself if your email was received or if it's appropriate to send a follow-up. With Sweeppea's Text to Win and Online Sweepstakes platform, you can save time and resources by maintaining all relevant files, tasks, and communication in one centralized location.
Finally, email exchanges can feel unorganized, awkward and a lot of information can get lost through the cracks. Lost attachments and information will be a thing of the past when you start using the platform.
Successful Ecommerce Sweepstakes Administered by Sweeppea's
To give you an idea of how sweepstakes function and how Sweeppea's can help you run successful eCommerce sweepstakes, here are case studies of eCommerce sweepstakes administered by Sweeppea:
1. Freedom Tremor Sweepstakes – DiamondBack Covers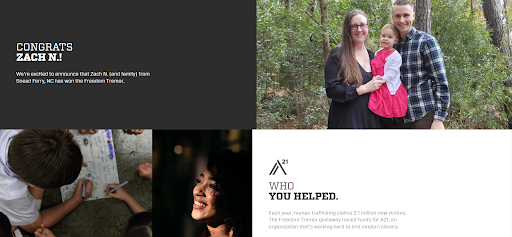 DiamondBack Covers is an eCommerce store that sells automotive accessories primarily for trucks. With the help of Sweeppea as an administrator, DiamondBack sponsored and hosted their eCommerce sweepstakes named Freedom Tremor Sweepstakes.
The brand hosted its eCommerce sweepstakes on its website as well as on its Instagram. Here is the customized promotion webpage and social media marketing content.
The following details were required to enter the sweepstakes:
Entry Methods
The main entry method was by visiting the promotion's website and making a purchase of a product. Once the purchase was confirmed successful, the entrant would receive one (1) entry for each $1.00 spent on qualifying products purchased (tax and shipping not included):
Freedom Tremor PVC Patch
Freedom Tremor Hat
Freedom Tremor T-Shirt
Freedom Tremor Long Sleeve T-shirt
Freedom Tremor Hoodie
Although these products are not available anymore, some of them can be seen on this Instagram promotion.
As a free alternative method of entry (AMOE), they provided a Mail-In option.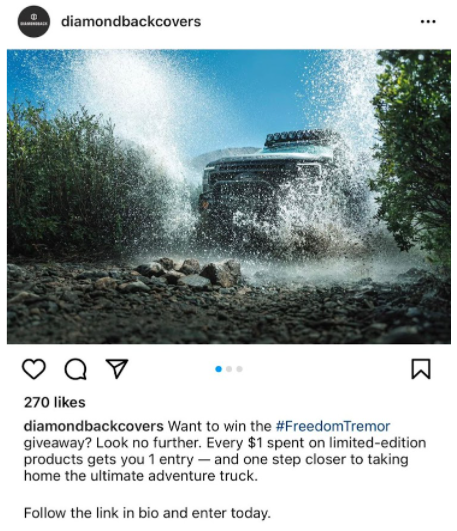 Entry Period
The start date of the promotion was 1/2/22 and the end date was 2/15/22. They gave customers 44 days to submit their entry to the promotion.
Eligibility
In addition to following the entry instructions, potential entrants must have been 18 years or older to participate and be a resident in one of the 48 contiguous states.
Winner and Prizes
The prize for this eCommerce Sweepstakes was one (1) Ford Super Duty 250 Tremor 2020 pickup truck with 14,000 miles (ARV $80,000) and a check for $20,000. The prize's total value was $100,000.
For this promotion, only one winner was drawn randomly. The winner was announced on the promotion's official page.
2. "Big Purp giveaway" Sweepstakes – Mod2Fame

Mod2Fame is an eCommerce page dedicated to car enthusiasts that sell branded merchandise that connects with their community.
Similar to the Freedom Tremors campaign, Mod2Fame promoted their eCommerce sweepstakes on their webpage as well as on their Instagram page.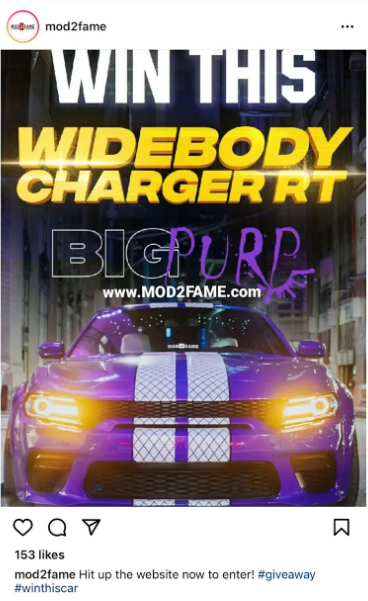 Entry Methods
Through the duration of the sweepstakes promotion, eligible entrants that purchased on their website received one (1) entry for each $5.00 spent on eligible products (tax and shipping not included) like:
1.Mod2Fame Decals
2. License Plate Framesit'sTo
3. Snapback Hat – Various Colors
4. Beanie Hat – Various Colors
5. Mod2Fame Logo Tshirt – Various Colors
6. Gap'N Season Tshirt – Various Colors
7. Hurt'N Feelings Tshirt – Various Colors
8. Mod2Fame Logo – Hoodie – Various Colors
9. Mod2Fame Logo Joggers – Various Color
10. Big Purp Tshirt – Various Colors
As a free alternative method of entry (AMOE), they provided a Mail-In option. Each mail entry was worth five (5) entries during the eligible sweepstakes period.
Entry Period
The Sweepstakes entry period started on 11/4/21 at 12:00 ET and ended on 2/4/22 at 11:59 ET.
Eligibility
To be eligible to participate, entrants had to be 18 years or older and residents of the 48 contiguous states including Washington D.C, but excluding Florida and New York.
Winner and Prizes
One (1) winner was randomly drawn among all eligible entries.
The prize for the winner of the promotion was one (1) Dodge Charger RTs valued at $28,000.00
3. Nonprofit Sweepstakes – The United Association of Journeymen and Apprentices of the Plumbing and Pipe Fitting Industry of the United States and Canada (UA)
The UA represents approximately 355,000 Plumbers, Pipefitters, Sprinkler Fitters, HVACR Service Technicians, Welders, and Pipeliners working in the industry of construction across North America. The members of the UA are very involved in community projects and charity hence they developed with Sweeppea a nonprofit sweepstake. All donations would go to The UA Charitable Fund Trust.
Entry Methods
Donors were offered different tiers based on what they donated. The tiers were the following:
$25 Donation = one (1) entry
$50 Donation = two (2) entries
$75 Donation = three (3) entries
$100 Donation = five (5) entries
A free alternative method of entry was also provided to entrants.
Winner and Prizes
Two (2) prizes were offered for this promotion:
One (1) 2020 Can-Am Outlander ATV (Value $6,000)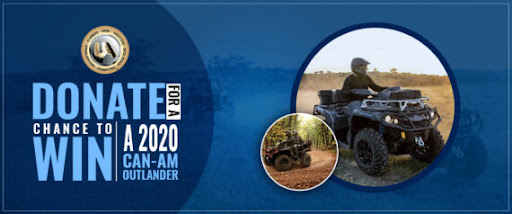 2. One (1) 2021 Chevy Silverado (Value $76,000.00)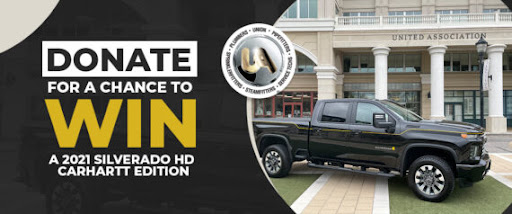 Results of Case Studies
As a result of these sweepstakes, our clients were able to gain $1.55 in donations for every $1 spent in marketing. They also reported increased social media followers and new emails. These entries were used for remarketing as well as added into SMS and email lists to further grow their businesses.
eCommerce Store Sweepstakes Marketing
An essential part of running eCommerce sweepstakes or contests is marketing. The main channels that can be leveraged to promote your sweepstakes and convert to sales on your eCommerce stores are Social Media, email, and SMS. If you have web push notifications implemented on your store, leveraging them is also an excellent idea.
Let's discuss the benefits of each channel.

Social Media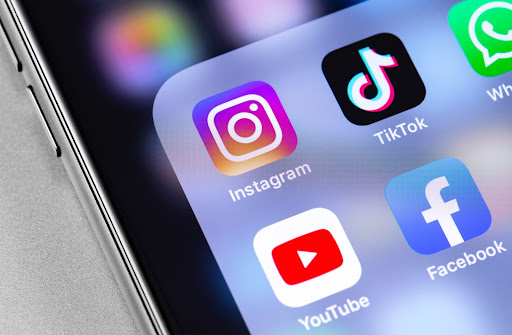 Social media is one of the best ways to find new customers. 6 out of every 10 people on the planet have social network accounts. Of those people with social media platforms, 27.5% use social media to research products to buy. Given these numbers, social media is a great way to grow your following, generate brand awareness, and increase your email list.
Within the top 10 most popular social networks of 2022 (based on monthly active users) we can find:
Facebook – 2910 million
Instagram – 1478 million
TikTok – 1000 million

When it comes to eCommerce sweepstakes marketing, these are the three platforms recommended to turn your social media efforts on. Before choosing what platform to use, it is important to know your audience and determine what sweepstakes or contest type you want to host.
Example:
Goal: Grow your social media following.
Sweeps Type: Request that your entrants follow your page to be eligible.
Best Platform for your goal: Instagram
Another key factor when it comes to choosing a platform to promote sweepstakes is knowing your target audience. Especially demographics like age, geography, and gender as it varies from platform to platform. TikTok, for example, is more popular within a younger audience than Instagram and Facebook.
Finally, it is important to understand that each social media platform has individual rules and guidelines when it comes to hosting promotions like eCommerce sweepstakes, giveaways, or contests. When it comes to this, a sweepstakes administrator company can be very helpful to have by your side. Sweeppea for example has experience administering a broad variety of sweepstakes and promotions, this includes social media sweepstakes.


Email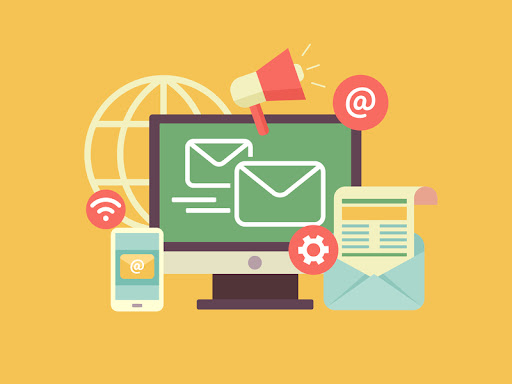 Social media is a primary way of marketing, but email marketing is a key tool to generate leads. According to the Statista Research Department, there are 4 billion daily email users. This number is expected to increase to 4.6 billion by 2025. An email list is one of the most valuable assets an eCommerce store can have. Why? Because it's a list of customers who have permitted you to market to them directly in their inbox. Usually, this information is collected at check out of products they have already purchased. In other words, these people receiving your emails are already interested in your product. You can use this opportunity to send promotions, offers, surveys and even to promote your eCommerce sweepstakes.
Given the importance that an email list has for growing your revenue and customer loyalty, you can use eCommerce sweepstakes to grow it even more.
If you are considering using your email list for eCommerce marketing of your sweepstakes there are key points to consider.
First, you need to have an appropriate email service platform. For example, MailChimp and Klaviyo are popular options.
After choosing your platform, it is important to know your audience. This way you can plan relevant emails that will capture their attention.
Finally, it is important to add a call to action in your emails. A call to action will guide your reader to complete the action that you are looking to get from them. Make sure you include a direct link to your sweepstakes Entry Page and tell your customers exactly what they can win.
Example: Sign Up Today for a Chance to Win a Grand Prize!
After announcing your eCommerce sweepstakes using email marketing, make sure you send reminders at least once a week. This way you'll make sure your promotion is on your customer's mind. Once your sweepstakes has ended and the winner has been drawn, send an email letting your audience know the results. If you want to go the extra mile and cultivate loyalty you can send a discount code to all participants who did not win. This will make your customers feel appreciated.
Are you thinking about creating eCommerce sweepstakes but do not know where to start? Sweeppea is your best option to help you plan a successful and legally compliant promotion. Check out our full-service sweepstakes management package for more information.
SMS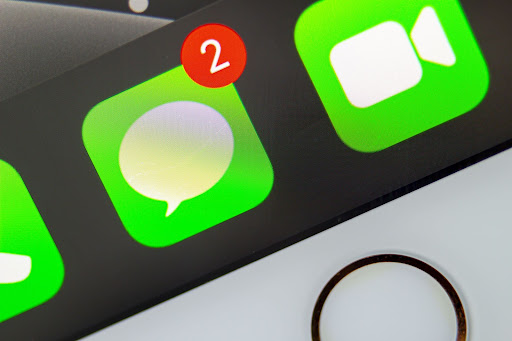 SMS stands for "short message service". In marketing, SMS refers to how a brand or company communicates with its customers through text messages about promotions, updates, and more. SMS Marketing is very similar to Email Marketing in the sense that you can control when, who, and what your customers receive.
People read 95 percent of all the texts they receive. This means you have a high chance of engaging with your audience when you use SMS marketing. Not only does SMS give you a high chance of engaging your audience, but it also gives you a chance to create a more intimate relationship with the audience.
If you are looking for a hassle-free and easy way to host your eCommerce Text to Win Sweepstakes, Sweeppea offers a Self-Service Text to Win or Online Sweepstakes Platform. This platform offers an affordable way to promote and connect with your subscribers. The best part of this Self-Service Platform is that you get unlimited opportunities to send your subscribers promotions, coupons, and discounts. This is the best opportunity to convert sales for your eCommerce store.
Conclusion
There are many benefits of using an experienced Sweepstakes company like Sweeppea to run an eCommerce sweepstakes campaign. If you're looking for a way to increase sales, build an email and mobile list for remarketing give Sweeppea a call.
Additional Resources
Thank you for making it this far! Now that you know your options and where to get started with your eCommerce Sweepstakes, check out these helpful articles:
No Purchase Necessary Laws: Can You Run a Sweepstakes That Requires a Purchase to Enter?
Ready to Run a Contest? Laws and What to Include in Your Official Rules
Guidelines for Running a TikTok Contest
How to Include Sweepstakes Rules in Your Social Media Campaigns
Next Steps
Contact us to get started with our sweepstakes platform that includes 24/7 email and phone support.
In addition to our Self-Service Platform, we also have our Full-Service Sweepstakes Management Service. Through this service, we have helped administer promotions within various industries such as Cannabis, Alcohol, and NonProfits.
For more information on how Sweeppea can help you with your next eCommerce sweepstakes, visit our website or email us or call us at 305-505-5393.