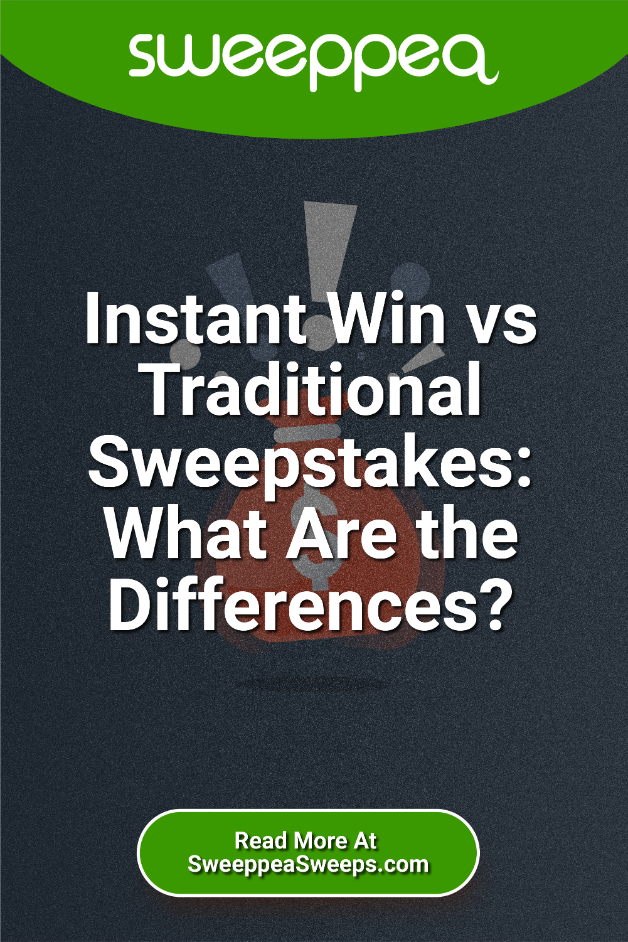 Boost brand awareness and sales with an instant win sweepstakes. This game of chance lets participants know instantly if they've won. Besides the timing and frequency of winner announcements, what are the differences between an instant win game and a traditional sweepstakes?
Sweeppea offers the option to run an instant win campaign or a traditional sweepstakes. Before you decide which option is best for your promotion, here's everything you need to know about traditional vs instant win contests or sweepstakes.
How Does an Instant Win Games Work?
Instant win games or instant win giveaways mean that there is no waiting until the promotion ends before a winner is drawn and participants learn whether or not they have won a prize. As a result, instant win sweepstakes entrants find out instantly as soon as they submit their entry. They instantly win.
In contrast, in traditional sweepstakes or contests, participants have to wait weeks or months in order to find out whether they've won or not.
The best instant win games also typically involve giving away small prizes that can change daily or the prizes are randomly selected so that entrants don't know what prize will be available yet. With traditional sweepstakes, there is typically only one grand prize (or several main prizes and a grand prize) that are given away once the promotion has ended.
Why Run an Instant Win Promotion?
Let's face it, people love instant gratification. For sweepstakes entrants, the choice is obvious: finding out if you're a winner in an instant win sweepstakes in just a few seconds is much more exciting than having to wait.
There are also many more benefits for brands. With an instant win game:
Daily entries for multiple prizes means daily traffic
Sales leads and email opt-ins help you build your customer list
Increased brand awareness and social media engagement
Customer loyalty
Before you start creating your traditional or instant win sweepstakes or contest, take a look at what other brands in your industry are doing. It's also a good idea to use full-service sweepstakes administration to ensure that your sweepstakes promotion delivers the results that you're looking for.
What Traditional Sweepstakes Do For Brands That Instant Wins Don't
Participants who are continuously offered the chance to win a prize but never do will burn out at some point. As a result, an instant win promotions like instant win cash sweepstakes isn't the best option if it's your only means of building customer loyalty.
When it comes to building brand awareness and customer loyalty, here is where traditional sweepstakes shine. A large sweepstakes prize like cash prizes combined with an elaborate rollout and winner announcement is guaranteed to wow your audience.
It also makes it seem like your promotion is worth the wait, which means that the participants who are most likely to wait for the winner's announcement in traditional sweepstakes are also your most loyal fans.
Ready to get started? Check out these tips to make sure that you have everything you need run a sweepstakes:
Your Sweepstakes Official Rules Checklist
Here's What Entrants Love About Sweepstakes and Contests
Business to Business Sweepstakes: 5 Ways to Reach B2B Customers Effectively
What's the Difference Between a Sweepstakes, Contest, Game, Raffle and Giveaways and Which is More Popular?
Align the Sweepstakes Prizes With Your Goals/Brand
Lastly, before you choose prizes for an instant giveaway or traditional sweepstakes, think about how you can align your prize with your campaign's goal and brand.
Sure, a $1,000 gift card instant win might bring thousands of entrants, but are they interested in your brand? Aligning the sweepstakes prize with your brand, not only attracts higher quality participants, but it will also help you decide whether to run an instant win game or a traditional sweepstakes.
Sweeppea's full-service sweepstakes management service provides everything you need to create an engaging and rewarding instant win game or traditional sweepstakes.
Need help with sweepstakes or contest management? Call 305-505-5393 or email us with your questions.