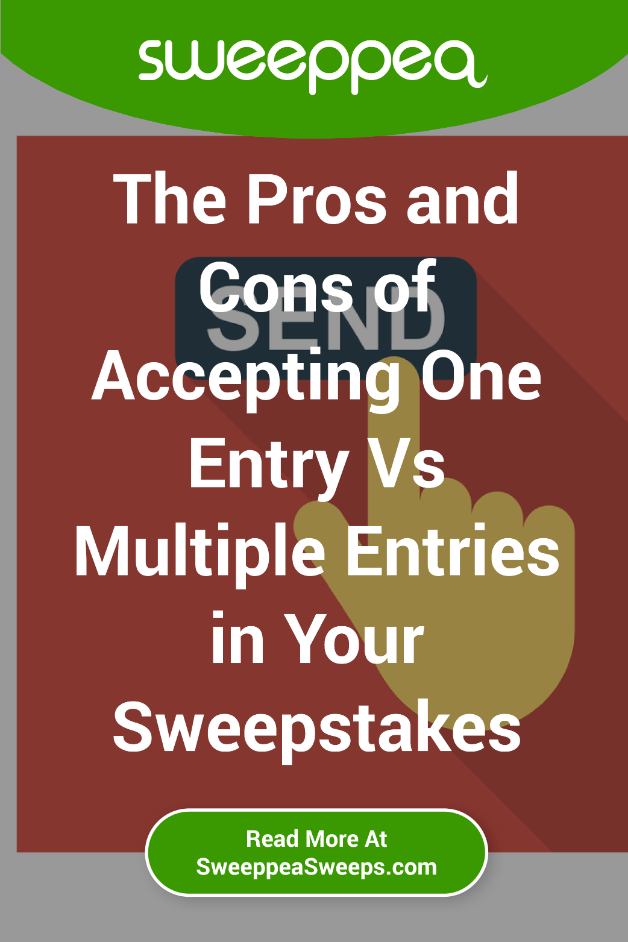 Does it make sense to allow multiple entries for your sweepstakes? Some sweepstakes only allow one entry per participant while others allow you to obtain as many chances as you like to win.
From our experience as a Sweepstakes Company, here are the pros and cons of each approach to entries for your sweepstakes.
Pros and Cons of Multiple Entries for Your Sweepstakes
The bad
If you want to give away a big prize, a sweepstakes that allows multiple entries may attract thousands more entries than a sweepstakes that only allows one entry per person. A multiple entry sweepstakes will also attract a lot more ineligible leads.
As a result, the combination of a big prize and multiple entries for your sweepstakes may defeat the purpose of running the giveaway in the first place (which was to bring in low-cost, viable leads).
The good
Multiple entries for your sweepstakes can help increase brand awareness and aid in your promotion go viral faster. People will visit the Entry Page, website, or social pages more often if they know that multiple entries will increase their odds of winning a cool prize.
Pros and Cons of One Entry Sweepstakes
The bad
On the other hand, while your prize may seem enticing to entrants, with a one entry sweepstakes, participants know that there is a much lower chance of winning due to the fact that there are so many people vying for a single prize.
The result? Your one entry sweepstakes may lead to fewer entrants as people may feel they have lower chances of winning.
The good
Participants see single entry as more fair since everyone has the same chance of winning. It's often perceived as less of a burden to entry and provides the chance to the Sponsor to pre-qualify participants for sales leads by asking for additional information like questions about purchase intent or market research.
The Verdict
So what are companies actually doing when it comes to one entry vs multiple entries sweepstakes?
According to our study of 350 recent promotions, 64% of brands allowed a single or one-time entry per participant. That means that the majority of brands favor one entry sweepstakes.
Ultimately, single or multiple entries depends on the objective of the promotion. For example, Sponsors seeking brand awareness may want as many people as possible to enter, while sponsors looking for sales want only the right target customers to enter.
Need help with sweepstakes or contest management or administration? Call 305-505-5393 or email us with your questions.