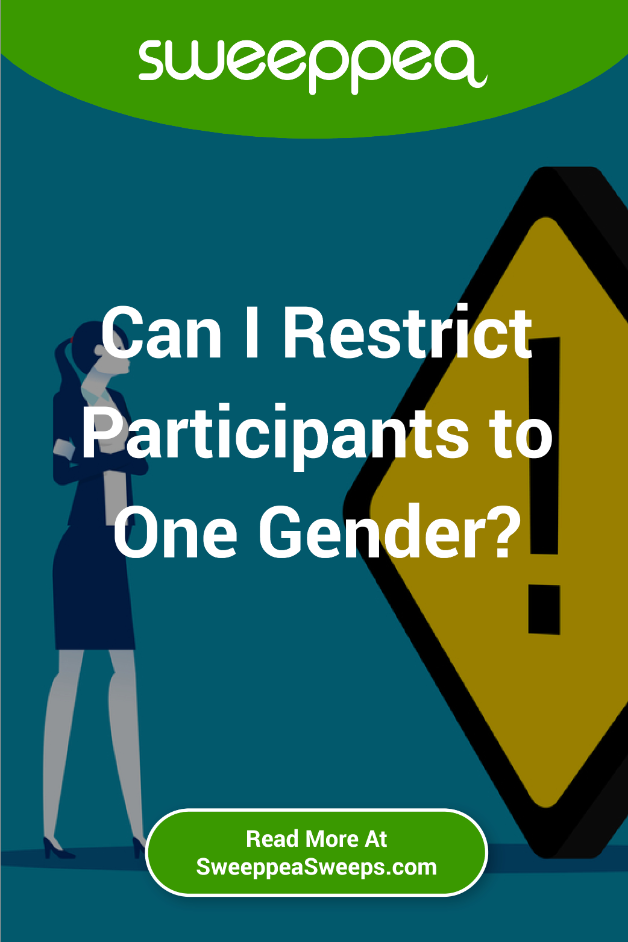 A successful sweepstakes promotion is designed to help you build a following and attract new customers. You may be wondering if it's possible to restrict participants by gender in order to avoid having participants enter who are unlikely to become customers.
Here is what you should know about restricting participation by gender for a sweepstakes.
How Specific Can Your Entry Requirements Be?
The law permits you to limit your sweepstakes participation by age, gender or form of media. In the case of forms of media, this would apply if your company uses direct mail to reach a male audience, for example.
You are also permitted to limit your sweepstakes entrants to a particular trade. For example, you can set your sweepstakes to only be open to licensed plumbers, trade show attendees, wholesales, etc.
How Do I Restrict Participation in My Sweepstakes?
If you want your sweepstakes to be limited to entrants who meet certain criteria as defined above, you must provide the details in your sweepstakes Entry Requirements in your Official Rules.
For example, you can write:
"you must be a male, age 21 or over, and a recipient of this magazine to enter this Sweepstakes."
to limit the eligibility to that specific group in your Official Rules.
This type of restriction is designed to reduce the sweepstakes audience to specific buyer personas. Discrimination that is otherwise prohibited under law is not permitted in this context and would void your sweepstakes under the law.
A Note of Caution About Limiting Your Audience
When restricting participation in your sweepstakes to a smaller audience, there is the potential to overlook would-be customers that don't meet your current profile. Therefore, it's best to leave your promotion open to as many people as possible which will increase its potential to go viral!
Eligibility Restrictions + Verification Requirements
Make sure to mention in the Official Rules that verification of eligibility will be required in order to claim the prize. You may require participants to submit valid proof of age. You can also require entrants to submit proof that they are a member of the eligible group by providing receipts, such as from a subscription payment or a one-time attended event.
Survey Your Entrants
A pool of targeted entrants is the perfect opportunity to get to know your customers better. Take this chance to survey your entrants with additional entry form questions so that you can find out more about how your audience interacts with your brand.
You can also conduct follow-up surveys to learn more about how your entrants felt about your promotion, whether they liked the prizes offered, the pace of the promotion, etc. To thank them for their time, offer a discount or coupon for your product or service.
Need help with sweepstakes or contest management? Call 305-505-5393 or email us with your questions.