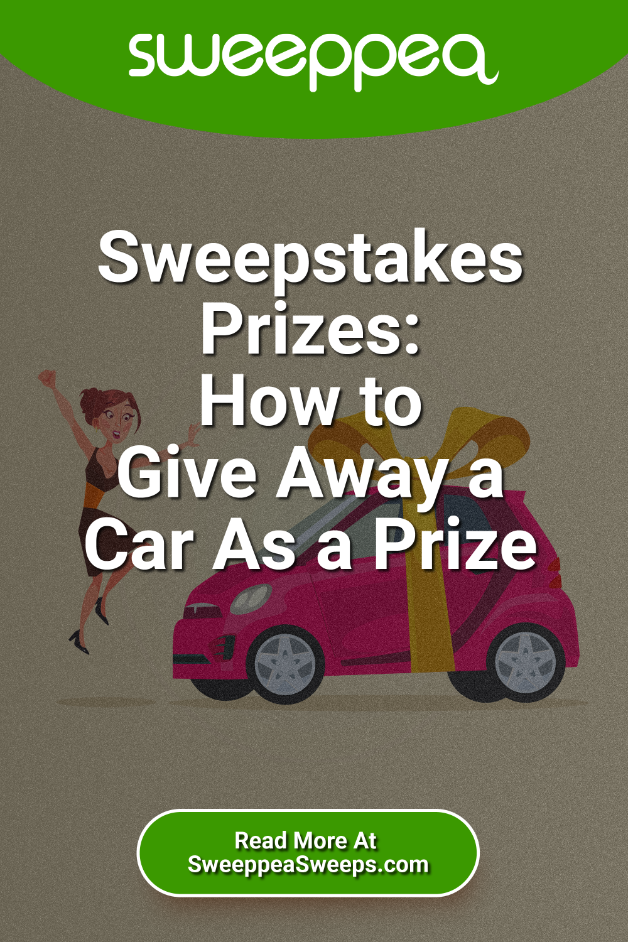 A car is a sweepstakes prize that will attract a lot of attention to your promotion. However, there are a few more steps involved in giving away car sweepstakes prizes, as opposed to smaller sweepstakes prizes (namely, those valued at $600 or less).
Generally, we recommend hiring a sweepstakes company to manage a car giveaways sweepstakes. This will remove a lot of the hassle when it comes to managing a car sweepstakes and making sure that you're covered legally.
To help you get started, here is what you need to know to give away a car as a prize.

Registration and Bonding
In several states, namely New York, Florida, and Rhode Island, registration and bonding are required for sweepstakes with high value prizes. The sweepstakes Sponsor must have possession of the car's Title or Bill of Sale as proof of ownership for the state regulatory bodies and the surety bond issuing company.

Since the average new car is worth much more than $5,000, and if your sweepstakes will be offered to residents of any of these three states, you will need to follow the state laws for sweepstakes registration and bonding before your promotion goes live.
This is required in order for your "win a car" sweepstakes to be legal in those states.
Also Read: Which States Require Sweepstakes Registration and Bonding?

Affidavit of Eligibility for Sweepstakes Winners
Asking a sweepstakes winner to sign an Affidavit of Eligibility and Publicity Release is important for promotions where the sweepstakes prize is a high-value item, such as a car. The affidavit of eligibility protects both the rights and responsibilities of the sweepstakes winner and the sweepstakes sponsors. 
It allows the sweepstakes winner to provide proof that they:
Are eligible to win the automobile sweepstakes prize
Have complied with the official rules when they entered
Aren't associated with the sweepstakes sponsors or sweepstakes administration company
Agree to the terms of claiming the prize
We recommend that you require the winner to submit the affidavit of eligibility in order to claim the car.

Set a Deadline to Claim the Prize
For a car sweepstakes, it's especially important for you to set a deadline to claim the prize because you want to make sure that you can locate the winner and award the prize quickly.
New cars depreciate in value fast, so we recommend that you set a deadline of no more than 30 days to claim the sweepstakes prize. Make sure to include in the Official Rules that the winner will forfeit the prize if it's not claimed by the deadline.
Require a Driver's License and Proof of Insurance on Delivery
Sweepstakes winners should submit their affidavit of eligibility before the Prize is awarded to confirm the winner meets the eligibility requirements. Additionally, you should also require them to have already obtained a valid U.S. driver's license.
The car giveaways winner should also be able to provide proof of vehicle insurance (Comprehensive or Liability) at time of delivery, if required by law and requested by Sponsor or Administrator, or their authorized agent.
Once all of this information has been provided and verified by the sweepstakes administrators, then the sweepstakes sponsors can sign the car title over to the sweepstakes winner.
Need help with sweepstakes or contest management? Call 305-505-5393 or email us with your questions.