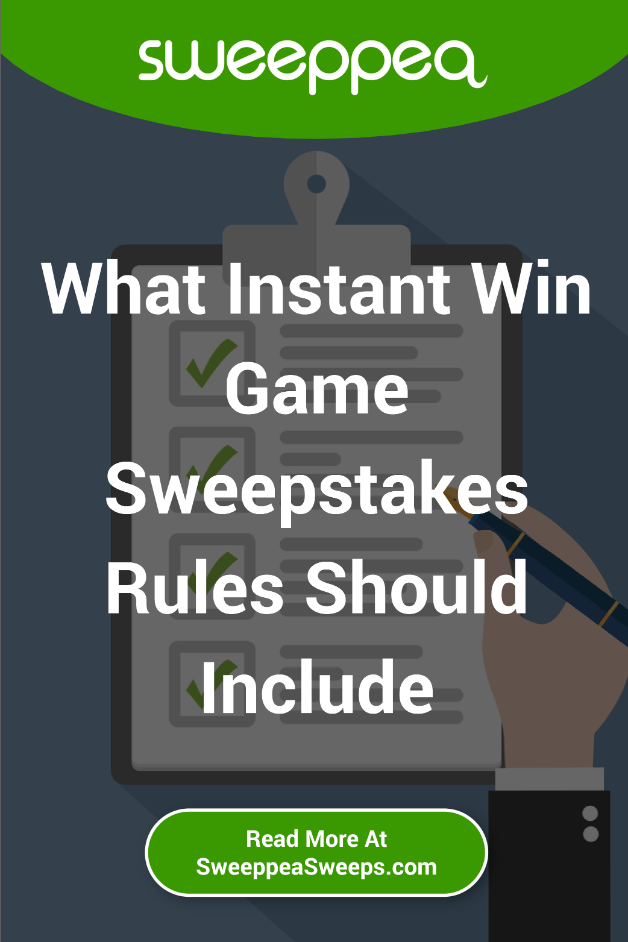 An instant win is one of the most effective strategies to build a customer list, email list, and drive engagement on social media. All of these lists can eventually help you turn those new leads into sales.
However, before you launch a sweepstakes, you need to first create your official rules. Here's what instant win game sweepstakes rules should contain.
1. Eligibility
Your instant win needs to provide clear rules regarding who is allowed to enter. This will help you down the road in the event that you need to disqualify some winners from claiming the prize(s).
For example, if a person enters who is under 18 or 21 years of age, you will have a solid case to explain why you removed their entry. Furthermore, when it comes to age restrictions, some participants may automatically be deemed ineligible to win a prize per state or local law.
2. Campaign Start and End Dates
Having a start and end date for your instant win ensures that you have cutoff dates for the entrants to submit their entries. This encourages people to submit their entries as soon as possible for your instant win sweepstakes.
Furthermore, it also maximizes the amount of work that you will have to do when it comes to the number of winners who will be accepted in your sweepstakes.
3. How to Enter (Including AMOE)
Your sweepstakes rules need to explain exactly how entrants can enter. For an instant win promotion, this will most likely be via SMS.
However, you also need to offer an Alternate Method of Entry (AMOE) so that entrants can also participate by another method. In most cases, the AMOE will be a web form. You should also make sure to mention the following in your instant win sweepstakes rules regarding how to enter:
Incomplete entries will be excluded
Entries that do not adhere to the specifications of entry will not be permitted (e.g. an entrant uses an entry method such as mail-in entry which you did not specify as a method of entry)
Entrants are permitted to submit only one entry per household
4. Prize Details
Surprisingly, the prize section of the official rules for an instant win sweepstakes is actually one of sections of the official rules that contains the most legalese.
For the prize section of the official rules, make sure to include:
The value of the prize (and the ARV of each individual prize in a bundle, as well as, the overall total ARV)
That the prize is nontransferable
The prize can't be redeemed for cash
5. Winner Selection and Notification
Once your sweepstakes has ended, you need to notify winners and deliver their prizes. You should explain exactly how you will select winners. For an instant win sweepstakes, winners should be chosen at random. When you have selected the winners, explain in detail how you will notify them of their prize.
Furthermore, you should also make sure that you cover what should happen if a winner fails to claim their prize.
6. Instant Win Disclaimers and Limitations
These are the sections where you describe what your business is liable for and what you are not.
7. Privacy Policy
Explain in detail in a privacy policy how you will use any data that you collect from participants.
Final Thoughts
We've created a simple easy-to-use template for creating your official rules for your instant win. If you still have questions, we recommend that you have a lawyer review your instant win sweepstakes official rules before it goes live.
Need help with sweepstakes or contest management? Call 305-505-5393 or email us with your questions.