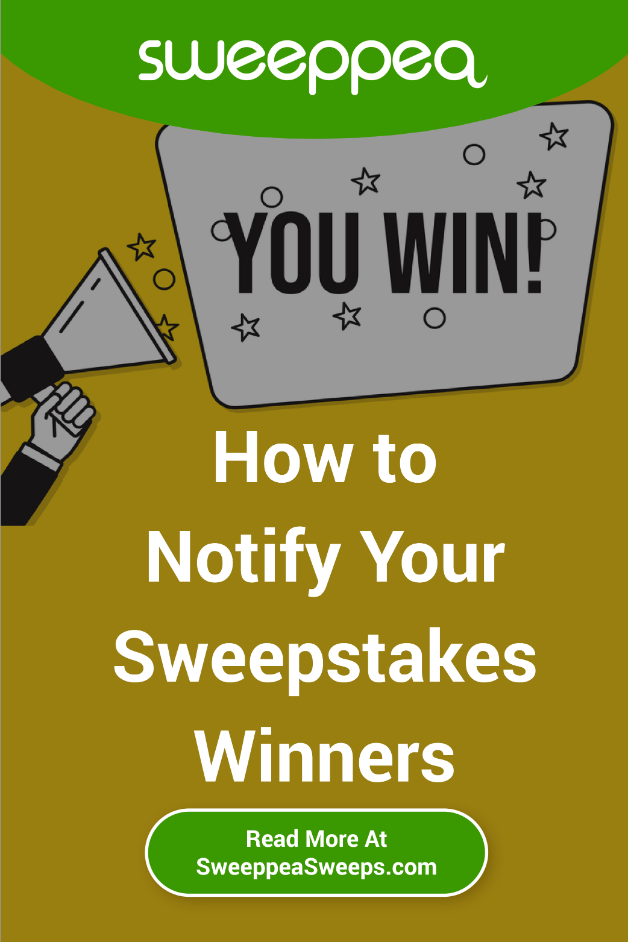 After your sweepstakes ends and you've drawn winners, notifying sweepstakes winners is the next step in administering the promotion. There will be a lot of people eagerly awaiting your announcement so make sure to do this as soon as possible and as stated on you Official Rules (see below).
Drawing and Notification: Seven (7) winners will be selected in random drawing on or around [date] at [time] and [time zone] from among all eligible entries received during the Sweepstakes Period. Each winner is considered a potential winner pending verification of their eligibility and compliance with these Official Rules. The potential winner(s) will be notified on [date] at [time] and [time zone].
If you want to make sure that you get the message across effectively so no one is left wondering if they won, there are a few tips you should follow.
Here is how to notify your sweepstakes winners.
When to Notify Sweepstakes Winners?
Notifying the winners of the sweepstakes must happen before you formally announce the winners. That way, if a winner doesn't claim or want their prize ( it happens), you will be able to select a new winner.
In your sweepstakes Official Rules, you should specify a date by which the winners must respond in order to claim their prize. Generally, 5 to 7 days is a good timeframe. Make it clear that if you do not receive a response within the allotted time frame, they will forfeit their prize and a new winner will automatically be selected.
Now that you have a general idea of how much time a winner has to respond to a sweepstakes winner notification, here are the methods of notifying sweepstakes winners that work best:
1. Notifying Sweepstakes Winners by Text
Since you are running a text to win promotion and the majority entrants have been interacting with your brand via text over the course of the promotion, it's only natural that you announce the winner via text message.
With Sweeppea, the winners of your sweepstakes will automatically be sent a message to congratulate them. At the same time, the "non-winners" will be sent a message to let them know that they have not won.
To show that you appreciate their efforts, make sure to offer non-winners a consolation prize, such as a discount, to thank them for entering your sweepstakes.
2. Notifying Sweepstakes Winners by Email
Email is another useful way to notify winners that they've won. When you design your winner notification email, opt for a professional-looking email template that is fun, yet reflects your brand.
As for the tone of the email, use user-friendly and fun language to show the reader that you recognize the excitement of the moment. Avoid boring, overly formal language, such as "We'd like to inform you that you have been selected as the winner of…"
No Response? Send a Follow-up Email and Call
If you don't receive a response to your text or email winner notification, let the original winner know that you plan to select a new winner with a follow-up message. That way they will have been notified of the prize forfeiture via the same method that you used to originally notify them of the win. Furthermore, it also confirms in writing (for legal purposes) that they have forfeited their prize.
Grand Prize Winner will be required to complete and sign an Affidavit of Eligibility and Liability/Publicity Release form provided to them to be returned within 7 days of written notification, or prize may be forfeited, and an alternate winner selected.
Winner Notification Method to Avoid? Social Media
While social media is awesome for announcing the winners of your sweepstakes after they have claimed their prizes, we do not recommend social media as a means of notifying sweepstakes winners.
It's simply too easy for entrants to miss your messages. Furthermore, it's much harder to confirm an eligible winner as the real owner of a social media account, which could create legal concerns.
As a Sweepstakes Company we recommend from experience notifying hundreds of winners that when it comes to notifying sweepstakes winners, stick to text, phone call and email for best results. Act fast to notify winners and deliver the prizes for a smooth finish to your promotion that your customers will appreciate!
Need help with sweepstakes or contest management? Call 305-505-5393 or email us with your questions.