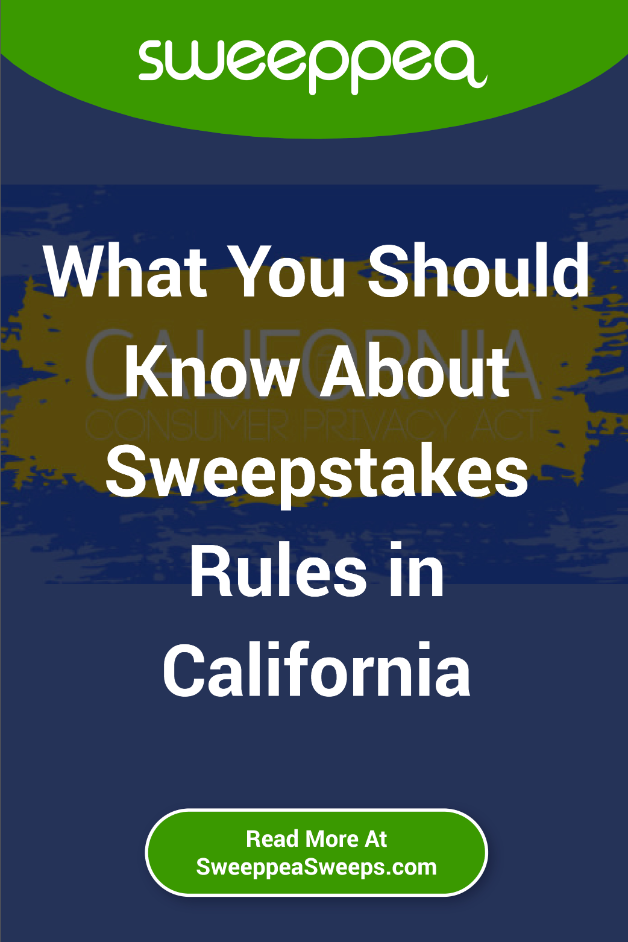 A sweepstakes is an effective way to promote your brand but first you should know the sweepstakes rules California to ensure that your promotion does not turn into an illegal lottery.
Here is a quick overview of what you should know about sweepstakes rules in California.
California Law and Your Official Rules
When drafting your official rules for your sweepstakes, take care to ensure that the proper language is included and certain terms are avoided. Furthermore, there are also some restrictions on how you can promote your sweepstakes to avoid misrepresentation.
The following items are prohibited per California law:
Misrepresenting the odds of winning any prize.
Failing to disclose the exact nature and approximate value of all prizes offered.
Failing to award and distribute the prizes of the same value and type advertised in your sweepstakes promotions.
Advertising your promotion as "limited," namely only available to a select number of entrants, unless it is true.
Advertising that any person has previously won a prize without disclosing the approximate value and exact nature of the prize awarded.
Representing that any entrant is more likely to win for any reason than other entrants.
Including the word, "lucky" anywhere in your sweepstakes.
Failing to print the words "SPECIMEN – NONNEGOTIABLE" clearly and conspicuously on any simulated item of value, such as a prize check, in your sweepstakes promotions.
California Consumer Protection Act (CCPA)
With the passage of the California Consumer Protection Act, you are required by law to obtain the express permission of the entrants in your sweepstakes before you use their personal information. In addition, you must also have a process in place that will allow consumers to obtain and delete all of the personal information you've collected about them.
These requirements also extend to any third-parties or services that you partner with or hire. They are also required to follow the CCPA and it is your company's responsibility to ensure that they do so.
Restrictions on Alcoholic Beverage Companies Running Sweepstakes in California
There are strict rules when it comes to alcohol brands and sweepstakes promotions in California. The state of California bans the requirement of purchasing alcoholic beverages in order to enter a sweepstakes.
In addition, companies may not require a person to visit a retail location that sells alcohol in order to complete an entry for a sweepstakes. While you can promote your sweepstakes at a liquor store, bar, or other retail location that sells alcohol, you must offer another way to enter the sweepstakes, such as via a web entry form.
California also forbids advertising your sweepstakes on corks, labels, bottle caps or other alcoholic beverage packaging. Keep your sweepstakes promotions and packaging separate at all times to ensure compliance with the law.
As for the prize for a sweepstakes sponsored by an alcohol company, you may not award alcoholic beverages as the sole prize of your sweepstakes. To stay on the safe side, we recommend choosing prizes that do not involve alcohol at all.
Have an Attorney Review Your California Sweepstakes
California laws are not the only laws you must comply with to run a legal sweepstakes. You must also follow all federal and local laws that apply to your promotion. If you need help reviewing your Official Rules, we provide attorney review of Official Rules.
Need help with sweepstakes or contest management? Call 305-505-5393 or email us with your questions.