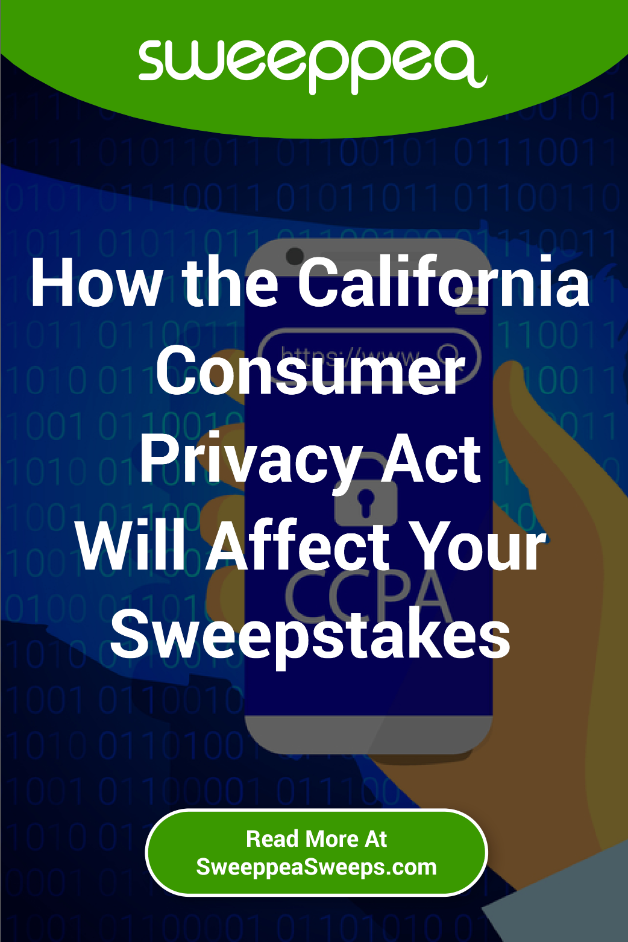 As of January 1, 2020, the California Consumer Protection Act (CCPA) is now in effect. If your team has already set up processes to ensure compliance, you're already ahead of the curve.
However, when it comes to your sweepstakes promotions and the CCPA, you may still have a few questions. Here is how the CCPA affects your sweepstakes.
What is the California Consumer Protection Act?
The CCPA is a new law that went into effect in California that is designed to give California consumers more control over their personal data. For brands, this means that they are required by law to provide more transparency on how consumer data is collected and used.
The categories of personal information can be found here: CCPA Categories of Personal Information.
What Rights Do Consumers Have Under the CCPA?
Under the CCPA, California consumers now have the right to request access to or delete any personal information you've collected from them. The CCPA allows California consumers to request that a business not sell their personal information to third parties.
You are required to respond to all such requests within 45-days of receipt.
Develop Written Agreements With "Third Parties" and "Service Providers"
If you will work with another business in sponsoring a sweepstakes, such as with a sweepstakes management company, under the CCPA its services might be considered as a "third party" or "service provider." As a result, your company is required to include a "Do Not Sell My Information" web page link on all promotional materials for your sweepstakes.
It's also important that you check with your sweepstakes management company to ensure that you have a written agreement that specifies how the agency will use consumers' personal information.
Make sure to specify that the sweepstakes management company will only use the personal data to deliver the services you requested. Furthermore, your written agreement must also specify any prohibited usage of consumer data.
Consumer Data Requests and Your Sweepstakes Management Company
All third parties and service providers, including your sweepstakes management company, must also respond to all requests within the 45-day period. As a result, you need to have procedures in place for your partners to handle requests from consumers regarding their personal data.
Final Tips
With the CCPA comes some new compliance challenges for brands. However, the most important things are to ensure that you have compliance procedures and updated written agreements in place.
The more you communicate with your partners, the easier it will be to ensure that everyone is on the same page regarding their respective responsibilities.
Need help with sweepstakes or contest management? Call 305-505-5393 or email us with your questions.