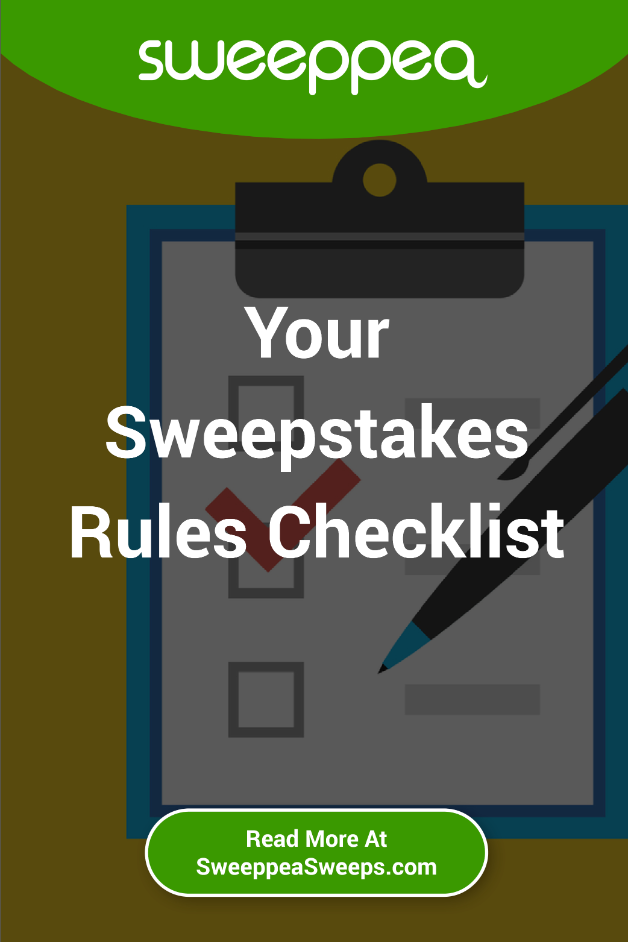 When you launch a sweepstakes, your sweepstakes rules are one of the most important elements. These rules outline the relationship between the entrant and the sweepstakes sponsor and protect both sides if something goes awry. For the most part, these rules have standard language and provisions.
What should be included in sweepstakes rules? Here's a checklist of the basic components that should be included in Official Rules for your sweepstakes.
Also watch:
Please note, this is not legal advice. Only an attorney can determine if your sweepstakes is in compliance with local, state, and federal laws. We suggest that an attorney review your Official Rules to ensure compliance.
1. A "No Purchase Necessary" Disclaimer
The No Purchase Necessary or Enter to Win law is a federal law that is enforced by the Federal Communications Commission (FCC), the Federal Trade Commission (FTC), and the USPS. You must make sure to include a "no purchase necessary" disclaimer in your sweepstakes in order for it to be considered a legal promotion. According to the FTC, if a sweepstakes requires a purchase to enter, it's considered an illegal lottery. If you do want to include a purchase, you must offer a free alternate method of entry (see below).

2. Start and End Dates
Having set start and end dates for your sweepstakes ensures there is an incentive for people to enter right away and that you've covered the dates as to when entries will be accepted for your promotion.
3. Eligibility Requirements
The eligibility section covers entries that you will accept as well as those you won't. Specify the minimum age to enter. For most promotions, you can set this age at 18+. However, if the promotion is for an alcohol brand, set the minimum age at 21+, the legal drinking age.
Mention that incomplete entries will not be considered, entrants may only enter once, and the entrants may not use fraudulent means or circumvent the rules. Another common eligibility requirement for a sweepstakes is that employees of the sponsor and their family members are ineligible to enter.
Specify the locations in which entrants must reside in order to enter. Certain promotions are not permitted in some jurisdictions or may have additional requirements.
4. Method of Entry
Explain to entrants how they can enter your sweepstakes and specify that these methods are the "no purchase" method of entry. If you're asking entrants to purchase to enter, you must also an Alternate Method of Entry (AMOE), which offers entrants a free way to enter your sweepstakes, such as via a web form or mail-in entry form.
5. Limitations
It's also important that you specify limitations for your promotion. Most sweepstakes limit the number of entries by a single person or household.
6. Odds of Winning
Your "odds" section should explain the odds of winning. For many promotions, the chance of winning depends on the number of entrants.
7. Description and Value of the Prize(s)
This section of your official rules is extremely important because there are legal and tax requirements for prizes. For example, registration and bonding is required in some states for sweepstakes prizes over a certain value.
Additionally, the winners need to know the Approximate Retail Value (ARV) of your prize because they will be required to pay income tax on their winnings. Make sure to calculate the ARV of each prize, as well as, the total ARV for all prize combined.
You may also want to mention that the prize is nontransferable and that the prize can't be exchanged for cash. If you want the winners of the sweepstakes to participate in winners' promotions, make sure to mention that acceptance of the prize means that you're permitted to use their name and likeness for advertising and marketing purposes.
8. How the Winner(s) Will Be Selected and Notified
This section states how you will select the winner. For a sweepstakes, the winner is usually selected randomly from the pool of all eligible entrants. You also need to specify how you will notify them.
9. Restrictions on Receiving the Prize
For this section, you need to explain what your policy is about prize forfeiture, the time limit on claiming the prize, and whether you will choose a new winner if the initial winner fails to respond to claim the prize. It's best to also state that you have the right to perform additional checks to confirm eligibility before awarding the prize.
10. Void Jurisdictions
These are the jurisdictions in which your promotion is void, namely because local, state or federal law prohibit your promotion.
11. Sponsor's Name and Address
In this section, include the DBA, company name and full mailing address of the sweepstakes sponsor.
Additional disclosures may also be required depending on the type of promotion you are running and the channels and jurisdictions in which it will be made available. If you need more help with your sweepstakes rules, consult a lawyer before your sweepstakes goes live.
Need help with sweepstakes or contest management? Call 305-505-5393 or email us with your questions.