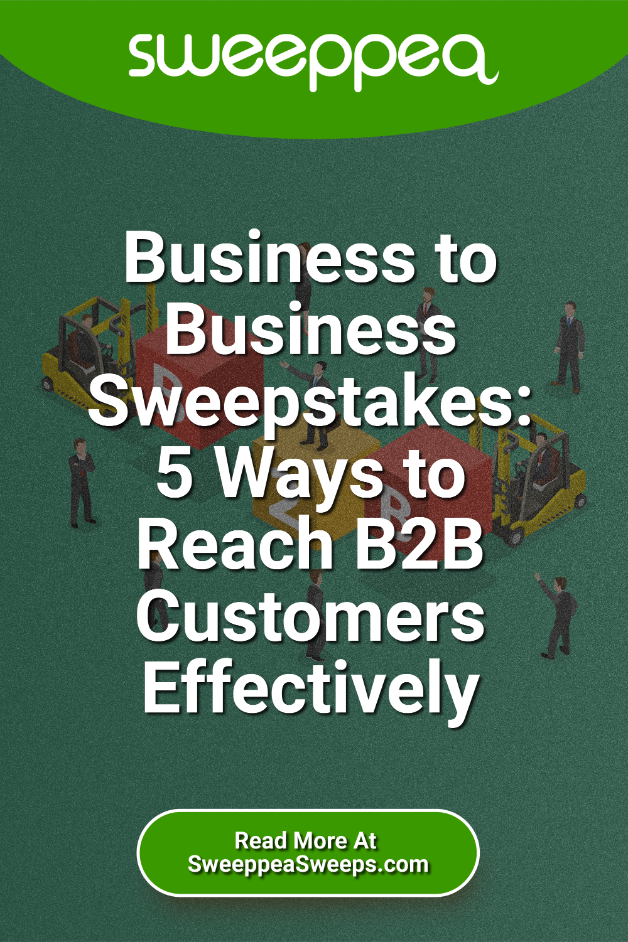 B2B sweepstakes and contests can be lucrative for companies looking to better connect with their employees, customers, and clients.
While sweepstakes for business to consumer brands have been a staple for many industries as a method to generate an ongoing source of buyers, business to business sweepstakes are somewhat more sophisticated when it comes to effective promotional ideas that deliver ROI.
To help you get started, here is what you need to know about launching a B2B sweepstakes in order to reach your clients effectively.
1. Official Rules for Business to Business Sweepstakes
As with all sweepstakes promotions, a B2B sweepstakes must follow the rules of any jurisdiction where the sweepstakes will be available to employees of a business. That means that you must include all of the necessary clauses required to run a legal business to business sweepstakes in your official rules.
When drafting the official rules, define the requirements for eligibility for the sweepstakes. For example, entrants may be required to be 1) full-time employees of the sweepstakes sponsor who are; 2) in good standing at the time that the sweepstakes winner is selected or 3) are members or hold a certain license or certification.
You should also require them to verify eligibility for the sweepstakes by providing proof that they have complied with all of the requirements set forth in the sweepstakes official rules. Issues may result if the sweepstakes winner appears to be ineligible as a winner at the time of entry or the requirements for the sweepstakes are not clearly defined and made available to entrants at the time of entry.
Also Read: Your Sweepstakes Rules Checklist
2. Use a Sweepstakes to Show Your Company's Personality
Most corporate marketing isn't very exciting. With a sweepstakes, you can use it to show that your company has a human side while still introducing them to your brand and what it has to offer. People enjoy learning about the culture of companies that they work and do business with. A sweepstakes can help you do that.
Make sure that your sweepstakes promotion:
Includes video content that gives behind the scenes insight into your brand
Delivers value to employees, clients or customers and expresses that you understand their concerns and preferences
3. Sweepstakes Prizes for B2B Sweepstakes
Business to business sweepstakes prizes should be selected carefully to ensure that they appeal to the target audience. Some popular sweepstakes prizes for individual sweepstakes winners include:
Free plan/subscription for a year
Partner with another business or platform to give away a free plan/subscription
Newly launched product or limited edition product giveaway
Large cash prizes for employee sweepstakes as a part of employee incentive programs
Select the right option based on your campaign objectives and the goal of your B2B sweepstakes campaign.
4. Use a Sweepstakes for Business As an Opportunity to Learn More About Your Employees / Customers / Clients
Make sure that sweepstakes entrants know that your goal is to better serve their needs. When people complete your B2B sweepstakes entry form, ask them some questions that will help you gain more insight into their behaviors.
What products and services are they looking for?
What features do they wish your brand offered?
What is their budget for the next fiscal year?
What time frame do they have for an upcoming major purchase?
Asking these types of questions will help you to better meet the demands of your customers and clients and help team members to feel better connected.
Also Read: What to Include on a Sweepstakes Survey
5. Hire a B2B Sweepstakes Administrator
A B2B sweepstakes doesn't mean that you don't have to prepare the promotion as though it were a public sweepstakes or contest. You still need to make sure that your sweepstakes has official rules with the abbreviated rules visible on all printed advertisements, and follows all applicable federal, state, and local laws.
Sweeppea provides expertise in B2B sweepstakes administration, management, development, and prize fulfillment. If you'd like help with writing your official rules or reviewing your business to business sweepstakes before it goes live, get a free consultation today.
Need help with sweepstakes or contest management? Call 305-505-5393 or email us with your questions.