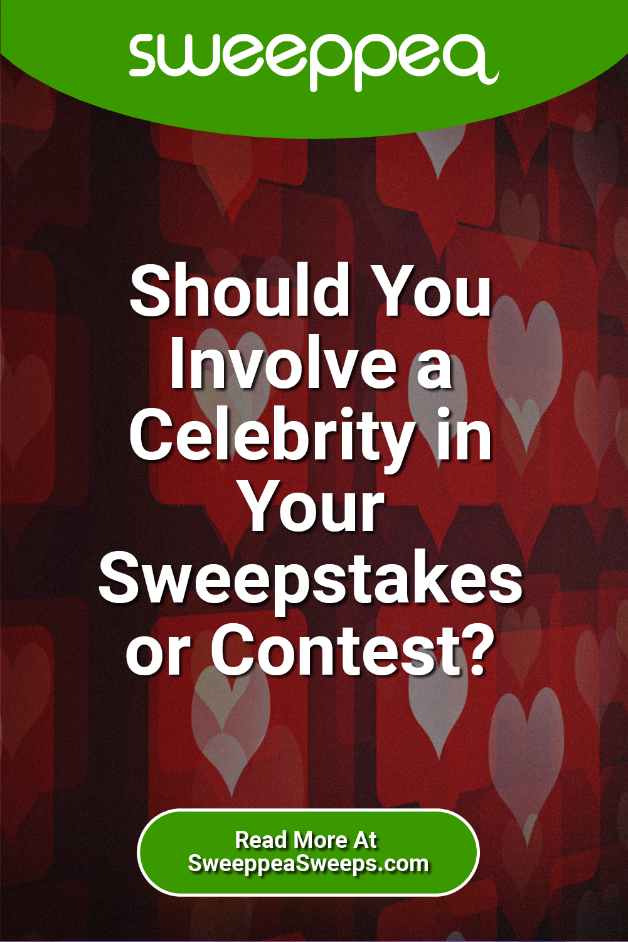 Celebrities and influencers are often hired for sweepstakes and contests in order to give your brand a positive head start or better reputation in the marketplace.
While the right celebrity can drive entries for your sweepstakes or contest, there are many considerations that should be weighed carefully first.
Before you proceed with hiring a celebrity spokesperson to endorse your sweepstakes or contest, make sure to think of the pros and cons for your brand first.
Influencers and celebrities can both negatively and positively affect a sweepstakes or contest promotion. Here is what you should know about celebrity sweepstakes promotions before you proceed:
Celebrity Endorsers for Sweepstakes and Contests: The Pros
Celebrity endorsements can be highly profitable for sweepstakes sponsors. Celebrities can often persuade a sweepstakes entrant to make a purchase from your brand when they otherwise might have held back until the contest was over or not purchased at all.
Celebrities Boost Sales
Why do brands use influencers to promote products and services? The answer is simple:
Celebrities and influencers can be extremely lucrative for businesses. In fact, a study found that celebrities who endorse a promotion can boost sales by as much as 4%!
Influencers and celebrities can deliver the social proof that your brand is worth taking a look at when they use test out products or services from your brand for their own audiences.
Also Read: How to Include Sweepstakes Rules in Your Social Media Campaigns
Tap Into New Audiences
Celebrities and influencers bring their audience to you.
Instead of having to spend money on advertising in order to amass a group of potential sweepstakes entrants, you can tap directly into a ready-made audience with interests that are similar to your preferred target audience.
Also Read: How a Sweepstakes Can Help Boost Sales
When Celebrity Marketing Goes Wrong
Celebrities can hurt your brand when you make sweepstakes and contest marketing mistakes. Aside from failing to properly negotiate the deal, the problem that sweepstakes sponsors often face is choosing the wrong celebrity for the contest or sweepstakes.
Here are 3 mistakes to avoid and why:
Mistake #1: Not Negotiating Contract Terms Properly
The celebrity needs to be able to work with you on terms that make it possible for you to back out of the deal if it's not working out.
Furthermore, you also need to specify when your sweepstakes promotion will take place and what events and advertising and other marketing materials you will need the celebrity or influencer to be a part of.
Mistake #2: Hiring Celebrities With Bad Reputations
Carefully evaluate the celebrity's reputation to ensure that any bad press that the celebrity receives doesn't also become bad press for your brand.
Mistake #3: Not Hiring the Right Celebrity for Your Brand
It's vital to protect your brand at all costs. At the same time, while reputation is important, the celebrity still needs to be a good fit for your brand's target audience.
Also Read: Sweepstakes Fraud: How It Happens and How to Protect Your Sweepstakes or Contest
5 Tips For Working With a Celebrity for a Sweepstakes or Contest
Now that you know about the pros and cons of celebrity sweepstakes, here are a few points to consider as you plan your sweepstakes:
1. Don't Limit Your Promotion to A-listers
Celebrity endorsements for sweepstakes and contests don't only involve A-listers. In fact, a local celebrity or micro-influencer might work just as well to boost brand awareness and sales at a fraction of the cost.
And unless you're one of the few companies that an A-list celebrity promotes, it will likely not give you the same return on investment as hiring a few or a team of B-listers or local influencers with followings that match your target audience.
2. Know Your Audience
The match between the celebrity's or influencer's demographic and your brand must be as close as possible. This is how you maximize participants for your sweepstakes or contest.
3. Use Social Media
Social media can greatly expand your reach when it comes to tapping into new audiences to find new customers and sweepstakes participants.
In fact, influencer marketing is one of the most popular ways for brands use social media to advertise products and services.
By leveraging the social media accounts of a celebrity and influencer who has a following, you'll be able to get access to audiences that your brand does not have access to on its own.
4. Consider Sweepstakes Timing and Launch
All sweepstakes and contests involve setup steps that need to be addressed, in addition to, any contractual agreements with celebrities and influencers.
As a result, it's important that you work with a full-service sweepstakes administration company to ensure that any sweepstakes law compliance steps are handled on your behalf.
5. Hire A Sweepstakes Company for Celebrity Sweepstakes Official Rules
A sweepstakes company like Sweeppea can help you with services such as drafting official rules, winning drawing, prize fulfillment, and sweepstakes law compliance.
They will also ensure that any additional terms for your sweepstakes needed in order for you to work with the celebrity or have the celebrity interact with sweepstakes participants are included in your official rules.
Also Read: Sweepstakes and Contest Administration Management Services: How They Benefit Your Promotion
Start Now to Plan Your Celebrity Sweepstakes
Celebrity endorsements can deliver a major ROI for your sweepstakes or contest. However, it's important for you to have a clear vision for your promotion, including goals and target audience, before making a deal.
Building a sweepstakes or contest that involves a celebrity or influencers requires extensive planning.
A professional sweepstakes company can you to conceptualize your sweepstakes campaign so that you'll be able to correctly match an influencer or celebrity with your promotion.
Need help with sweepstakes or contest management? Call 305-505-5393 or email us with your questions.