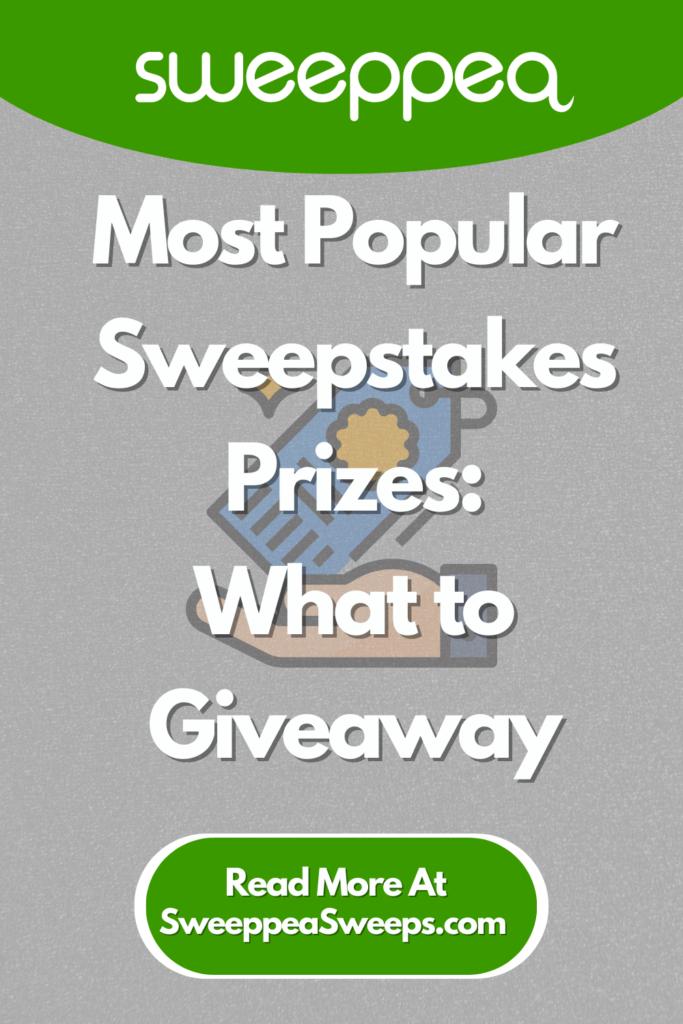 The most popular sweepstakes prizes range from large cash prizes to branded merch prize packs. We keep a close watch on the top sweepstakes prizes brands are giving away for sweepstakes and contests. If you need help finding the perfect sweepstakes prize for your next sweepstakes, we've got you covered.
How to Choose Sweepstakes Prizes?
Choosing the right sweepstakes prize for your sweepstakes requires that you focus on what's attractive to your consumers. The key is to understand your consumers and match them with what type of prize you think they may respond to.
What you should consider before choosing your sweepstakes prize:
Who is your target audience?
What demographic is your main target market? This will help you create a prize pool that is attractive and desirable. For example, if your demographic is families or married couples with a strong interest in cooking, then you should consider adding kitchen appliances to your sweepstakes prizes. The idea is to match prize products to target audiences or offer products or services that compliment your own products. For example, if you sell snowboards, you may want to offer snowboard boots or snow goggles.
How do they interact with your brand? What type of products or services are you offering and how do your consumers use these services? For example, if you are in the CPG industry with a presence in retail stores, then you might consider retail gift cards. If your brand is providing travel equipment like luggage or backpacks, you can look into offering trips or cash for a trip as one of your sweepstakes prizes.
How many sweepstakes prizes are you planning to award?
The more prizes, the more chances of winning. If your consumers feel that they have a high chance of winning, they will more likely engage and participate in the promotion.
Now that you have an idea of how to choose your prize(s), here are some of the most trending sweepstakes prizes based on our experience and sweepstakes insights:
Cash: King of Sweepstakes Prizes
Offering a cash prize is a great way to attract a wide range of people to your sweepstakes and get people to interact with your brand.
If you're going to offer a cash prize, it should be larger amounts. A $25 cash prize won't wow people. Large cash prizes are always popular sweepstakes prizes for brands.
These sweepstakes prizes are often topped with $10,000 or more to attract as much attention and trigger a sales boost from engaged sweepstakes participants.
Car Sweepstakes Prizes
Who wouldn't want to win a car?
For a lot of people, buying a car is an investment that takes effort, time, and money. As a result, car sweepstakes prizes attracted a lot of attention t for brands as consumers looked to sweepstakes to enter for a chance to win a car.
Car sweepstakes can trigger a sales boost when paired with product sales as a method to gain additional entries. Thanks to the massive social media engagement that they create as entrants share the promotion with their friends, these kinds of prizes brought new audiences to brands
Also Read: Want to Require a Purchase with Your Sweepstakes? Here's How
You'll want to offer the latest models of cars, older but modified cars, or classic cars that appeal to a wide range of people. Some brands are also giving away vehicles such as motorcycles and UTVs as sweepstakes prizes.
We recommend hiring a sweepstakes company to manage a car sweepstakes promotion. Sweepstakes administrators will advise as to the promotion legal compliance requirements, draft official rules, handle the winner drawing, execute affidavits of eligibility and liability releases, and fulfill the prize delivery to the winner(s).
Also Read: Sweepstakes and Contest Administration Management Services: How They Benefit Your Promotion
Merchandise Sweepstakes
Merch sweepstakes prizes are excellent for raising brand awareness. Paired with proper social media marketing, it's one of the most effective publicity campaigns that you can run.
Yuengling Brewery and baseball player Arron Nola offer a Yuengling beer vending machine. (Beer is not part of the Prize)
Also Read: Money or Merch: Which Is the Better Sweepstakes Prize?
Outdoor Gear Sweepstakes Prizes
In 2021, camping gears, backyard BBQ party giveaways, and tailgating sweepstakes prize packs topped the list of trending sweepstakes prizes.
Outdoors sweepstakes prizes attract a lot of attention from entrants. These prizes contain items like tents, canopies, grills, or backpacks — if possible, make sure that your items are branded to increase brand awareness.
Vacation Sweepstakes Prizes
Another very popular sweepstakes prize that gathers a lot of attention is vacations, trips, hotel stays, and spa stays. Now, travel restrictions are lifted, and more people are longing to go on vacation.
If you are in the travel industry, a vacation prize is a good choice. However, they have drawbacks that make prize delivery a bit more complicated, such as eligibility verification and accommodation arrangements. Brands that want to avoid acting as a travel agent for the winner, can offer a vacation but the actual prize awarded is cash. For example, the sweepstakes rules prizes description will say "One (1) $5,000 check awarded towards the winner's vacation.
Conclusion
A good giveaway prize should be relevant, valuable, or make one's life easier. You should choose a prize that your target audience is interested in winning. Valuable doesn't necessarily mean expensive. Just make sure that your sweepstakes prizes are useful and delightful. Sometimes all it takes is to offer free gas or a Walmart gift card to get everyone participating.
It's important to note that sweepstakes sponsors are required by law to deliver the promised prize or a substitute of equal or greater value.
To ensure that your promotion goes off without a hitch, we recommend that you hire a sweepstakes administrator like Sweeppea to help deliver a legally compliant and successful promotion.
Need help with sweepstakes or contest management? Call 305-505-5393 or email us with your questions.