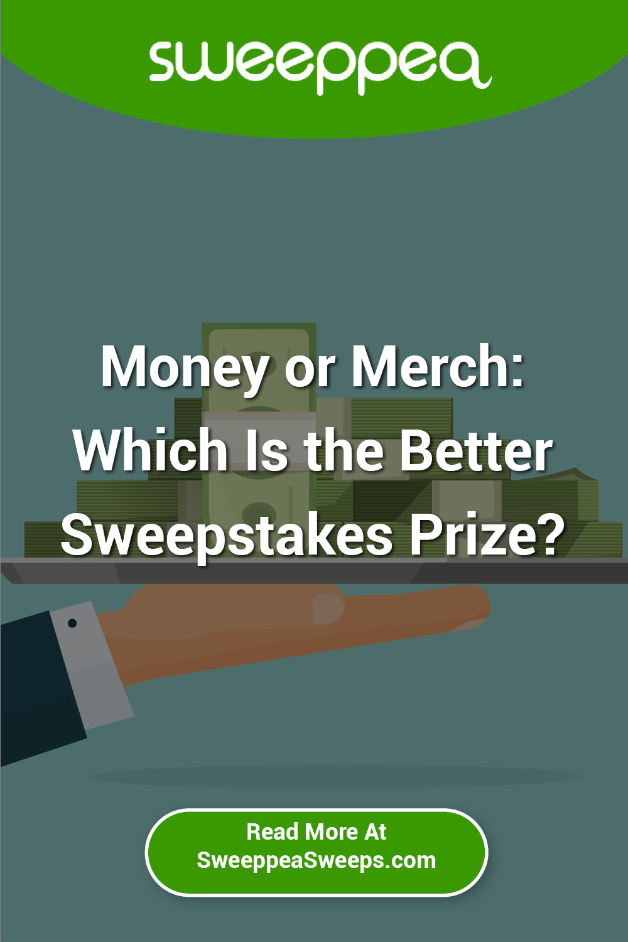 Choosing a sweepstakes prize can be tricky and picking the right option is critical to maximizing your sweepstakes results. If you're giving away money or merch as a sweepstakes prize, there are a few things you need to consider first.
Here is how to decide whether money or merch is the better sweepstakes prize.
Why Would You Give Away Money?
1. Fast Results
If you need to create a fast buzz for your brand, offering money as a sweepstakes prize can help you go viral quickly. Everyone wants to win free money and you'll have no shortage of participants.
2. You Want to Attract a Lot of Attention
Cash sweepstakes always attract entrants. However, you may find that the entrants may not be from the target audience that you're trying to reach or interested in your company at all.
Also Read: How Do Fans Find Your Text Sweepstakes?
Cash Sweepstakes Tips
Before you launch your cash sweepstakes, you should know that money only works as a sweepstakes prize if you follow these guidelines:
Large cash prizes attract more entrants. The sum of money that you give away must be large enough that it's worth the effort for entrants to go through the signup process for your sweepstakes.
People must trust your brand. Entrants need to trust that your brand will actually give away the money prize and that the sweepstakes isn't a scam.
Registration and bonding. A sweepstakes that offer a money prize of over $5,000 will also need to be registered and bonded in Florida, New York and Rhode Island. This may mean additional setup time and costs to ensure your sweepstakes follows all applicable state and local laws.
Bottom Line: Cash sweepstakes attract just about anyone from customers to sweepers. If you are giving away cash as a sweepstakes, request a sweepstakes review from a sweepstakes company. Do this before you launch your sweepstakes to ensure that it's legal.
Also Read: Which States Require Sweepstakes Registration and Bonding?
Why Would You Give Away Merch or Your Own Products?
1. Brand Awareness
You've just launched a new product or service and you want to celebrate with a sweepstakes. By giving away merch as a sweepstakes prize, you can attract existing customers and people who are interested in learning more about your brand.
Once you have their attention, you can then use the sweepstakes to introduce them to your new product or service and explain to them why they should buy.
2. Extend the Value of Your Brand
When sweepstakes winners wear your merchandise, it shows others that they endorse your brand and sparks conversations within their social circles. This gives you the word-of-mouth exposure that your brand needs to reach new audiences.
3. Extra Revenue
While you are required to give away the merch for free if you use it as a sweepstakes prize, what about non-winners? In fact, those sweepstakes entrants that did not win may still want to buy your merch.
By using merch or products as a sweepstakes prize, you can spread the word about your branded merch line with the goal of ultimately using it as a new source of revenue.
Win Merch Sweepstakes Tips
Give away custom merch. With custom merch, sweepstakes winners can show their passion and support for your brand in their daily lives. Giving away custom merch in a sweepstakes is a great way to create brand awareness well after the sweepstakes has ended.
Run multiple giveaways. Unlike cash, custom merch is relatively inexpensive to create. As a result, you can host multiple giveaways throughout the year to create a steady stream of traffic and leads from sweepstakes.
Also Read: How Often Should You Run a Sweepstakes or Contest?
Bottom Line: Merch as a sweepstakes prize helps promote your brand and will attract more participants from your target audience.
Need help with sweepstakes or contest management? Call 305-505-5393 or email us with your questions.