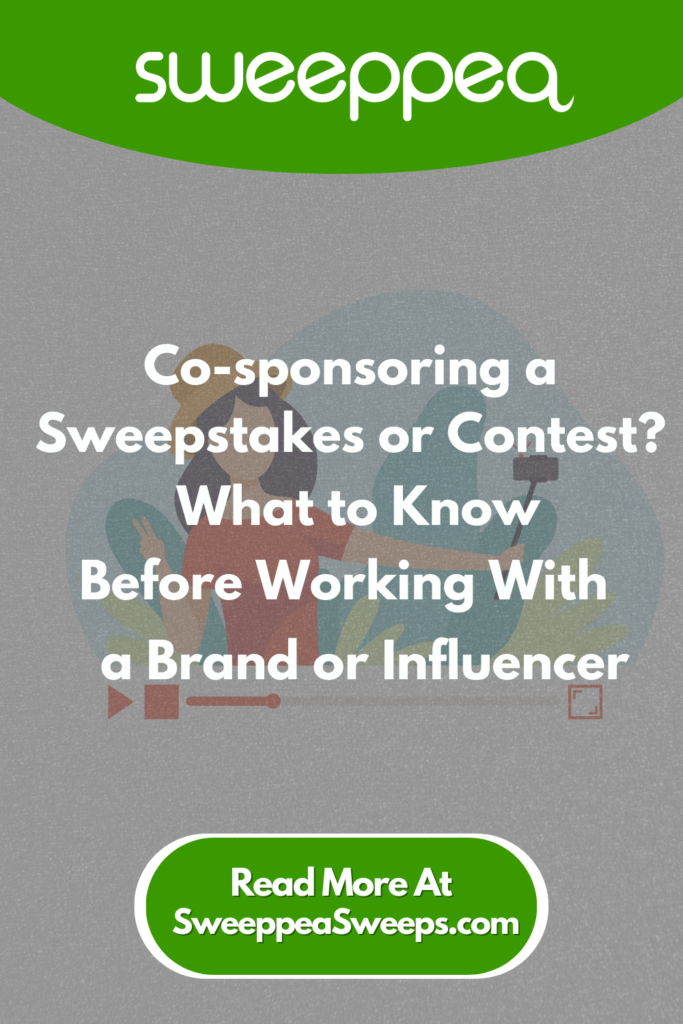 When looking to promote your product, company, or brand, co-sponsoring sweepstakes with a brand or influencer can bring more awareness and sales to your business. Especially, with the growing user-base of social media platforms. There are key points to consider before moving forward with an influencer as a sweepstakes sponsor. Let's discuss the key details about co-sponsoring sweepstakes with a brand or influencer.
Details to Consider when Co-Sponsoring Sweepstakes or Contests
There are other brands and influencers out there that may align with your business. Before deciding to collaborate with them, you should consider the following details.
For example, let's say you are a company that sells eco-friendly products. You find an influencer who is passionate about environmental causes and has a large following on social media. You decide to co-sponsor sweepstakes with them where they will promote your product on their page and in return, you will provide and fulfill the prizes. This might seem like the perfect arrangement. However, when you co-sponsor sweepstakes, it's important to have a clear understanding of the legal aspects and liabilities that are involved.
When two brands decide to co-sponsor, they usually take on different responsibilities.
Example: One takes charge of official rules and winner selection. The other part takes charge of prize fulfillment and procurement. This is why you should consider working with a sweepstakes administration company so they can take care of the legal details of this partnership. This matters because dividing responsibilities may put your brand in a liable position even though you might not have been responsible for that specific detail. According to Thompson Coburn LLP, instead of co-sponsoring, they recommend one part should be the sponsor and the other the prize provider. This arrangement has fewer risks because it uses a prize provider agreement.
What is a Prize Provider Agreement?
According to Thomson Reuters Practical Law, it is a short-term agreement for a company running a contest, sweepstakes, or game to use with a supplier of prizes for promotion. This agreement establishes a limited relationship between the sponsor of the promotion and the prize provider. For more information on the difference between sweepstakes and contests, read What's the Difference Between a Sweepstakes, Contest, Game, Raffle and Giveaways, and Which is More Popular?
Co-Sponsoring: How to Get Started?
If after reading the previous section, you still want to move forward with co-sponsoring here are some essential details to get started.
Sweepstakes or Contest Goals
The first step when thinking about looking for an influencer or brand collaboration is to have all of your sweepstakes promotion details set. For example, the method of entry, the prize you want to offer, and your goal for the promotion.
Check out: Your Sweepstakes Rules Checklist
2. Finding the Right Influencer or Brand
Choosing the right influencer to work with is an essential part of a co-sponsored influencer marketing campaign.
Influencer marketing has become increasingly popular in recent years; for good reason – influencers have built up a large following of engaged fans who trust their opinion. When an influencer recommends a product or brand, their followers are more likely to take notice and check it out for themselves.
The influencer promotes the brand's product or services with their audience. The collaborations can include several channels such as social media, email, and in-person events.
Influencers usually have a main niche that they focus on which should be aligned with your brand or business.
To find a perfect influencer to collaborate with, you will need to consider the following:
Image: Your co-sponsor's image has to match your brand.
Audience: Make sure the influencer's followers are your right target audience. Don't forget the power that micro-influencers have when making your search. Smaller influencers have a stronger tight-night community that trusts what they have to share which can make the audience more likely to try out the products or services they are sharing.
Interests: Make sure the influencer is known for using similar products or brands within your niche.
Influencers general presence across all channels you'd like for them to share your promotion.
3. Start Reaching Out to Potential Candidates
Start contacting businesses and influencers. We recommend you use their business emails since direct messages in social media can be easily lost in their inbox. Email is the #1 communication channel for all content creators so leverage that to your favor and make it your main method of communication with potential brand partners. Make sure you pace yourself when reaching out through social platforms and email. Mass sends can flag your accounts and set your outreach efforts back. Write out a well-thought-out template that expresses your interest in partnering with them and what they can gain from that potential partnership. 
4. Discuss Important Details of your Influencer/Brand Co-Sponsorship
Once you have an agreement to co-sponsor a sweepstake with an influencer or brand you will both need to discuss the details of the collaboration and promotion. Ensure that you have a written contract for content creation and the sweepstakes since there are two different agreements.
Key points to discuss:
Legal aspects: You will need to discuss Official Rules and Privacy Policy regarding sweepstakes laws as well as content creation to protect both parties from legal liability. A sweepstakes administrator like Sweeppea can help you settle these aspects of the agreement.
Contributions: What will each part contribute to this collaboration? Take into consideration all the deliverables involved for both content creation of the promotion and the promotion itself.
Check out: Should You Involve a Celebrity in Your Sweepstakes or Contest?
Conclusion
Your company can benefit from co-sponsoring and influencer marketing, but there are a few things to consider to run it successfully.
Make sure you understand the main aspects of these types of collaborations: influencer content creation and sweepstakes administration; ensure your selection of influencers aligns with your promotional goals.
Once you choose the best ones for your brand, discuss important legal aspects, contributions that each part will make in this collaboration, and formalize it in a written contract. This will protect you and the influencer from any liabilities or misunderstandings that may come up.
It is important to understand all of the risks and liabilities before considering co-sponsoring sweepstakes with influencers. Need help with sweepstakes or contest management? Call 305-505-5393 or email us with your questions.