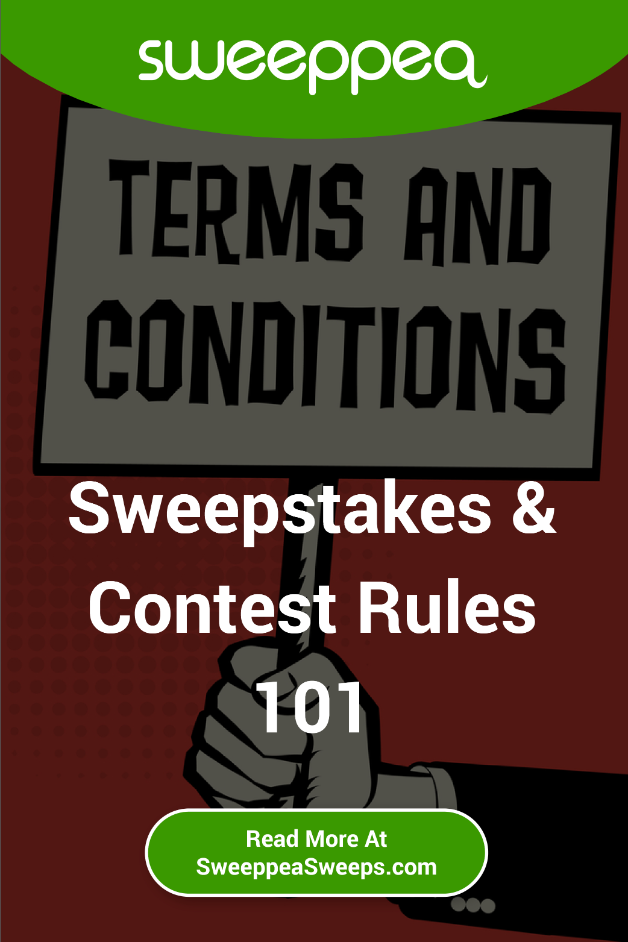 Having comprehensive sweepstakes or contest rules is one of the most important steps before launching your promotion. It protects you in the event that something goes wrong and also ensures your promotion is compliant.
Here are the sections to include as you draft (or hire someone to draft) your sweepstakes or contest rules.
Also watch:
Eligibility
Your eligibility section of your official rules should specify the age and residency restrictions for your contest. Consider federal, state, and local laws for your industry and for promotions in general and make sure to include the phrase "Void where prohibited."
How to Enter
It may seem easy enough to fill out a form or create a submission. But, if you have certain judging guidelines or want to collect specific information, you need to them exactly where and how to enter the required information. Also, specify in the contest rules that entrants must complete all required fields in order to get an entry.
Sweepstakes may need a free way to enter or an Alternative Method of Entry (AMOE), especially if you're asking them to subscribe or buy a product. This is because entry should be "no purchase necessary." The AMOE can be mailing in a postcard to a P.O. Box or submitting an email.
Prize(s) and Prize Conditions
Provide the complete list of prizes a winner will receive and the Approximate Retail Value or ARV. You should also mention any limitations on the prize, such as taxes or additional costs that the winner may have to cover that are not included in the prize.
Drawing and Notification
Explain how the winner(s) will be selected. For a contest, make sure you're specific about all of the judging criteria for entries and rounds of judging that will take place.
Also, mention the date they'll be notified and the methods you'll use to notify winners so they'll know what to expect.
Use of Data
This section should outline the privacy policy that governs the sweepstakes or contest. It should also detail the personal information to be collected from entrants and how it will be used.
Additional Limitations
Additional limitations that you should make sure to include in the official giveaway rules are disclaimers that state you have the right to terminate or change the contest at anytime. You also want to mention that you have the right to decide to investigate cheating or tampering before selecting a winner or awarding a prize.
Disputes or Arbitration
This section should explain how any disputes will be handled and the location (state) of jurisdiction should the dispute escalate to a court of law.
Sponsor of the Contest
If your company is running the contest or sweepstakes, you must identify yourself as the sponsor. Make sure to include the full address of your company as well. If you're with an agency that is running this for a brand, you can include your company as the administrator.
Include a Winners List
To be fully transparent, you must offer an option to receive a winners list. Whether it will be online or provided by mail, this section should give instructions on how to find that information.
Need help with creating your own sweepstakes or contest rules? Call 305-505-5393 or email us.