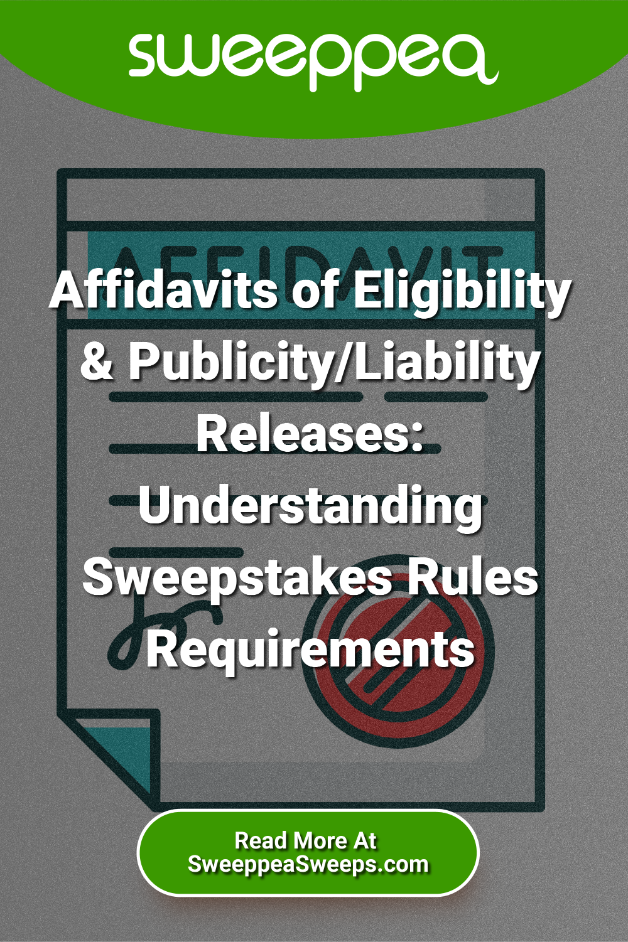 An affidavit of eligibility and release is a legal requirement that is included in sweepstakes rules to help verify whether a potential winner of a sweepstakes or contest is eligible to win a prize. An affidavit is simply a statement, sworn in writing, that confirms that certain facts are true.
Here is what you should know about the affidavit of eligibility and publicity/liability releases and your sweepstakes rules.
What Is an Affidavit of Eligibility and Liability/Publicity Release?
The Affidavit is a written statement voluntarily signed by the winner under an oath or affirmation used to confirm the winner's identity. The affidavit of eligibility will typically require the sweepstakes winner to verify personal information, such as their name, age, and address and eligibility to win as per Official Rules.
Sweepstakes winners must also verify their social security number (required for the issuance of a Form 1099-MISC for tax purposes).
The Affidavit of Eligibility and Liability/Publicity Release also includes a Publicity release that allows the Sponsor, if desired and where permitted by law, the right to use the winner(s) name, image and likeness for advertising or publicity purposes.
Also Read: Your Sweepstakes Rules Checklist
Why Do Sweepstakes Winners Need Affidavits?
The affidavit of eligibility verifies that the sweepstakes winner(s):
Entered true and accurate information on the sweepstakes entry form.
Complied with the Official Rules of the promotion.
Is eligible to win a prize and doesn't have any association with the Sponsor, sweepstakes administrator, or judging agency (for contests).
Agreed to the terms and conditions for claiming the sweepstakes prize.
Is a resident of the state(s) where the sweepstakes was offered.
As a reminder, if you want to use the sweepstakes winners in any promotional branded content, make sure that they sign a release form first.
When Do You Need to Send the Affidavit?
The Affidavit of Eligibility and Liability/Publicity Release is sent to winner(s) of Prizes whose value is over $600. The Sponsors will use the information to issue a Form 1099-MISC to the sweepstakes winner for tax purposes.
Also Read: How to Handle Winner Notification in Your Sweepstakes Rules
Is Notarization for Affidavit Of Eligibility or Publicity Release Required?
For some sweepstakes or contests, namely those with a high value prize, such as a large cash prize, vacation package, or car, some Sponsors may opt to request a neutral third-party serve as a witness, such as a notary public, in verifying the information submitted by the sweepstakes winners.
However, notarization of the Affidavit of Eligibility and Liability/Publicity Release is NOT required in order for your sweepstakes promotion to be legal.
Need help with sweepstakes or contest management? Call 305-505-5393 or email us with your questions.