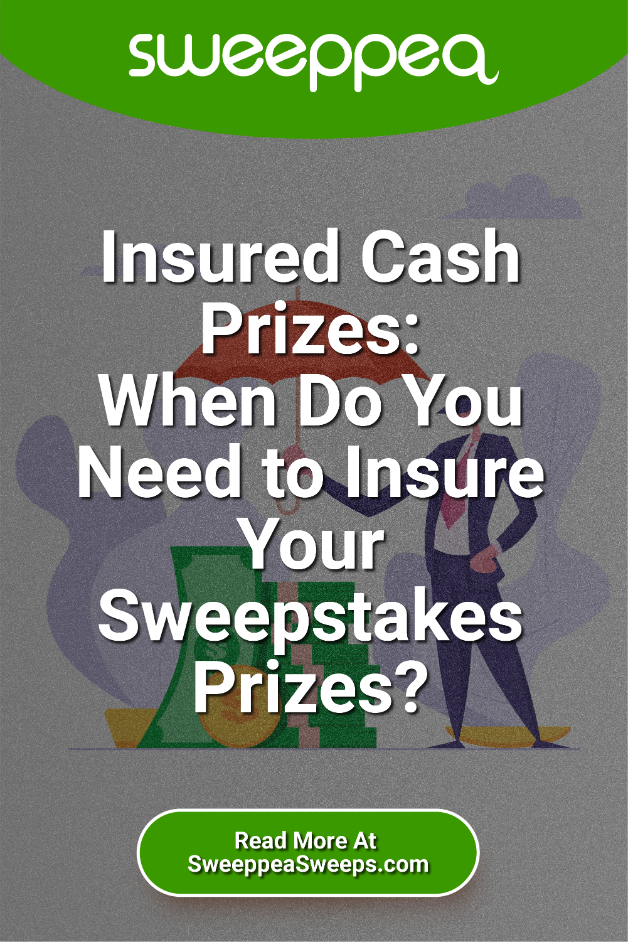 Everyone loves giving (and receiving) big cash prizes. If you want to give away $50,000, $100,000 or even $1,000,000 for your next sweepstakes promotion, you need prize indemnity insurance for your sweepstakes prize.
Insured cash prizes help sweepstakes sponsors mitigate the risks of giving away money while ensuring security and fast payment for the sweepstakes winner.
Here is what you should know about insuring your sweepstakes prizes:
What Is Prize Indemnity Insurance?
Prize indemnity insurance is designed to insure large cash prizes and other high retail value sweepstakes prizes. Here's how an insured prize program works for cash sweepstakes with Sweeppea:
Instead of keeping cash on hand for your sweepstakes, sweepstakes sponsors can transfer the risk to a sweepstakes company.
Our underwriters create a program that has a degree of "insurable risk", and depending on how the program is structured, the program will absorb the risk at a flat rate to the Sponsor. 
The policy will "pay on behalf of" the Named Insured if an eligible sweepstakes entrant wins a cash prize from a prize game. 
Prize indemnity insurance is available only if a promotion features a minimum guaranteed prize AND offers the chance to win a large (insured) prize, if entrants play a game. Prize indemnity insurance is not intended for promotions that don't have prize games with a non-guaranteed prize.
With prize indemnity insurance, you can offer a substantial cash prize without the risks. Insuring the prize protects against potential loss and keeps the promotional benefit of a big prize with no danger to your budget. 
When Do You Need to Insure Your Cash Sweepstakes?
Most sweepstakes sponsors don't pay out the cash winnings with money they've previously set aside for a sweepstakes. Instead, they use an insured prize program to cover cash prizes in the event that they will need to award them during a prize game.
As a result, we recommend that you obtain prize indemnity insurance if there is a chance that you may have to give away a large cash prize of $50,000 or more.
Here is an example of how to run an insured prize cash sweepstakes:
The 40 Envelope "PICK Til You Win" Insured Prize Game

Draw people to your event by advertising the chance to "Pick Til You Win" up to a $72,000 prize.

The Grand Prize winner gets a chance to win the large cash prize by participating in an envelope drawing game.

Using lucky envelopes the Grand Prize winner/finalist opens one envelope at a time unveiling one of the three different prizes at stake. 

The first prize selected five times is the one they walk away with.
Is Registration and Bonding Required for Cash Sweepstakes?
Sweepstakes sponsors should know that obtaining prize indemnity insurance for a cash prize doesn't resolve any state registration and bonding requirements for your sweepstakes. 
If your large cash prize sweepstakes promotion will be available to residents of New York, Florida, or Rhode Island, and the promotion offers a chance to win a cash prize of over $5,000, you need to also comply with state registration and bonding sweepstakes laws.
To ensure that you've covered all of the applicable laws for your sweepstakes with a large cash prize, request a sweepstakes review from Sweeppea before your sweepstakes goes live.
Need help with sweepstakes or contest management? Call 305-505-5393 or email us with your questions.