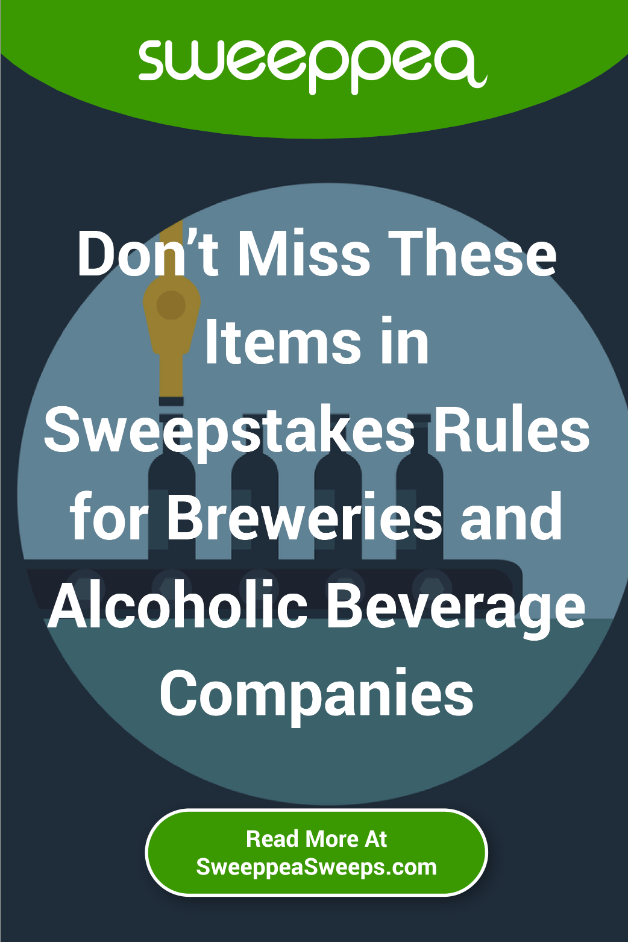 Sponsoring or hosting a sweepstakes as an alcohol brand comes with some special sweepstakes rules. While all of your customers would love to win a prize, you must take extra care to ensure that your sweepstakes follows all statues and regulations.
To help you ensure that your promotion is a legal one, here are the most important items to include in your brewery or alcoholic beverage company sweepstakes rules.
1. No Purchase Necessary
Every official rules for a sweepstakes must include the phrase "no purchase necessary." You may not require any type of purchase, especially the purchase of alcohol, in order for people to enter your sweepstakes. Otherwise, your promotion would be considered as an illegal lottery.
2. Don't Give Away Alcohol for a Prize
It is against the law in every state to give away alcohol as the prize for winning a sweepstakes. To ensure that you avoid any grey areas, we recommend that you select prizes that are not related to alcohol in general. There are prizes for events or concerts that serve alcohol and they can be used as a prize as long as the main prize is the event.
3. Perform Age Verification to Ensure Winners Are 21+
It should be explicitly written in your official rules that entrants need to be 21 years of age or older in order to enter your sweepstakes. However, since entrants self-report their ages when they enter a date of birth, you'll need to perform age verification on any winners.
Make sure that you explain that winners will be required to show proof of age via a valid driver's license or state ID.
4. Require the Winner's Guests to Provide Proof of Age for 21+ Events
If you plan to send winners to a location where alcohol will be served as a part of the winner announcement or prize delivery, your sweepstake rules should require that any guests that the winners bring with them are also 21 of age or older. You must also require that all guests provide proof of age identification.
5. Add Clauses to Comply With State and Local Laws
While there are guidelines set forth by the major alcohol supplier trade associations, namely the Beer Institute, Distilled Spirits Council of the United States (DISCUS) and Wine Institute, that are periodically reviewed by the Federal Trade Commission, there are also state and local regulations that your promotion must comply with.
In most states, alcoholic beverage control state agencies regulate retail advertising practices in state stores and have the authority to enact regulations. Furthermore, there may also be local requirements that you must comply with that may void your promotion in certain areas.
To avoid any oversights, have an attorney review your sweepstakes rules before your promotion goes live.
6. Special Restrictions for Alcohol Vendors

For alcohol vendors, there are 7 states that require that your POS, Official Rules and Abbreviated Rules be approved by an Alcohol Control Boards if printed POS ads will be place in store. These states are:
– Alabama (AL)
– Indiana (IN)
– Maine (ME)
– Maryland (MD)
– North Carolina (NC)
– Vermont (VT)
– West Virginia (WV)
Need help with sweepstakes or contest management? Call 305-505-5393 or email us with your questions.