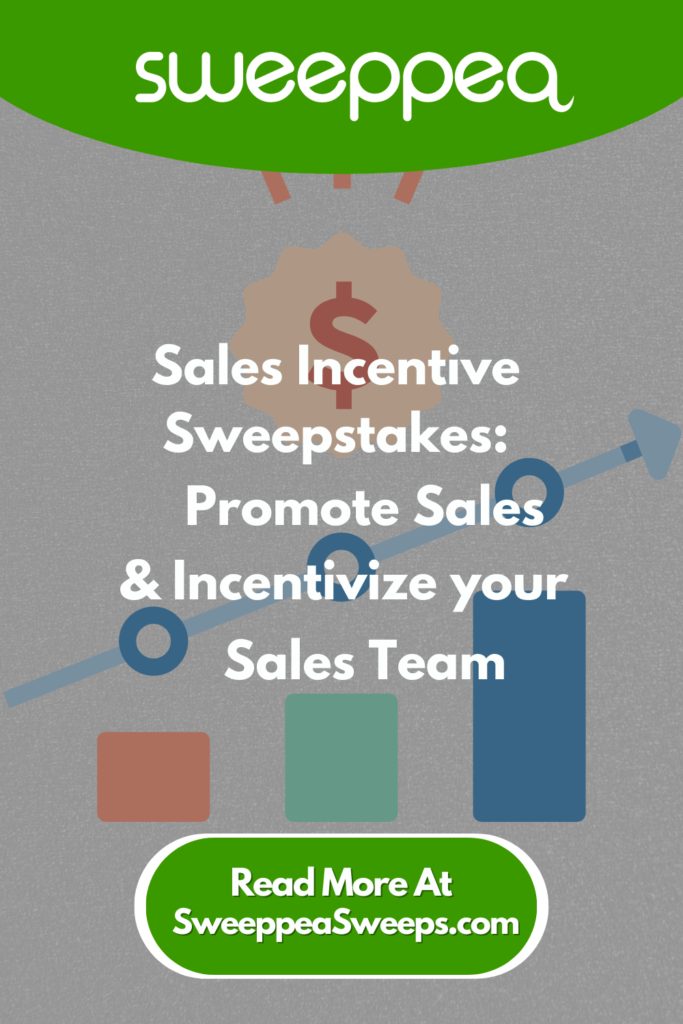 Need sales incentive ideas? Sales incentive sweepstakes are a great way to motivate sales teams within a corporation. They can be used to promote sales and increase productivity. In this guide, we will discuss the basics of how to run a sales incentive sweepstakes. We will cover topics such as eligibility requirements, how to pick winners, and what prizes you can offer. Let's get started!
What is the difference between an in-house sales incentive sweepstakes and regular sweepstakes?
In-house sweepstakes have two great benefits that consumer-facing sweepstakes don't have. First, they are not open to the public since they are internally run for company employees only. The second difference is a great benefit! The sweepstakes does not need to be bonded and registered in the states of New York and Florida. This means lower legal risk and skipping the bonding and registration fees. When planning your in-house sweepstakes for employees, consider these factors:
Entrant's Eligibility
The eligibility requirements need to be specific and explicitly described in your official rules. For example, you can say that only sales agents, sales partners, and employees that have been with the company for at least a year are eligible to enter the sweepstakes.
Feel free to get creative with your entries and requirements and ensure they align with both your business and team goals.
Method of Entry
All sweepstakes require a free method of entry. For this use case, you can equate an entry to every sale closed by your team. The more sales they make, the more entries they get and the higher the probability of winning!
Another creative way to structure the sweepstakes is by equating entries to sales tiers. For example; let's say you have 3 main products or packages. Package 1 is worth 1 entry, package 2 is worth 2 entries, and package 3 is worth 3 entries. If employee A sells one of each, they collectively get  1 + 2 + 3 = 6 entries. This strategy may align with your business goals since it leverages the number of entries with your most valuable packages.
You can align the number of entries with your goals if you want to increase sales volume for a product or service. This way, your team is motivated to sell more of the product or service that will get them more entries for your sweepstakes.
This is just an idea to help you get started with your official rules and what they need to include to run a successful promotion.
If you'd like help running your sales incentive sweepstakes, call us or email us today and we'll help you get started. As a sweepstakes administration and management company, we'll ensure your promotion runs smoothly while being legally compliant.
Abbreviated Rules
Typically, the abbreviated rules are included in handouts, emails, announcements, etc., or posted on a bulletin board in the employees' lunchroom. Abbreviated rules need to be complete and written to describe the important terms and conditions of the program.
If your company is fully remote, share the rules in company-wide communication tools such as Slack, Miro, etc. Every participant should be able to access and read them.
Prizes
Winning prizes need to be clearly described in the Official Rules. It should state the approximate retail value of each prize. Be aware that all prizes awarded over $600 are taxable and the employee must receive a 1099 MISC form from the company. 
Winner Selection
The Sweepstakes winner should is drawn randomly. Your official sweepstakes rules should include specific details on how the winner will be drawn and when the winner will be notified.
Now that we've covered the basics, let's get into how you can use sweepstakes as sales incentives to increase sales and engagement with your sales team.
Benefits of Sweepstakes as Sales Incentives Program
Incentives are a great way to show employees that you value their input, simultaneously increasing the overall performance of the company.
It can help employee motivation to drive specific product or service sales to meet business goals while keeping the morale and engagement high. After you've launched the promotion, make sure you keep your employees engaged during the promotion so you can have your highest ROI yet!
Motivation and Employee Engagement
Some employees may find it difficult to motivate themselves at work. Sales incentives motivate employees by offering rewards for reaching targets and company goals. The rewards are a great motivator!
Example purposes of a sales incentive program:
Get the sales team to perform above budget or other measurable goals
Get the sales team to complete and register sales motivating activities
Strengthen the sales team's skills and product knowledge
Strengthen the sales team's engagement and trigger their competitiveness
Any other purpose that aligns with your team's or business' KPIs.
Brand Awareness
Engaged employees make your brand stronger. Your brand provides employees with a sense of purpose and identity; serving as a source of both inspiration and action. If you give your employees a reason to truly live the brand, your organization will thrive in its niche. Ask yourself this: If your employees don't believe in what your company says it stands for, why should your customers?
Your employees, alongside your customers, are the number one advocates for your brand. Treat them right and watch your brand scale! Sales incentive sweepstakes can help you get there.
Promotes Healthy Competition
Competition is what makes one strive to be better. With incentive programs, employees have something to compete for. As a result, healthy competition fosters hard work and helps increase productivity from your sales teams.
Conclusion
Sales incentive sweepstakes are a great way to motivate sales teams within a corporation. These programs are an excellent and innovative way to help drive your sales team goals and business KPIs. They provide many benefits across different areas of your business like team building, brand awareness, and sales growth.
Need help with sweepstakes or contest management? Call 305-505-5393 or email us with your questions.