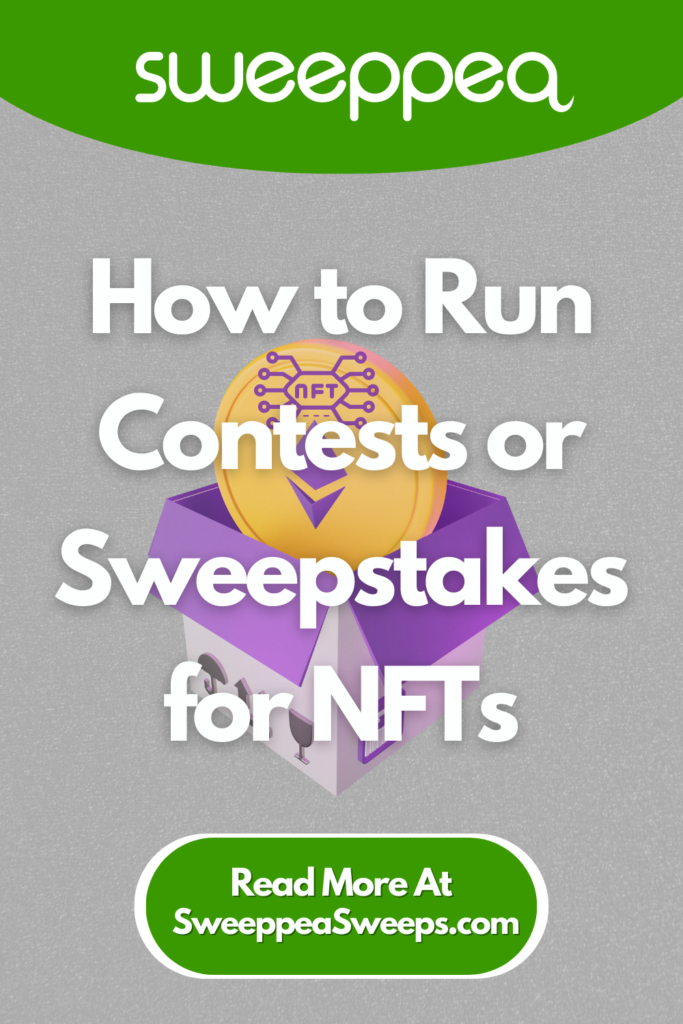 If you're looking for a way to increase awareness and excitement around your NFTs, you should consider running sweepstakes or contests. Sweepstakes can be a great way to reward fans and followers for their loyalty, while also generating new interest in your tokens.
In this article, we'll discuss the benefits of sweepstakes for NFTs, as well as the tips, tricks, and the general process of a successful promotion.
Benefits of Sweepstakes for NFTs
Properly planned sweepstakes for NFTs will catch the attention of your target market and increase awareness without the need for a big marketing budget. Even better yet, if you already have a strong marketing message and an audience, it will also bring in sales to your business.
Increase Awareness
Sweepstakes can be a great way to generate new interest in your NFTs. They're an excellent option for a top-of-the-funnel marketing campaign. If you have a well-established brand, it could easily increase your sales during the promotional period. When people see that they have a chance to win a prize just by owning your NFTs, they'll be more likely to interact and acquire.
Increase Loyalty
In addition to generating new interest, sweepstakes can also reward existing fans and followers for their loyalty. This can help create a community of passionate supporters who are more likely to stick around long-term. And as we all know, a strong community is essential for the success of any project.
Get Insights
Finally, sweepstakes can also be used to generate valuable data and feedback about your NFTs. For example, you could ask participants to answer a survey about their experience with your tokens. This information can be extremely helpful in making future improvements to your NFTs.
Now that we've discussed some of the benefits of sweepstakes for NFTs, let's take a look at the general process of running the sweepstakes promotion.
The Process of Running Sweepstakes for NFTs
There are a few key steps that you'll need to follow in order to run successful sweepstakes for NFTs.
Step 1: Draft the Official Rules
The official rules of a sweepstakes are an important part of the promotion. The federal and state regulations compliance actions will be expressed in the Official Rules. They'll answer all questions regarding the promotional offer and provide liability protection to the Sponsor.
Step 2: Ensure a Free Method of Entry
Sweepstakes that are legally compliant must be free to enter or provide a free means of entry. If you do not follow this rule, your promotion may become an illegal lottery.
Step 3: Explain Entry Method Information and Deadlines
The Official Rules must state how to enter and what to do in order to participate. . The length of the entry period must be specified explicitly in the rules. Be as precise as possible; include start and end dates, as well as time and time zone.
Market the Sweepstakes for NFTs
Once you've decided on the type of sweepstakes you want to run, it's time to start promoting it! Make sure to let people know how they can enter with a purchase of an NFT or without, what they stand to win, and when the deadline is. r.
Remember to share your NFT sweepstakes in different communities where your target audience may be hanging out like Discord groups and Twitter.
Drawing the Winner
Finally, once the sweepstakes are over, it's time to draw a winner (or winners). This is done via random selection from all eligible participants. Once you've chosen a winner (or winners), make sure to reach out and let them know that they've won!
Sweeppea Can Help You Run Sweepstakes for NFTs
Running sweepstakes for NFTs requires legal compliance knowledge and experience in both state and federal regulations. Hiring experts in all of these fields will require time and money. We know you want to host your sweepstakes as soon as possible so you can reap the benefits. This is when hiring a sweepstakes and contest administration company like Sweeppea makes sense.
A sweepstakes company will have the knowledge and expertise to help you stay compliant with sweepstakes law at the federal and state level.
A third party will have the knowledge and time to focus on delivering best practices and regulatory compliance for contests and sweepstakes. Having an outside resource eases the management duties associated with running a sweepstakes promotion, allowing you to focus on more critical elements of your business.
Sweeppea is a full-service sweepstakes and contest management firm. With over 10 years of combined expertise, we've worked on hundreds of successful sweepstakes for some of the most well-known companies.
Develop Sweepstakes From Concept to Reality
We're here to help you turn your sweepstakes idea into a reality. This includes legal compliance and everything else needed to run and manage the promotion successfully.
Official Sweepstakes Rules and Abbreviated Rules
Rules are an important component of any successful sweepstakes. We provide official rules drafting services, including legal compliance, as well as abbreviated rules to include in all of your eCommerce sweepstakes advertising.
Creation of Official Sweepstakes Rules Page
We'll develop a custom web page for your participants to access the regulations or you can create your own on our self-service platform.
Customized Entry Form Creation
We'll create a personalized online form to obtain your participants' first-party entry data. We'll develop a unique confirmation page for your sweepstakes promotion. Your participants will be forwarded to a customized Thank You page once they have completed the entry form.
Prize Fulfillment
We will handle all aspects of prize fulfillment for your sweepstakes.
The objective of running sweepstakes is to increase sales, gain participant's data and draw a lucky winner. Once your sweepstakes end, we will draw a winner(s) from all of the eligible entries at random. Once winners have been drawn, you can announce the winner(s) to your audience in order to promote your business and draw consumers interested in future promotions.
Successful Sweepstakes for NFTs: 2022 Cre8Luck / Creative Bespoke SpeedStakes #1
Cre8Luck is a leading sweepstakes fashion brand. They partner with celebrities and influencers to bring luxury giveaways. With the help of Sweeppea as an administrator, they sponsored and hosted their sweepstakes.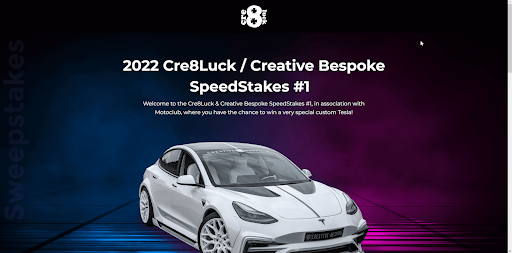 Entry Methods
During the sweepstakes period, eligible participants may participate in the sweepstakes in a variety of ways:
WEBSITE ENTRY: By visiting their eCommerce store and making a purchase online. The Entrant will receive one (1) entry for each $1 of merchandise purchased.
NFT ENTRY: By visiting their Motoclub site and making a purchase online.
FREE ENTRY: During the Sweepstakes Period, eligible participants can obtain sweepstakes entries by mailing in their entry information.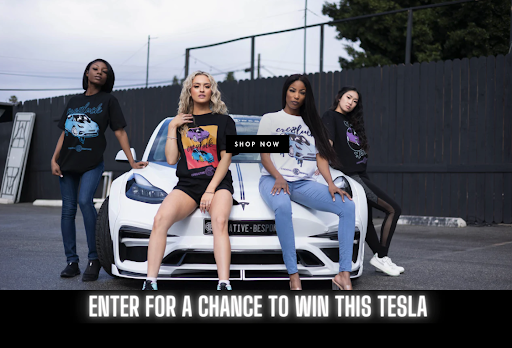 Eligibility
Only natural persons who are legal residents of, and physically reside in, one of the 48 contiguous United States, including D.C., and are at least 18 years old (or have reached the age of majority in their state of residence if it is greater than 18) as of the Sweepstakes start date are eligible to enter.
Winner and Prizes
The prize for this eCommerce Sweepstakes is one (1) 2021 Creative Bespoke Tesla Model 3 Custom electric automobile with approximately 3,945 miles. The Approximate Retail Value ("ARV") of the Prize is $85,000.00.

Conclusion
Sweepstakes can be a great way to increase awareness and excitement around your NFTs. With the help of a sweepstakes company, you can run a successful sweepstakes that reward your fans, generate new interest in your tokens, and provides valuable feedback about your project.
For more information on how Sweeppea can help you with your next NFT sweepstakes, contact us at support@sweeppea.com or call us at 305-505-5393.