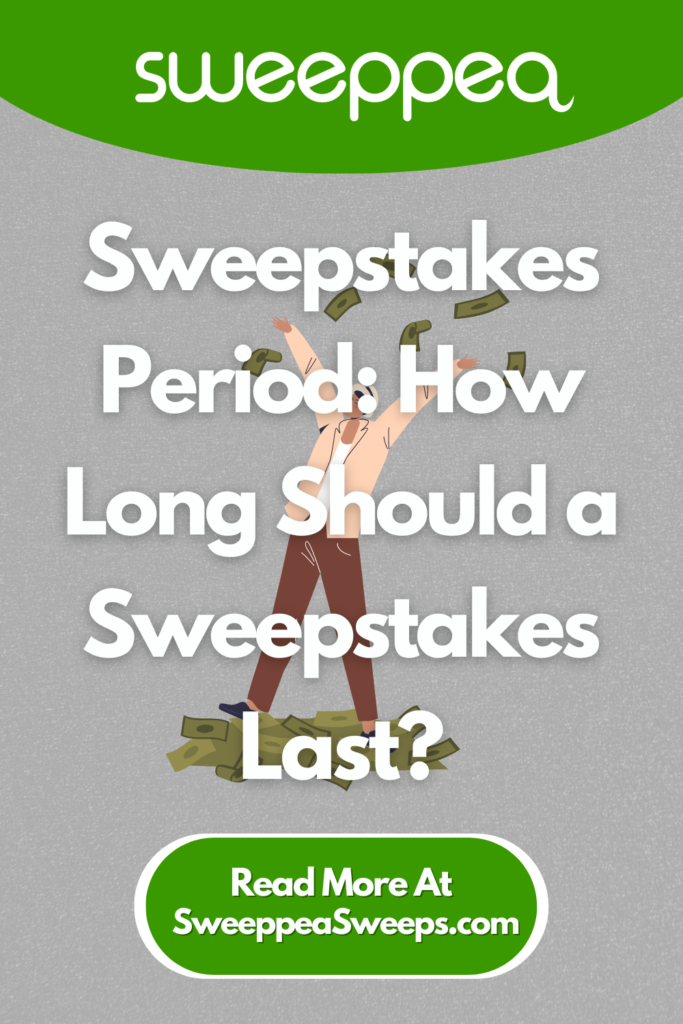 How long should your sweepstakes last? What will happen if you run them for different periods of time? In this article, we'll take a look at some studies and see what the data has to say about how long sweepstakes should last.
When deciding on the sweepstakes period you need to consider what is the purpose of the sweepstake? What are you trying to achieve? How much time and money can you commit to the promotion?
Short Sweepstakes Period
A study by Promotional Products Association International (PPAI) found that the longer the sweepstakes period, the more likely it is that participants will forget to enter.
"The data shows that as duration increases from one week to two weeks to one month or more, entry rates decrease significantly,"

says PPAI research director Steve Schweitzer.
"Contestants have a limited attention span, and the longer the sweepstakes runs, the more likely they are to forget about it."
Running Sweepstakes for a Week
A short sweepstakes is a fantastic method to get your audience to act quickly. Because there's so little time left to enter your contest, your audience must act right t away before it's too late.
They create a sense of urgency, especially if they're linked to a desirable prize. This is why it's important to find your sweet spot between your promotion's duration and the prize you pick.
Running Sweepstakes for Two Weeks
Running sweepstakes for 2 weeks (14 days) gives you plenty of time to secure entries, and it isn't so long that users will forget about you.
For many businesses, having their sweepstakes run for two weeks is the best option. It provides the greatest window of opportunity to reach your target audience while still remaining current and timely.
Share your promotion consistently with your target audience to collect as many participants as you can. If you're a CPG brand, consider leveraging both your online and offline presence.
The only downside to a shorter contest like this is that it might not be long enough to reach your desired promotional goals. Before running your promotion, make sure you set attainable goals and key performance indicators for your campaign.
Keep in mind that 2 weeks may be too short if you are printing in-store displays as sweepstakes promoted in-store need to allocate time for participants to visit the stores and for the displays to be placed.
Longer Sweepstakes Period
What if your goal is simply to create buzz and get people talking about your brand? In that case, you might want to consider a longer sweepstakes period.
A study by DailyEntry found the average length of time people spend on sweepstakes websites is around 15 minutes. If you want people to spend more time engaging with your brand, you need to give them a reason to stick around. One way to do that is by running longer sweepstakes. Another one is extending the post-entry funnel.
Example 1: After the participant has entered the sweepstakes, redirect them to your brand's homepage or another relevant page to your campaign's goal.
Example 2: If you're running an online store sweepstakes, you can direct your participants to your shop after they submit their entry to encourage sales.
There are trade-offs when running a longer vs. shorter sweepstakes. Make sure you take into account your advertising budget and resources needed to increase the exposure of your promotion. You'll also need to factor in the cost of the prizes and the time it will take to promote your sweepstakes for an extended period of time.
You'll need to be prepared for a higher volume of entries. It's a good problem to have which Sweeppea can help you solve!
Running Sweepstakes for a Month
Running sweepstakes for one month allows you to get it up and running with the appropriate momentum. You may also correct any errors that arise and let your audience know about them.
If you're running traffic to your promotion through digital advertising, you have more than enough time to optimize your creative and copy which in turn can increase the number of participants you get!
A 1-month giveaway is also an ideal opportunity to integrate your sweepstakes into a theme or If seasonal occasion. Sweepstakes that are tied to a certain topic, such as summer or another seasonal event, succeed because they're not forced; they fit into the natural rhythm of the consumer's seasonal lifestyle. It also indicates your sweepstakes are running for longer.
Running Sweepstakes for Several Months
Having sweepstakes run for many months has several advantages. You'll have plenty of time to plan and organize your sweepstakes and gain a consistent stream of entries. Furthermore, if you keep your promotional activities fresh and interesting, you may attract many more potential participants. 
Conclusion
So, how long should your sweepstakes last? It really depends on your goals and what you're trying to achieve. If you want more entries, go with shorter sweepstakes. If you're looking to create buzz, sales and get people talking about your brand, opt for a longer one. And if you're not sure, you can contact a sweepstakes administrator like Sweeppea for advise!
No matter what you decide, just be sure to give your participants plenty of time to enter.
Need help with sweepstakes or contest management? Call 305-505-5393 or email us with your questions.