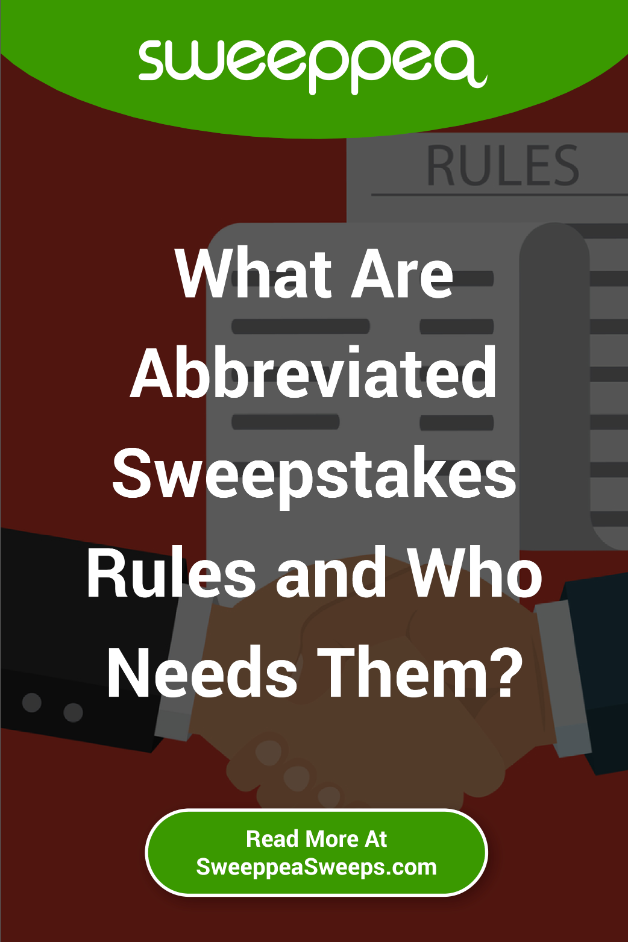 If you plan to run a sweepstakes, abbreviated sweepstakes rules are required for your campaign to be considered a legal promotion, according to several states' statutes. Abbreviated rules are required regardless of your industry and must be presented to entrants prior to their entry in your sweepstakes.
Here is what you need to know…
What are Abbreviated Sweepstakes Rules?
Abbreviated rules are a shortened version of the sweepstakes' official rules. Some states require that a sweepstakes must clearly and conspicuously disclose the following information:
The phrase "No purchase necessary" and the details of the free Alternate Method of Entry (AMOE)
Jurisdictions where the promotion is void
Eligibility requirements, including minimum age and residency
Start and end dates of the promotion
Odds of winning
There is also a federal law, the Deceptive Mail Prevention and Enforcement Act, which requires that sweepstakes ads disclose the following in any solicitation materials, the entry form, and in the official rules:
A statement that "no purchase is necessary to enter"
A statement that "a purchase will not improve an individual's chances of winning"
The nature, quantity, and estimated retail value of each prize
The schedule of any payments that will be made over time
Sponsor's name
The location where entrants can view the full official rules
That the sweepstakes is subject to the complete official rules
How to Write Abbreviated Sweepstakes Rules With Examples
Given the stringent requirements for abbreviated sweepstakes rules, almost all companies rely on standardized language to ensure all of the necessary components are included.
The standardized language also helps minimize the amount of space used to relay the necessary information where there are space restrictions.
Here are some examples below:
"NO PURCHASE NECESSARY. A Purchase Will Not Increase Your Chances of Winning a Prize." can be abbreviated to "NO PURCHASE NECESSARY"
"Must be a legal resident of the 50 United States and District of Columbia" can be abbreviated to "Legal resident of the U.S."
"Sweepstakes begins at 11:59 p.m. EST on March 1, 2020 and ends at 12:00 p.m. EST on May 30, 2020" can be abbreviated to "Sweepstakes begins on 3/1/20 and ends 5/30/20."
"You must be 18 or older to enter" can be abbreviated to "At least 18."
Also keep in mind that the abbreviated rules need to be as clear as the official rules. Avoid using unclear abbreviations, for example.
Special Restrictions for Sweepstakes Sponsored by Alcohol Vendors
For alcohol vendors, 7 states require that your abbreviated sweepstakes rules be approved by an Alcohol Control Board:
Further Considerations
While these are just some general suggestions for drafting abbreviated sweepstakes rules, we recommend you consult a lawyer to ensure you've covered all of the necessary requirements for compliance.
Furthermore, these are not the only legal items needed for a sweepstakes. Some states also require you to register and bond your sweepstakes, namely New York, Rhode Island, and Arizona.
Need help with sweepstakes or contest management? Call 305-505-5393 or email us with your questions.