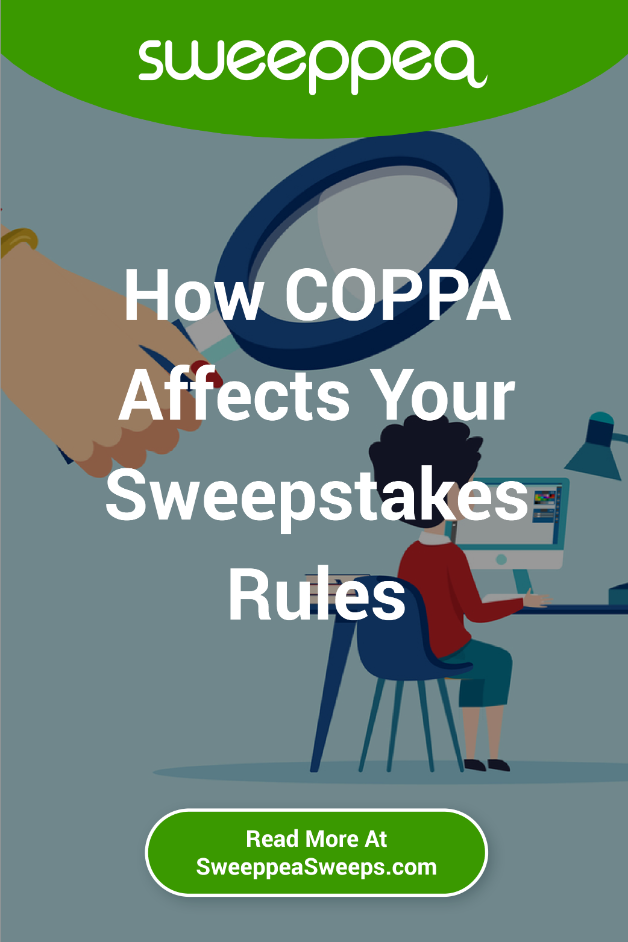 Want to learn more about COPPA and your sweepstakes rules? These are the very specific rules that govern sweepstakes targeted towards children under the age of 13.
Here is what you need to know to ensure that your sweepstakes rules are COPPA compliant.
What Is COPPA?
COPPA (The Children's Online Privacy Protection Act) went into effect on April 21, 2000. It applies to the online data collection of personal information from children under 13 years of age.
The Federal Trade Commission (FTC) is responsible for the creation and revision of compliance guidelines related to COPPA. The compliance guidelines cover a number of aspects including parental consent. However, they namely provide a clear plan on how online services must act in order to ensure that minors' privacy and safety are maintained online.
To avoid compliance issues, many brands simply opt to require sweepstakes entrants to be 18 or 21 years of age in order to enter their promotions. However, for vendors in some industries, such as alcohol and tobacco sales, minors must be shielded from accessing the company's website or online portal altogether.
COPPA Sweepstakes Rules Compliance
To ensure that your promotion is fully compliant, we recommend that you request a sweepstakes review before your promotion goes live. In the meantime, here are the basics of how to comply with COPPA that you should make sure to follow:
Parental Consent. If you plan to collect any information that is personally identifiable from children under the age of 13, you have to obtain permission from the child's parent. Examples of information that is personally identifiable include a full name, telephone number, home address.
If a parent requests it, you must also provide a way for them to access the information and have it deleted. Since minors can not be legally bound to a contract, the parent must provide the consent to your sweepstakes rules.
Opt-in. After you have obtained consent from the parent, the child must opt-in in order to participate in your sweepstakes.
Privacy Policy. Along with your sweepstakes rules, you must include a privacy policy that explains what information is collected and when, where and how it will be collected and stored.
COPPA and Social Media
Most social media sites disallow users under the age of 13 as part of their terms of service. Therefore, even if you have obtained the consent of the parent, you may still be in breach of COPPA if the child wants to enter your sweepstakes via a social media site.
Instead, review social media guidelines to ensure that your sweepstakes rules are not in breach of the terms of service due to COPPA legal compliance concerns.
Are There Any Exceptions to COPPA?
If you'd like to review COPPA compliance rules in their entirety, the FTC provides an explanation of each instance in which you are required to take action to comply with COPPA and exactly what steps are involved. They also provide a chart outlining the exceptions to the COPPA parental consent rules here.
For further assistance with creating COPPA compliant sweepstakes rules, contact us for a sweepstakes review and further recommendations.
Need help with sweepstakes or contest management? Call 305-505-5393 or email us with your questions.