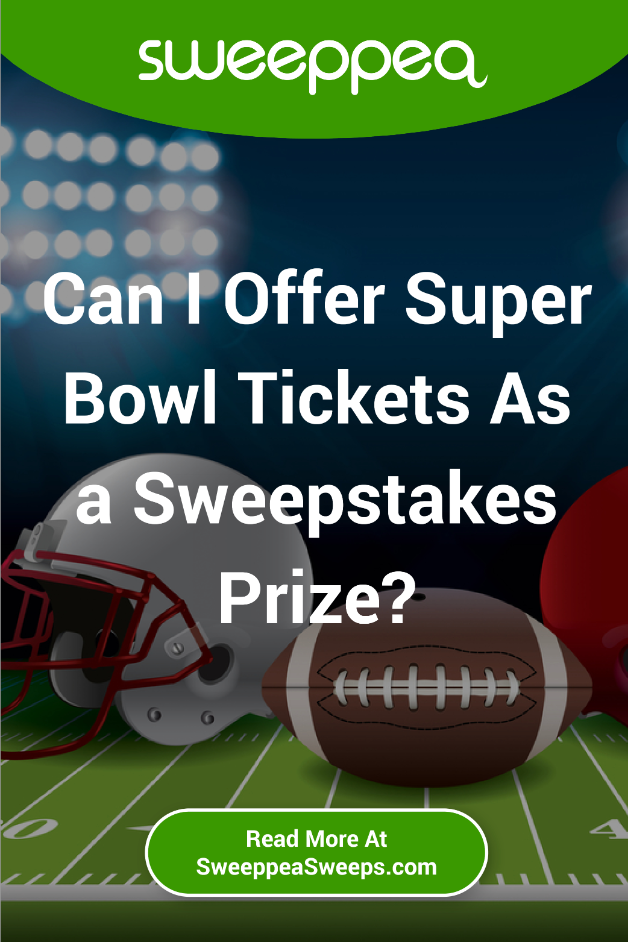 The Super Bowl is the biggest annual sports event of the year. It's also a seriously competitive event for advertisers because the Super Bowl attracts thousands of fans.
As a result, you may be wondering if it's possible for you to give away Super Bowl tickets as a sweepstakes prize. Here is what you need to know.
Can Companies Give Away Super Bowl Tickets?
The short answer is 'no.' The National Football League (NFL), like all other professional sports leagues, is highly protective of their marks. As a result, using their brands to promote your offer would imply that they are sponsoring your promotion. So that you don't commit trademark infringement, you must become an official NFL sponsor first.
Are You an Official NFL Sponsor?
Official sponsors of the NFL are recognized by the NFL directly. These companies have entered into agreements with the NFL in order to create promotions that incorporate the NFL brand and individual team brands. The list of the NFL's official sponsors is available here.
Are Super Bowl Tickets the Best Sweepstakes Prize for Your Brand?
If you aren't an official sponsor of the NFL, don't be discouraged that you can't give away Super Bowl tickets. Instead, consider whether or not Super Bowl tickets will really attract fans to your brand or if they will only enter in order to win the tickets.
If you are unsure about this, consider some other options for a big sweepstakes prize: such as a years' supply of your product, a tailgating party for 10 guests, or a brand new TV to watch the game on.
Read More: What Are the Most Popular Sweepstakes Prizes?
Before the Big Game…
If you still like to proceed with Super Bowl tickets for your sweepstakes promotion and you are an official NFL sponsor, we can help you design a promotion that will keep the excitement going up to the day of the game. We'll also recommend follow-up messaging to keep your new fans engaged and always ready to buy!
Need help with sweepstakes or contest management? Call 305-505-5393 or email us with your questions.