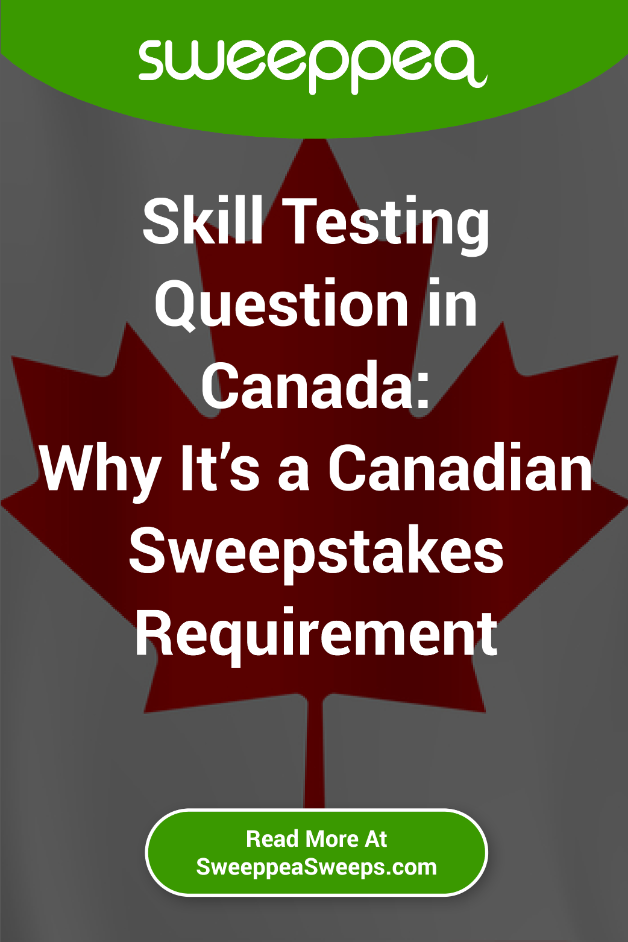 To enter a Canadian sweepstakes, the entrants must complete a skill testing question in order to prove eligibility to enter and potentially win a prize. This requirement is part of Canadian Sweepstakes law and applies to all Canada sweepstakes promotions. 
As of 10/27/23 any sweepstakes offered in Canada and Quebec can be offered to all of Canada or all of Quebec or both without requiring bonding and registration in Quebec. Sweepstakes offered to Quebec are no longer required to be registered with Quebec.
Here is what you need to know about sweepstakes skill testing questions in Canada to help you ensure that your Canada sweepstakes is legal.
What Is a Skill Testing Question in Canada Sweepstakes?
A skill testing question refers to a mathematical skill testing question that appears on the entry form of every Canada sweepstakes. By law, the mathematical skills-testing question must have three operations or more in order to be considered as an actual test of skill.
While the question should not be insanely difficult, it can't be so easy that it's a no-brainer. The Canadian courts have so far agreed that a mathematical skill testing question such as "168 plus 42 minus six divided by 2" is enough to qualify as a sufficient skill testing question.
The entrant is also not permitted to use a calculator or any other assistance to answer the question.
Is it actually a test of skill?
The short answer is 'no.' The skills-testing questions don't affect entrants' chances of being selected as a winner. Instead, they are designed to remove the "luck" element from the sweepstakes.
According to the Canadian Competition Act, 'luck' is considered as one of the three elements that defines a lottery. Since a legal sweepstakes is not a lottery, this element of 'luck' must be removed.
Furthermore, under Canada's Criminal Code, games of pure chance, such as random draws and games with randomly distributed prizes such as scratch-and-win games, are considered as illegal lotteries.
Therefore, the skills-based test ensures that every entrant has indeed put forth sufficient effort to be eligible to win the sweepstakes, making it no longer a game of pure chance. Only those who have correctly answered the question will be added to the pool of entrants.
Does Your Canada Contest Need a Skill Testing Question?
While a skill testing question is required for all Canada sweepstakes, it's NOT required for Canada contests. A contest of skill, such as an essay, photo or video contest, involves judging entries based on specific judging criteria. As a result, not all entrants have an equal chance of winning by default.
However, some Canadian brands still opt to include a skill testing question for their Canada contests as an additional precaution.
Need help with sweepstakes or contest management? Call 305-505-5393 or email us with your questions.