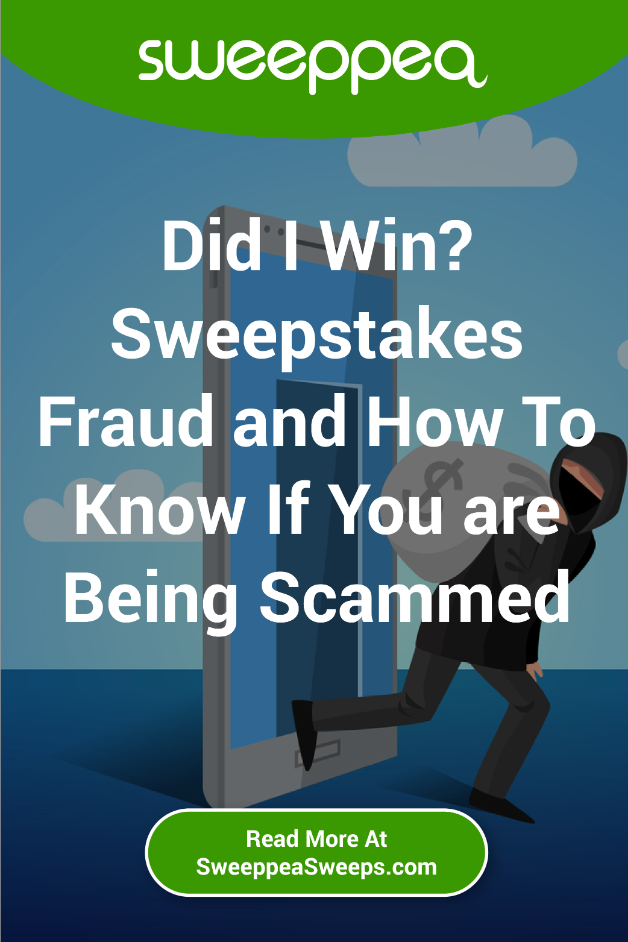 Scammers are constantly looking for new ways to steal money from unsuspecting victims. Although lottery or sweepstakes scams have been around for years, victims are still falling prey to monetary losses and identity theft.
Here's how to recognize a sweepstakes scam and avoid becoming a victim.
What Are Some Common Sweepstakes Scams?
If someone asks you to:
Make any payment of any kind, it's fraud!
Pay taxes to someone other the Internal Revenue Service = fraud!
Pay shipping fees = fraud!
Pay winner fees = fraud!
Pay prize fees = fraud!
Pay transfer fees = fraud!
Pay transaction fees = fraud!
Pay service fees = fraud!
Luxury tax = fraud!
Prize Insurance = fraud!
Hang up immediately and block the caller's number. Learn more about what to do about unwanted phone calls from sweepstakes phone scammers at ftc.gov/calls. If you've given money or personally identifiable information to a scammer, please read below to see what to do.
Sweepstakes Scam Check: Questions to Ask
Scammers rely on you just taking their word for it instead of questioning them as you should.
Curious whether or not it's a sweepstakes scam? Here's what to ask the fraudster to protect yourself from being taken for a ride.
Names and phone numbers may change but the scams remain the same. These sweepstakes scambusting questions and comebacks will immediately reveal whether you're dealing with a lottery or prize scam:
Tell them to take the "fees" from the Prize and send you the rest.
Tell them to send you the Official Rules.
Ask them what date and time you "entered" the sweepstakes.
Scammers not only often pretend to be contacting you on behalf of a legitimate company, they also put pressure on you to act immediately which can make you too afraid or worried to ask these questions.
Instead, resist the urge to act quickly no matter what they've said to you. Review this article again and talk to someone you trust. Talking about it may help you to realize that it's a scam.
Why Do Sweepstakes Scams Work?
Prize scams often work because the scammer incorporates elements from real businesses or promotions, such as brand names and logos, to make the scam seem legitimate.
As for what scammers say to you, review these sweepstakes scam stories to see how it works:
Real story from a "Winner" [THIS IS A SCAM]
"I have been advised by Ian Ross of the Vir.ginia Consumer Protection Fraud Agency and Mr. Ian Ross with Good Housekeeping that I have won 2nd place in a sweepstakes for $750,000. However they are saying I need to buy 2 USPS money orders [1 for $1,000 and a 2nd 1 for $750.]
Next I record the numbers off the money orders and overnight them to a bonding agent- Aurelia Ybarra in Ontario, Calif.ornia. Then I call Mr Ross and Mr Portmann and give them the numbers off the money orders.
Within 48 hours the prize money will be delivered and the $1,750 will also be refunded to me. Is this a legitimate sweepstakes entry and 2nd place win? The claim number to claim the prize is GOV211CN02. PLEASE RESPOND QUICKLY."
2. Real story from a "Winner" [THIS IS A SCAM]
"Called by "John Tenner" that he won $75,000.00 and provided his badge number, certified check number, passcode, Prize Reservation number, and said "attorney" "David Ross" would show up to his home with the check. All the "winner" had to do was go to Walmart and buy a $250 Gift Card and send him John Tenner the gift card receipt and number showing the gift card pin."
Is It a Sweepstakes Scam?
If you've asked some questions and you're still not sure if you're dealing with a fraudster, review these tips:
If they are asking for money, it IS a scam. Legitimate sweepstakes and promotions will never ask winners to pay anything (taxes, shipping, etc.) before receiving the prize.
They are telling you that you won a trip but need you to pay. If you win a trip, you'll receive a check, plane tickets, hotel reservations and/or car rental purchase from the sweepstakes sponsor directly, but never do you pay for them.
If there are taxes due, all taxes are always paid directly to the IRS after you receive the prize. You pay taxes to the IRS on your yearly income tax declaration (in April) after receiving an IRS form1099-MISC from the promotion's official sponsor, and only if the Prize value exceeds $600.
The criminals are illegally using our Sweeppea name and logo to deceive you.
Remember, if you are being asked to send money in order to receive a prize, IT IS A SCAM.
DO NOT

SEND MON

EY.

Momares, LLC d.b.a. Sweeppea, is a nationally recognized sweepstakes and contests administrator for companies and agencies. We administer promotions for some of the world's top companies. If you are receiving this notice from us directly, we are sharing this to inform you that you may have been a victim of a scam.
Take Action Now: Report Scams
People lose a lot of money to sweepstakes scammers. Some have even lost their entire life savings. While in some scams, they may try to act friendly and helpful, others may threaten you or try to scare you. Regardless, these scams involve criminals who should be prosecuted to the fullest extent of the law.
Please immediately report the incident to your local police, your state's Attorney General, or the Federal Trade Commission at ftc.gov or 1-877-FTC-HELP (1-877-382-4357).
Visit the National Association of Attorneys General for the contact information of every state attorney general.
If you've shared personally identifiable information (i.e. social security number, home address, date of birth) with a scammer, go to IdentityTheft.gov for the steps to take to protect your identity.
Other Articles
12 Warning Signs of Sweepstakes Scams