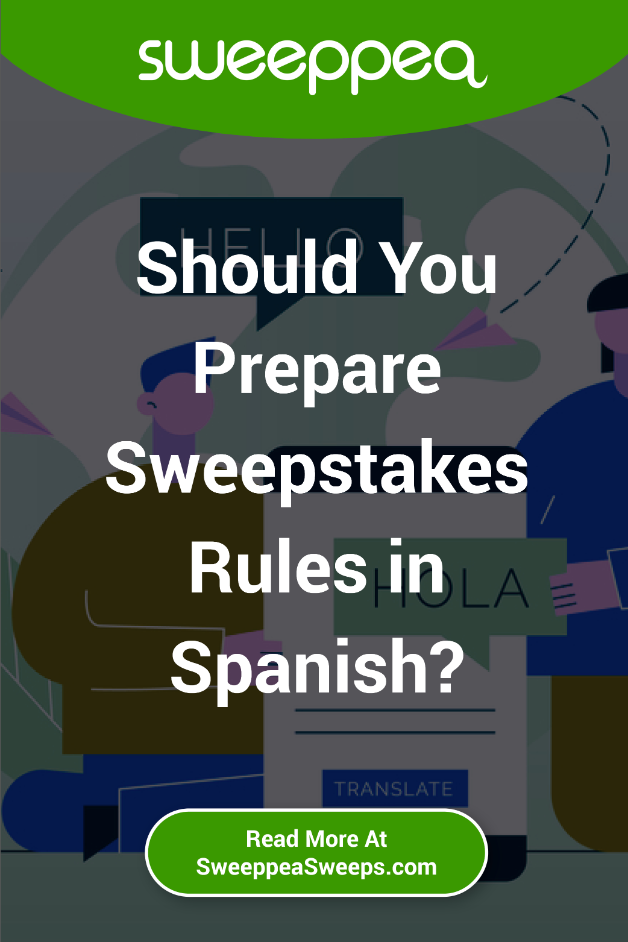 Should I translate my sweepstakes rules in Spanish? That's a question that you should ask if you're launching a sweepstakes promotion. In a diverse country like the United States, it's easy to encounter consumers who would feel more comfortable interacting with your brand in their native language.
However, is it really necessary to translate your sweepstakes in every case? Here's how to decide when to translate your sweepstakes rules in Spanish.
Your Sweepstakes Is Targeted to a U.S. Hispanic Audience
The U.S. has more than 43 million Spanish speakers, not including those who are bilingual or who speak Spanish as a second language. As a result, Spanish speakers in the U.S. are a huge marketing opportunity that businesses are increasingly tailoring their offerings towards.
If your sweepstakes is targeted to the U.S. Hispanic audience, then it only makes sense that you make sure that sweepstakes rules in Spanish are readily available alongside English-version sweepstakes rules.
The key to reaching this audience? Give entrants the option to choose which language they want to use to engage with your promotion.
Your Sweepstakes Will Run in Other Countries
For sweepstakes targeted to countries outside of the United States, the laws and regulations regarding sweepstakes of that country apply. In almost every country, the law requires that you provide any consumer with a written translation of a proposed contract, in this case your sweepstakes rules, in the official language of that country.
Some countries have more than one official language so you will be required to provide written translations of your sweepstakes rules in all of the official languages. Yet, it doesn't even have to be an official language of the country for you to consider translating your sweepstakes rules in Spanish. Many countries have large subgroups of Spanish speakers who speak the language as a native or second primary language.
Your Business Is In Certain Industries
While the travel and tourism industries are a given for needing to translate promotions into other languages, companies who offer digital products or localized services in Spanish-speaking countries should also consider translating their sweepstakes rules in Spanish.
Analytics data can also tell you a lot about your customers and their interests. If a significant number of your customers come from certain areas or have their browser language set to Spanish when they visit your website or social media accounts, then it's a good idea to assume that you should offer language support for your sweepstakes in Spanish.
Sweeppea Official Sweepstakes Rules in Spanish
If you need help with Spanish translation, Sweeppea can prepare your sweepstakes rules in Spanish. We can also run sweepstakes campaigns entirely in Spanish with Spanish sweepstakes entry forms, rules, and more.
When sweepstakes participants can enjoy a fully-translated sweepstakes promotion in their mother tongue it makes them feel like your brand caters to their needs. This means they'll be more likely to buy from your brand because you consistently provide culturally relevant information in Spanish, which should be the ultimate goal.
Need help with sweepstakes or contest management? Call 305-505-5393 or email us with your questions.