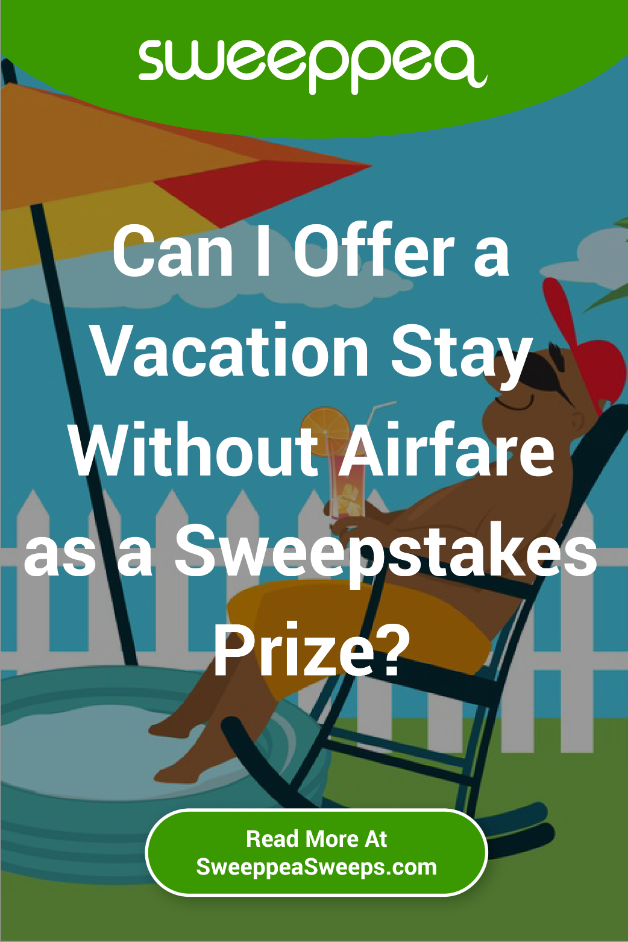 After a year of stay at home orders and lockdowns due to the COVID-19 pandemic Americans are looking to cure their cabin fever by getting out to travel. In response, brands are starting to reintroduce the travel sweepstakes prize and hungry consumers are eager to win!
If you're planning to offer a vacation as your sweepstakes prize, you may have wondered if it's okay for you to skip the airfare and just cover the cost of the vacation stay. Here what you should know about vacation sweepstakes prize packages with airfare included to help you decide what's best for your campaign.
Skip Paying for Airfare With a Staycation Prize
One major reason that we see brands asking about whether sweepstakes law allows for them to skip paying for sweepstakes vacation airfare is because staycations are becoming more popular. Not only are staycation sweepstakes prizes cheaper for companies to fulfill, companies also won't face the same challenges as they might when fulfilling traditional vacations due to COVID-19 travel restrictions.
Staycation prizes are also being offered so that there is a lower chance that winners will reject the prize due to unavailability or unwillingness to travel long distances.
Be Upfront About Airfare Not Included
While some brands are sticking to staycations for now, other companies are attempting to get back to normal by reintroducing traditional vacation prizes. Regardless of the destination, your sweepstakes rules must clearly state "Airfare NOT Included" in the official rules if you don't want to cover the cost.
If the prize will be fulfilled in the winner's state of residence, where it's assumed that airfare would not be necessary for prize delivery, you should make it clear in your sweepstakes rules that the winner will be responsible for all travel expenses incurred (e.g. gas, car rentals).
Why Should You Exclude Airfare From a Sweepstakes Prize?
If you aren't sure whether to cover the airfare as part of your sweepstakes prize, there are several pros and cons to consider. First, the sweepstakes winner will naturally be more satisfied if they don't have to spend any money in order to take delivery of the travel prize.
That said, the airline industry is currently facing significant challenges as a result of the COVID-19 pandemic, including the possibility of requiring vaccinations for travel, fluctuating fuel prices, and ongoing travel restrictions in certain countries.
Therefore, the value of the airfare estimated as a part of calculating the approximate retail value (ARV) of your sweepstakes prizes may not be enough to cover the cost of airfare when it's time to fulfill the prize. If you want to avoid running into this type of issue, not including the airfare in the sweepstakes prize is your best bet.
Need help with sweepstakes or contest management? Call 305-505-5393 or email us with your questions.