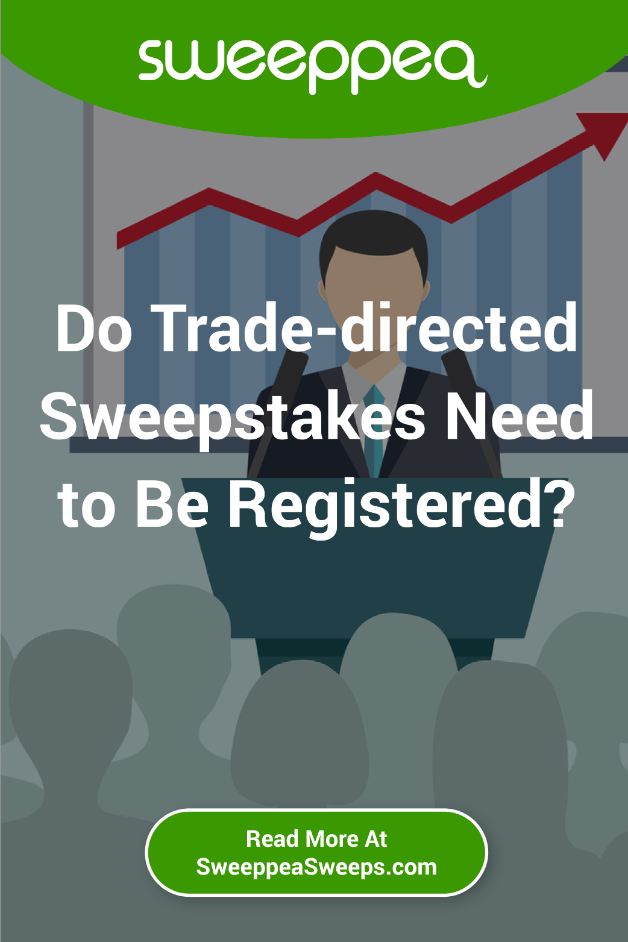 Trade-directed sweepstakes do not need to be registered. If you're planning to run a sweepstakes at an upcoming industry event, such as a trade show, business expo, seminar or conference that is only open to business professionals from your industry, then you do not need to register your sweepstakes.
Not Available to the General Public
A trade show sweepstakes, industry event sweepstakes, business expo sweepstakes or summit sweepstakes is a promotion that is not made available to the general public. Most sweepstakes laws regarding registration are in place to ensure that promotions open to the general public have been vetted by the state.
When a promotion is not open to the public, then these sweepstakes registration rules do not apply.
How to Ensure Your Trade-directed Sweepstakes Is Legal?
Although registration and bonding sweepstakes rules don't apply to industry event sweepstakes, you are still required to follow all federal and state sweepstakes laws. That means your sweepstakes still needs to have Official Rules and Abbreviated Rules, as well as, a "no purchase required" clause.
If the there is a fee to attend the event or seminar, a free method of entry must be offered for all professionals that wish to participate in the sweepstakes but not in the event. All Sweepstakes must be "No Purchase Required".
As Sweepstakes Administrators we can help create Official Rules for your promotion.
Limit Eligibility to Event Attendees
To ensure that it's clear that your sweepstakes is not open to the general public, be detailed in your sweepstakes rules eligibility requirements. You must clearly define what an eligible entrant means in your sweepstakes rules that identifies them as not a member of the general public.
For example, you can require that the entrant be a member of a trade organization. You can also require that they purchase (and can provide proof) a seat or pass to attend the event as an industry professional.
Restrict Sweepstakes Entries to During the Event
Another way to ensure that only eligible entrants participate in your business expo or seminar sweepstakes is to limit the acceptance of entries to during the event itself. You can have participants submit entries via SMS and web form during the hours of the event.
Then once the event has ended, sweepstakes entries will no longer be accepted.
Why Should You Run a Trade-directed Sweepstakes?
Conference sweepstakes are a great way to get your B2B clients excited about your brand. If done correctly, they can bring you referral business and even boost your customer lifetime value (CLV) from clients who are already doing business with your company. Don't miss this valuable opportunity to draw in more business with a trade-directed sweepstakes!
Sweeppea is a full-service sweepstakes management company. Call 305-505-5393 or email us with your questions.